We may earn revenue from the products available on this page and participate in affiliate programs. Learn more ›
Updated Apr 21, 2022 2:58 PM
Picking a camera lens is one of the very first creative decisions involved with the photographic process. There's a seemingly endless supply of different options out there and the choice you make will have a profound effect on your photos. The advent of mirrorless brought with it the need for lenses to match the new formats. Initially, photographers were dependent on adapters to fit legacy lenses from brands like Canon and Nikon to the APS-C, full-frame and micro four-thirds mirrorless cameras while companies such as Canon, Fuji, Nikon, Olympus, Panasonic and Sony grew their line of native lenses for those formats. Adding to the mix, third-party lens manufacturers such as Sigma and Tamron continue to play an increasingly important role in meeting the needs of photographers in search of the best camera lens. 
What to look for when shopping for the best camera lens
When searching for the best camera lens, there are a number of criteria to take into consideration. In addition to making sure the lens is available for your camera's mount (or there's an adapter), it's important to know how you'll be using the lens. Are you looking for the best lens for portraits? Or maybe you're searching for the best lens for landscapes. Or perhaps photographing tiny subjects is your thing and you'll need a macro lens. Of course, there are all-around, one-size-fits (almost) all scenarios, too. Just keep in mind that the best lens for astrophotography won't work well for portraits; nor will the best landscape lens necessarily be the right option for macro shots.
One critical specification regardless of what lens you choose is how the sensor size will affect the effective focal length. On full-frame cameras, that's not an issue because the sensor is the same size as a 35mm piece of film. But if you're shooting with an APS-C or micro four thirds model, you have to consider the crop factor. An APS-C camera will crop the frame by 1.5x or 1.6x (depending on the brand), so a 100mm lens will provide a field of view of 150mm (35mm equivalent). It's simply capturing a smaller amount of the image created by the lens itself, which makes the image appear zoomed in. A micro four thirds sensor will double the effective focal length so that 100mm lens delivers a 200mm (35mm equivalent) field of view. That's usually not much of an issue with telephoto lenses where you want a longer range but it's especially important to note for wide-angle lenses so be sure to do a little math before you pick out a lens.
There are certain features that increase the price of a camera lens. A lens with a maximum aperture of f/2.8 or faster (lower f-number) will cost more than those with f/stops that start with a maximum aperture of, say, f/3.5. Optical image stabilization, sometimes called vibration reduction, SteadyShot or simply OIS or OS is particularly important for longer, heavier lenses. There are also invisible factors that come into play, like the quality of the glass, the types of coatings applied to the surfaces, and the weather sealing. 
Everything else being equal, some smaller bells and whistles such as the inclusion of a carrying case for the lens, a lens hood, a manual aperture ring and other bonuses may sway you one way or the other. But shouldn't make or break your choice. 
Things to consider when shopping for a portrait lens
When shooting portraits of individuals, or even very small groups, focal length is one of the key criteria for choosing the best camera lens and getting a great shot. Generally speaking, a short telephoto lens—an 85mm or 105mm, for example—is ideal, especially for tight compositions (headshots, waist level/head and shoulders, etc.). For full body and larger group shots, you may want to go as wide as 70mm or 50mm, but not much wider to avoid distortion unless you can back up and shoot wide. 
Also critical is a maximum aperture of at least f/2.8 (or larger) for a shallow depth of field. Shooting wide open (or close to it), softens the background creating a beautiful bokeh effect, that eliminates any distractions and puts the visual emphasis on the main subject. Separating the subject from the background is one of the components of a successful portrait. Lenses also get sharper as you stop the lens down a bit, so you can shoot an f/2.8 lens stopped down to f/4 and expect improved sharpness. 
While there's nothing wrong with shooting a portrait with a short telephoto zoom, most photographers prefer prime lenses for portraits for the best results. A fast, 85mm lens is the oft-preferred choice among pro's and because this focal length/aperture combo is so popular, just about every manufacturer offers a version so you shouldn't have any problems finding one for your specific camera.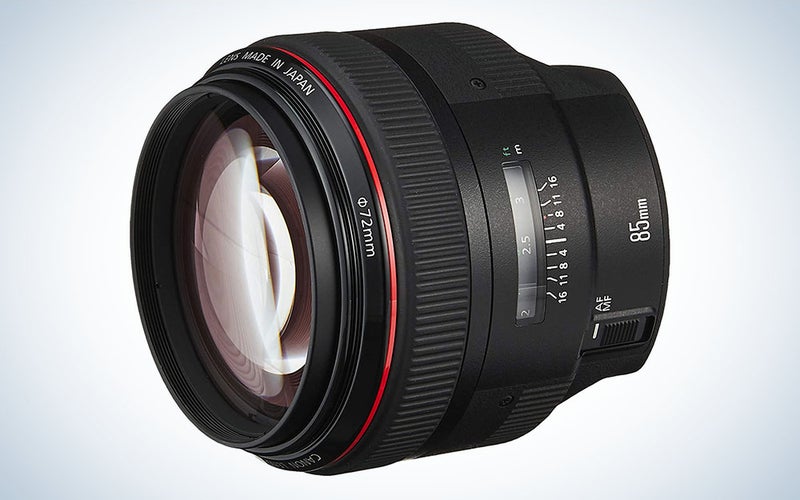 The Canon EF 85mm f/1.2L II USM, which is compatible with Canon full-frame and APS-C cameras, fits all the specs for a great portrait lens with its 85mm focal length and fast aperture. L-series lenses, like this one, are known for their excellent quality and autofocus performance, aided by its AF USM (ultrasonic motor). Check out Canon's other 85mm lenses if price is an issue.
Nikon users can grab a great priced 85mm f/1.8 prime lens, which meets the specs needed for a portrait lens even though it's just a hair slower than other Nikon 85mm models. 
Also check out the Sigma 105mm f/1.4, which comes in Canon, Nikon Sigma, Sony E-mount and L-Mount, gives you a little lens-to-subject distance wiggle room but still provides great bokeh and a sharply focused subject.
Things to consider when choosing the best camera lens for landscapes
Broad vistas, carpets of flowers in the spring, mountain ranges, city scapes, oceans with crashing waves and even the night skies all require a wide-angle or ultra wide-angle lens to capture stunning outdoor scenes. While some astrophotographers and underwater shooters might prefer a 14mm or wider prime lens, a 14-24mm zoom works just as well, particularly at the 14mm end, and provides extra versatility to cover a range of subjects.
A large maximum aperture is not as critical for wide-angle shots as it is for portraits and other genres that are visually more appealing with a soft background. However, an f/2.8 maximum aperture will serve you well under a variety of conditions, especially when shooting night skies or taking a housed camera underwater to photograph shipwrecks.
Designed for full-frame Nikon Z-series cameras, the high-end Z 14-24mm f/2.8 S lens provides edge-to-edge sharpness for outstanding landscape images. The lens is compact and its aspherical lenses are ideal for keeping cityscape lights and stars sharp. As a bonus, there are two options for adding filters: screw in 112mm filters at the front and a slot at the rear element for filter sheets and gels. 
Other options for ultra-wide-angle lenses include the Sony FE 12-24mm f/2.8 G Master for full-frame cameras. A little extra coverage starting as 12mm and a constant aperture throughout the zoom make this an attractive, albeit pricey, camera lens.
Sigma offers two versions of its 14-24mm f/2.8 art series lens. One for Canon or Nikon; the other for mirrorless L-mount and Sony E-mount cameras.
What to consider when choosing the best camera lens for wildlife photography
Wildlife can be elusive—and skittish if you get too close—so a super-telephoto (or telephoto) zoom is a must for any wildlife photographer. 
While long lenses have the reach you need, keep in mind that telephoto/super-telephoto models are generally slower than other lenses with maximum apertures starting at around f/4.5 at the widest end. The longer the lens, the less light it's capable of funneling to the sensor as the maximum f/stop goes to f/5.6 and higher. This is where shooting with an APS-C or Micro Four Thirds sensor comes in handy since a crop factor is applied (1.5x or 1.6x or 2x, respectively). If you're shooting full-frame but want to increase the focal range, check to see if a tele-extender is available. Just be aware that you will lose even more f/stop flexibility.
Other key specs of this photography gear to check out include whether or not the lens has image stabilization (most telephoto and super-telephotos do) since you'll likely be handholding the lens. Do you plan to shoot from a tripod? Make sure a tripod collar one is available if it isn't bundled with the lens. Also, a focus limiter feature is a handy option although not critical to make great images. 
Best super telephoto lens for wildlife photographers: Sigma 60-600mm f/4.5-6.3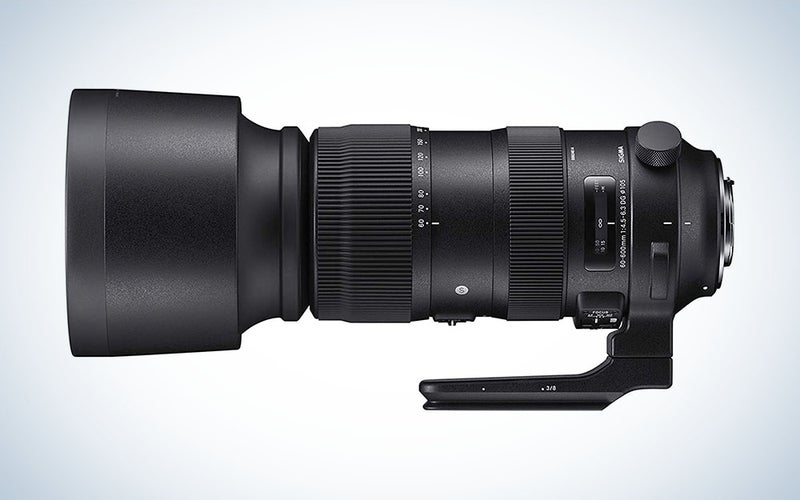 This 60-600mm super telephoto zoom is great for wildlife because it's long enough to photograph the most elusive lioness and her cubs on a photo safari but wide enough to frame a pod of dolphins riding the bow waves of a boat or visitors to the bird feeder outside your back door. Available for Nikon, Canon, and Sigma, this image-stabilized lens comes with a tripod collar and is dust-and splash-proof.
Sony shooters should check out the Sony FE 200-600mm f/5.6, which features Sony's excellent SteadyShot image stabilization.
While we generally recommend zooms for wildlife photography, don't overlook some of the primes on the market. For example, the Canon RF600mm f/11 IS STM lens is compatible with Canon's EOS R mirrorless system. And while its maximum aperture is only f/11, it should work well in brightly lit conditions. Although you may need to boost the ISO to get a fast shutter speed, this lens costs less than half the price of other super telephoto options. 
Things to consider when shopping for the best macro lens
One of the key specifications of a macro lens is its reproduction ratio. This figure indicates the relationship between the image and the actual size of the subject. For example, a macro lens with a 1:1 ratio reproduces the image at the same size as the subject. A 1:2 ratio is half the size while a 2:1 macro lens will capture an image at twice the size. 
In addition to the reproduction ratio, the working distance is extremely important. This differs from the minimum focusing distance because it measures the distance from the front of the lens to the subject (versus from the focal plane to the subject). For example, a 100mm macro provides a wider span between lens and subject than, say, a 60mm macro. Given the sensitivity of insects to your presence, it's easy to scare them away so you're better off with a 90-105mm macro on a full-frame since you'll be farther away. 
It's best to choose a camera lens with a minimum aperture of at least f/22 (f/32 is even better). While you generally want a blurred background, you'll need to stop down the lens to get a depth-of-field that will keep your close-up subject in focus.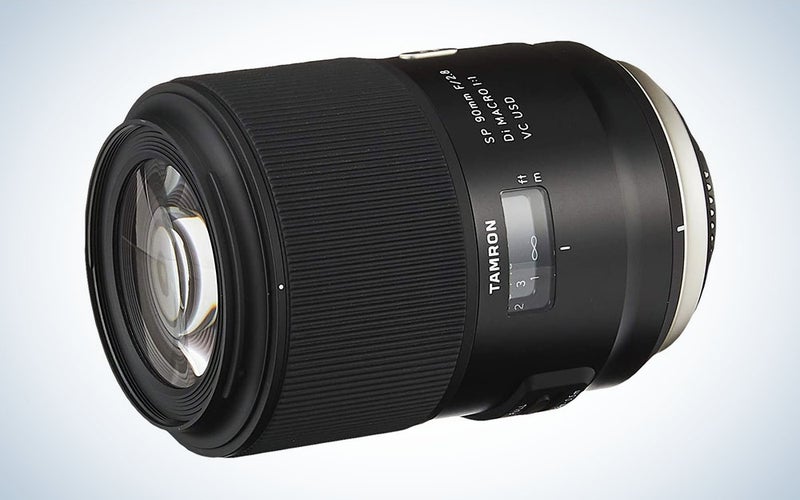 The Tamron 90mm f/2.8 Di VC USD is a 1:1 macro lens with a minimum aperture of f/32 for better depth-of-field and vibration compensation (VC), a proprietary form of image stabilization. Available for Canon, Nikon and Sony cameras (the latter without VC), the lens is moisture-proof and dust-resistant. 
Other candidates for this category include the Sigma 105mm f/2.8 G DN Macro Art lens with its 1:1 magnification, focus limiter switch, AFL button and dust- and splash-proof build. Two versions are available: one for Nikon and Canon; another for L-mount and Sony e-mount. And it can double as a portrait lens, too.
The Panasonic Lumix G 30mm f/2.8 macro lens is a good option for Micro Four Thirds users (60mm 35mm-equivalent focal length). This 6.35 ounce lens can focus as close as 0.345 feet and features optical image stabilization.
Things to consider when choosing a camera lens for street photography 
Street photographers need to be nimble and relatively unobtrusive (but not hidden). That translates into a small camera and a compact lens. For many, a 35mm lens—many of have a low profile—offers the best option. A 35mm lens isn't so wide that it will distort subjects' faces yet it's wide enough to capture a broad range of street scenes. And there's generally enough depth-of-field to help ensure sharply focused images at the touch of the shutter. While some photographers prefer a 50mm lens (see our Best Budget Lenses), we still think 35mm is ideal. For cropped sensor cameras, you may end up with a lens that's a little longer or shorter.
Above and beyond size and focal length, an maximum aperture of f/2.8 or larger works well on the street, not only for low light but to ensure a fast enough shutter speed to grab the action. If the lens comes with an equally compact lens hood, all the better since a hood will help prevent lens flare. But, there's no rule that says lens flare is always bad—sometimes it can add an extra sense of style.
This compact lens has proven its worth over the years for candid shots that require a wide aperture and quick autofocus. At 7.2 ounces and measuring 2.5 x 1.7 inches (D x L), the Nikkor 35mm f/2D is highly portable. And for a true street photography touch, there's a manual aperture ring for quick exposure changes.
Fuji X-series users will fall in love with the Fujinon XF27mm f/2.8 R WR, even though its 35mm-equivalent focal length is 40mm. Razor thin at 0.90 inches, only 2.4 inches in diameter, and weighing a mere 2.9 ounces, this is an amazing lens. Add weather resistance, a manual aperture ring, and a tiny lens hood (that also protects the lens) and it's tempting to switch to an x-series camera just to use an XF27mm lens.
Best camera lens on a budget: what you get for under $200
Don't underestimate the importance of a quality lens. In fact, it's often better to skimp a little bit on a camera, ignore most kit lenses and spend the extra dollars on a better lens. You'll likely update your camera at some point but lenses will stay with you through multiple camera purchases. 
That said, you don't have to spend a bundle to add an excellent lens that will serve you well regardless of how long you've been shooting or plan to pursue photography. Fortunately, some of the least expensive lenses fall into the "must have" category of the nifty fifty. A 50mm lens is probably the most versatile glass you can put on your camera since it's appropriate for a wide range of scenarios. Better yet, there are some excellent options for budget-conscious photographers.
Despite its low price and small size, this fast, Nikon 50mm lens produces images that are razor sharp. At 2.5 x 1.5 inches (D x L) and weighing only 5.5 ounces, this pint-size lens packs a punch with its great optics, swift autofocus, and manual aperture ring. 
Canon full-frame mirrorless R-series users will appreciate the RF50mm f/1.8 STM lens for its fast aperture, small size, and quiet STM (stepping motor), which is perfect for video as well as stills. 
If your budget is super tight, you may want to check out the Yongnuo 50mm f/1.8 prime, available for Nikon and Canon DSLRs.
FAQs
Q: What is the best lens for everyday photography? 
That's easy. The best lens for everyday photography is a fast, 50mm prime lens. A 50mm lens on a full-frame camera best approximates the field of view we see with our eyes. These lenses are usually compact so they won't weigh you down when you're out and about taking pictures and can be used for everything from portraits to If you're shooting with an APS-C or Micro Four Thirds camera, keep the crop factor in mind to get the closest to a 50mm equivalent. 

IF you don't want a prime lens, a normal zoom—something that starts at the wide-angle and goes to a short telephoto like the 24-70mm lenses pros often use—will give you maximum flexibility.
Q: What three lenses should every photographer have? 
There's no set trio of lenses that every photographer should have but we'd say that most pro's have a 24-70mm and a 70-200mm in their camera bag. The third choice is often a prime lens that addresses a more specific genre—perhaps an 85mm for portraiture or a 14mm for underwater or astrophotographers. Of course, a 50mm lens is great for everyday shots.
Q: How many lenses do I need for photography? 
You don't need a lot of lenses to make great photographs. In fact, when you're starting out, it's probably best to choose one lens—perhaps a midrange zoom or, our favorite, a 50mm—and go out and take pictures. As you progress on your photographic journey, you'll discover what, if any, other lenses you need to create the types of pictures you want to make.
What to keep in mind when shopping for the best lens for your photography 
Many of us spend more time selecting a camera than choosing the best lens. While cameras are an integral part of your photography equipment, lenses can make or break your images regardless of whether you're shooting with an entry-level or a pro-level camera. With that in mind, you may want to go for a single quality lens over two or three mediocre pieces of glass. Be discerning and take your time building your stash of glass. Lenses will be with you for a long time.