These are the 2020 World Press Photo nominees
The winners will be announced in April.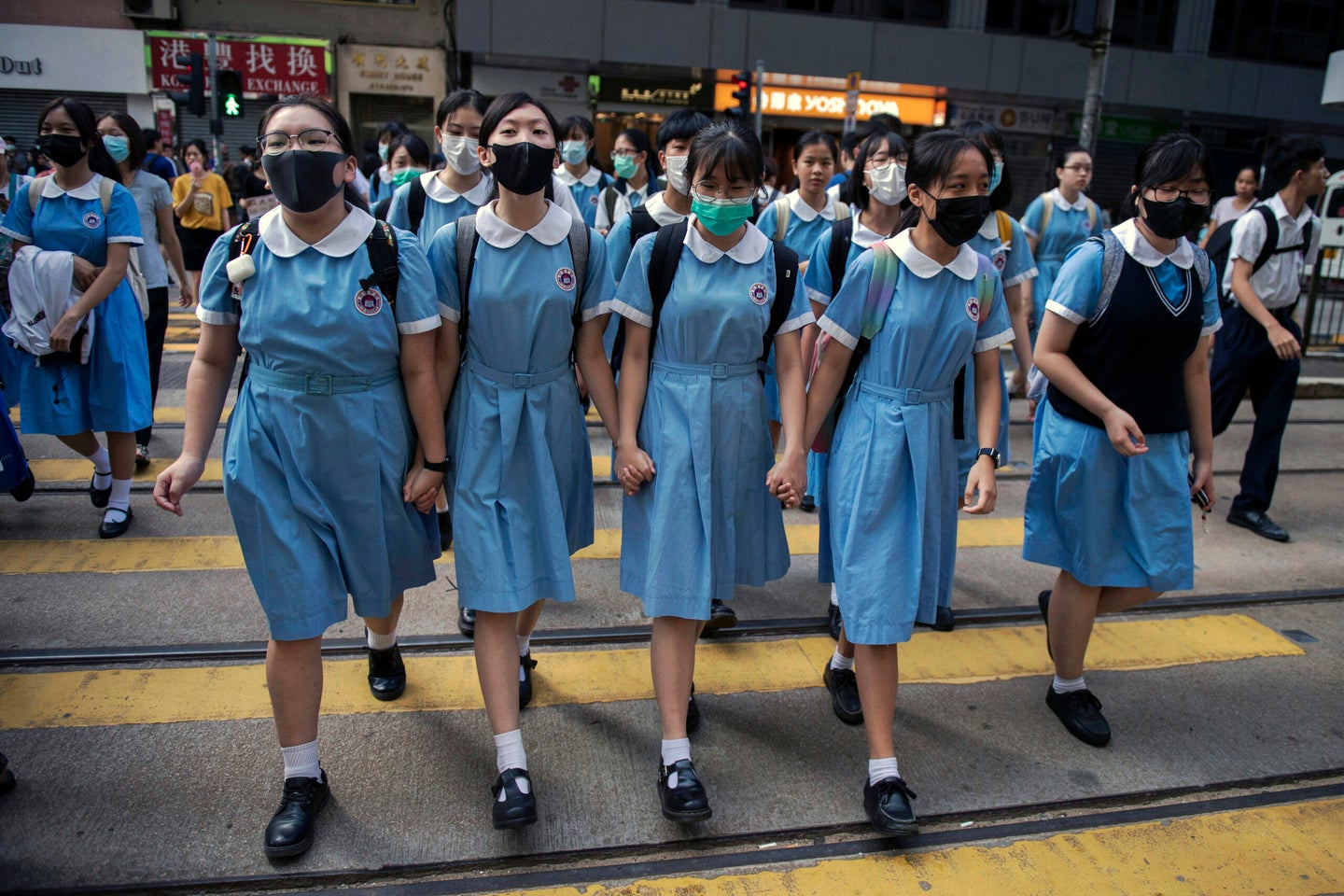 World Press Photo has announced the nominees for its 63rd annual photography contest. Started in 1955, this annual contest celebrates the most powerful stories from the world of visual journalism. The contest received entries from 4,282 photographers from 125 countries who entered a total of 73,996 images this year.
Entries were judged by an independent jury of 17 photo professionals who are charged with selecting the best pictures from the year. It's no surprise that this year protest photography and environmental stories played a large role. Ultimately, the judges selected 44 photographers from 24 countries to become nominees. In 2019 World Press Photo debuted a new category called Story of the Year which focuses on a sequence of images about a single issue or event, rather than a single frame.
The nominees for Story of the Year are: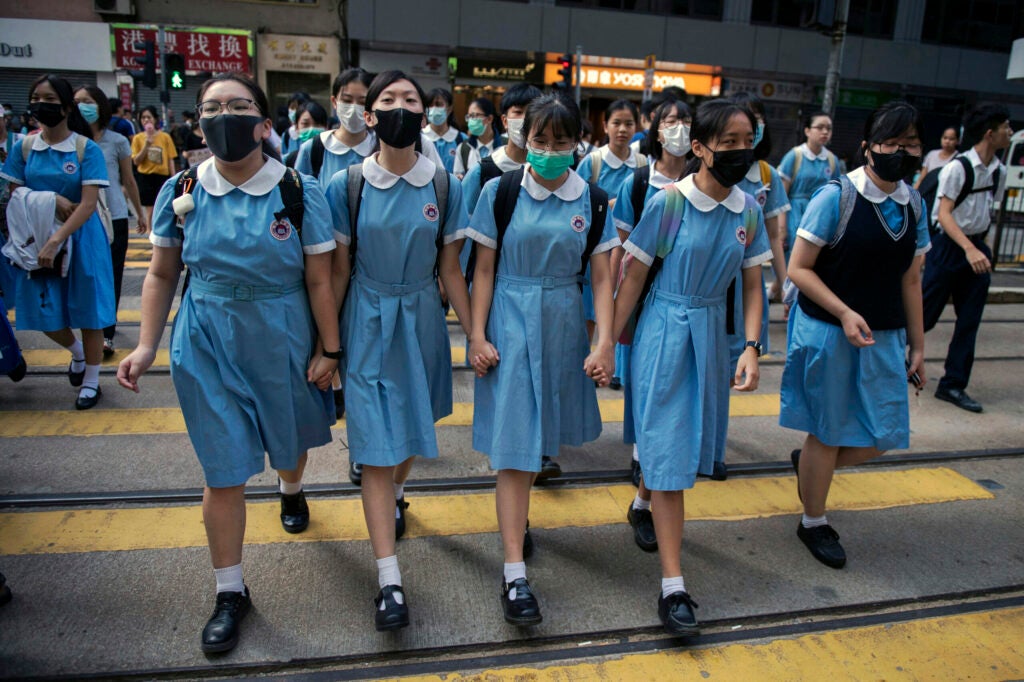 Hong Kong Unrest
Students cross a road to school after participating in a human-chain rally, in Hong Kong, on 12 September 2019.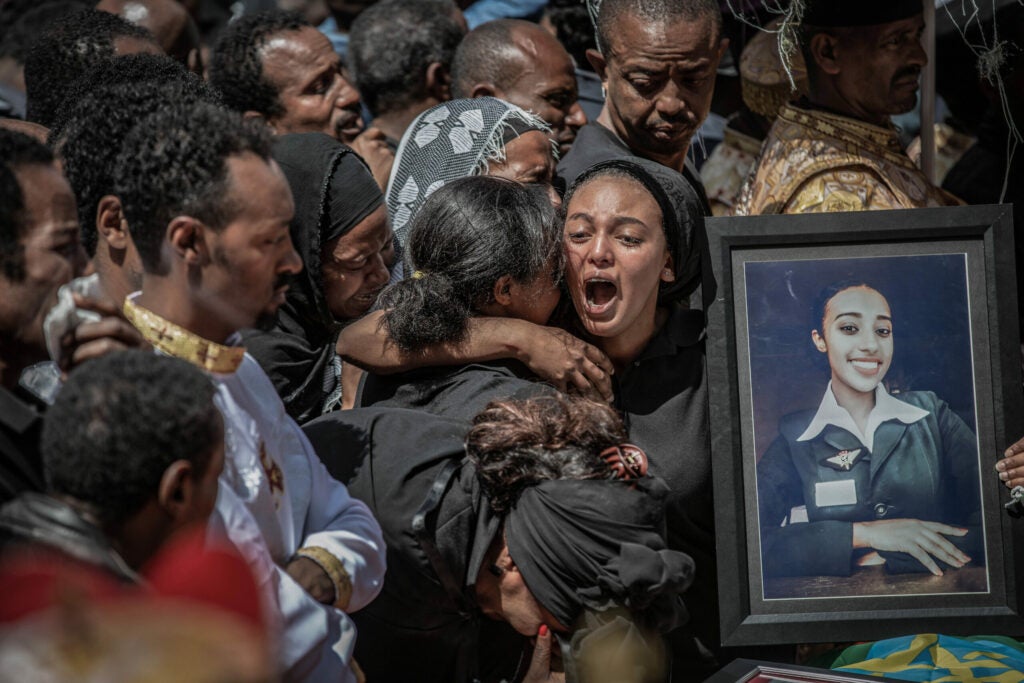 Ethiopian Airlines Flight 302 Crash Site
Relatives hold a photograph of a victim of the crash of Ethiopian Airlines Flight ET302 at a mass funeral at the Holy Trinity Cathedral in Addis Ababa, Ethiopia, on 17 March 2019.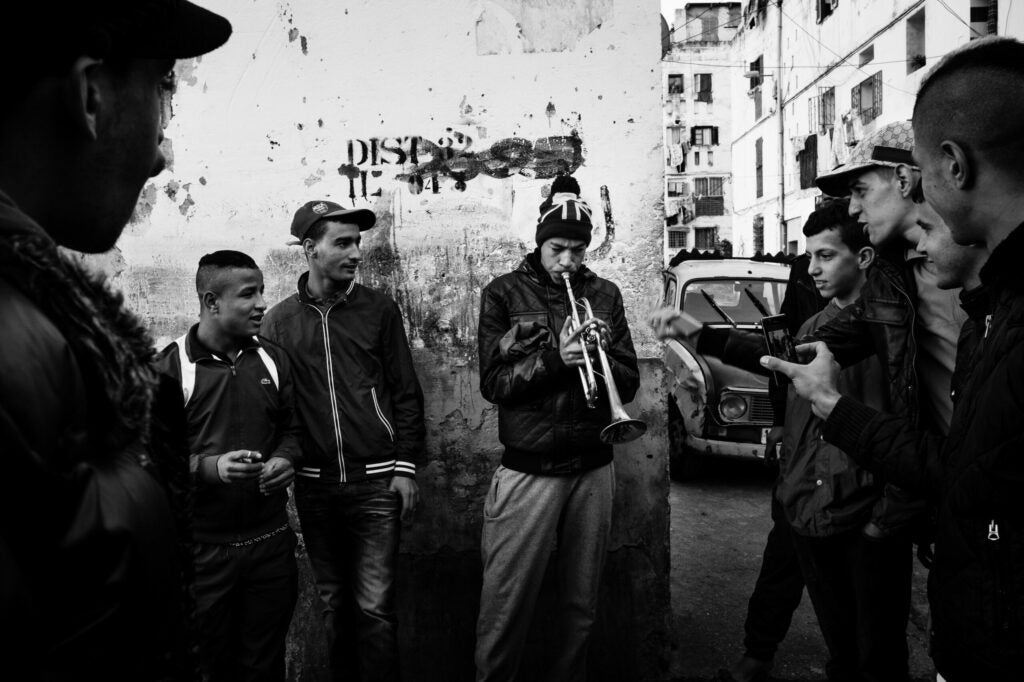 Kho, the Genesis of a Revolt
A young man carries a trumpet in Bab el-Oued, Algiers, Algeria, and immediately generates a crowd. Nobody knows how to play the instrument, but there is widespread enthusiasm.
Six photographers have been shortlisted for Photo of the Year, they are: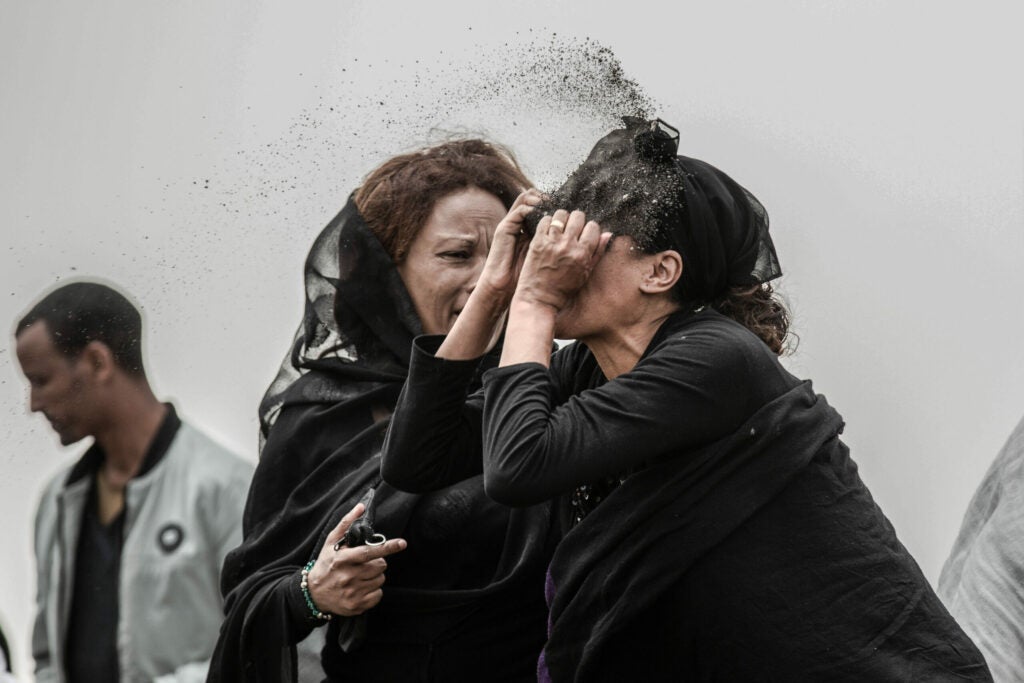 Relative Mourns Flight ET 302 Crash Victim
A relative of a victim of the crash of Ethiopian Airlines Flight ET302 throws dirt in her face as she grieves at the crash site of Ethiopian Airlines Flight ET302, outside Addis Ababa, Ethiopia, on 14 March 2019.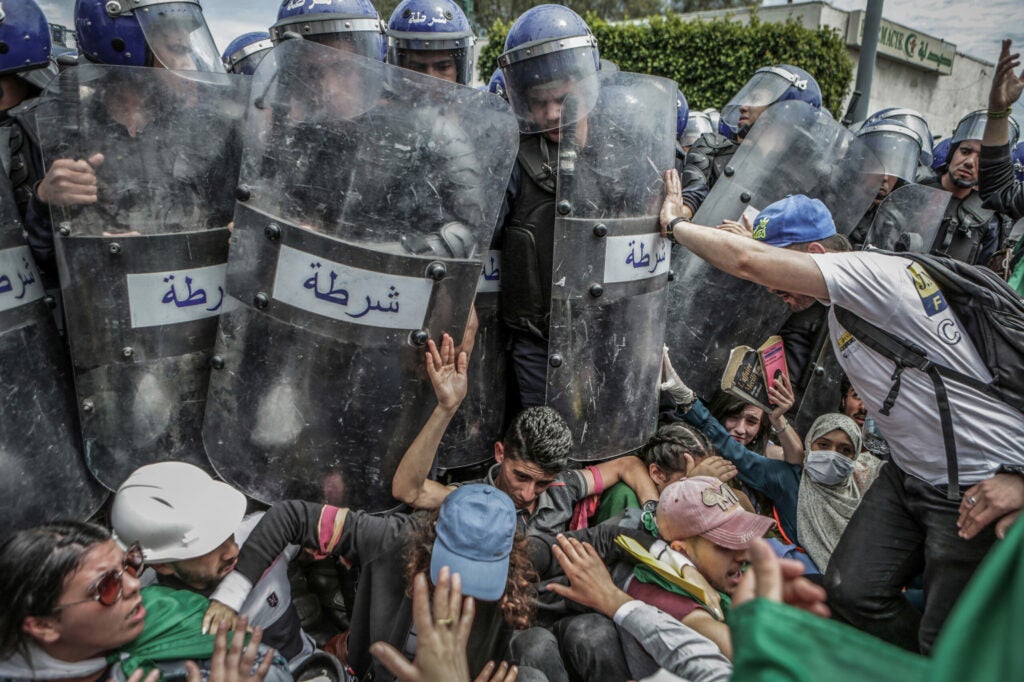 Clash with the Police During an Anti-Government Demonstration
Students scuffle with riot police during an anti-government demonstration in Algiers, Algeria, on 21 May.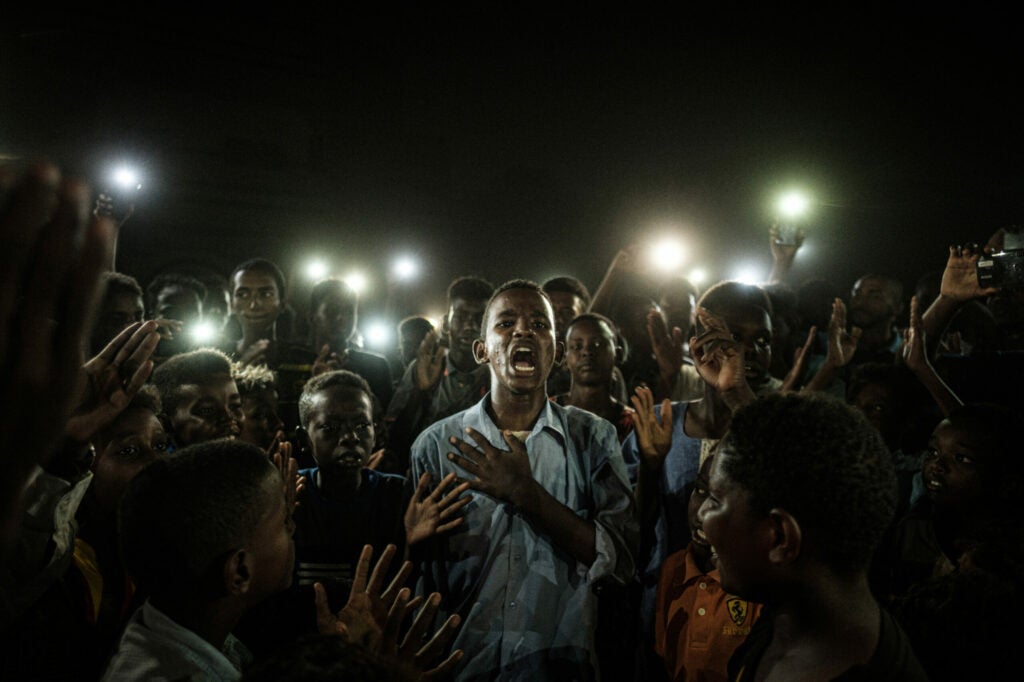 Straight Voice
A young man, illuminated by mobile phones, recites protest poetry while demonstrators chant slogans calling for civilian rule, during a blackout in Khartoum, Sudan, on 19 June.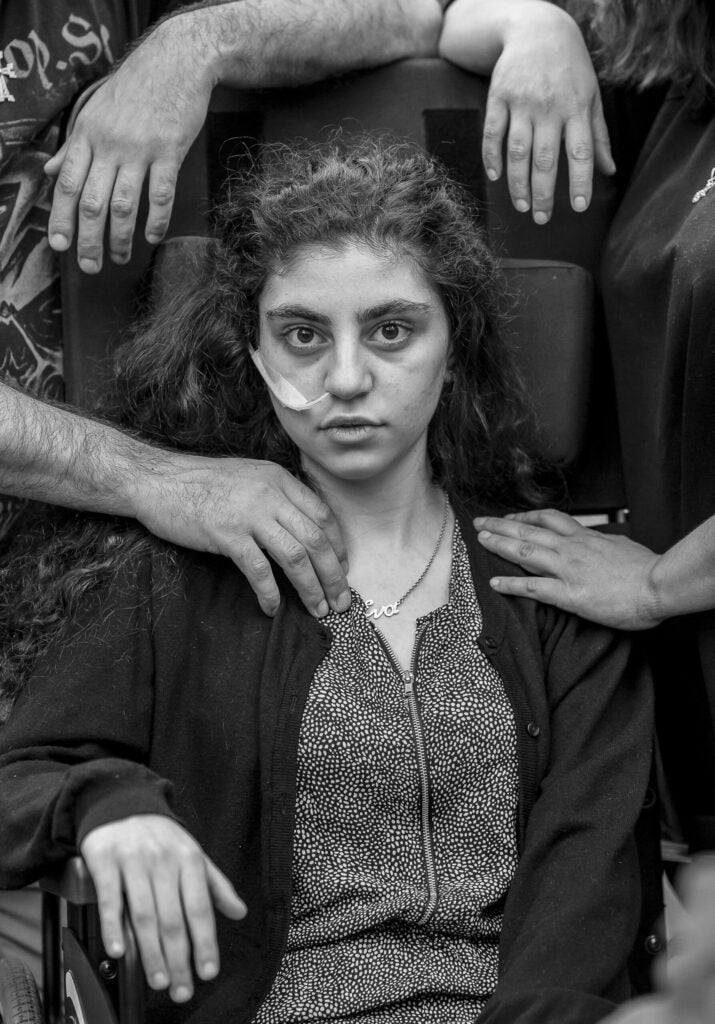 Awakening
Ewa, 15-year-old Armenian girl who has recently woken from catatonic state brought on by Resignation Syndrome, sits in a wheelchair, flanked by her parents, in a refugee reception center in Podkowa Leśna, Poland.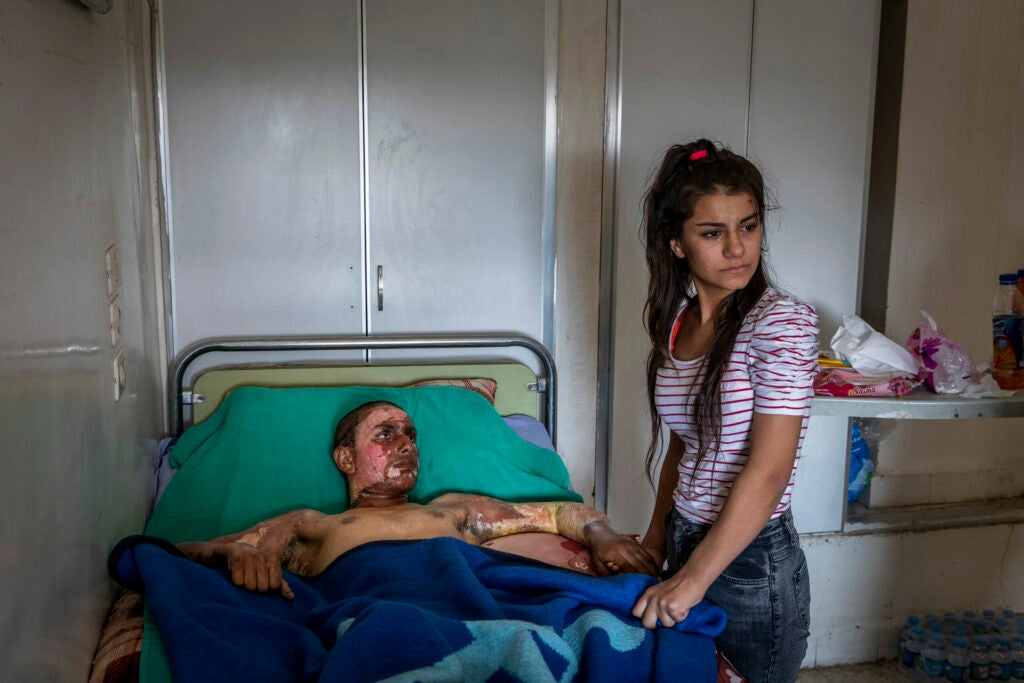 Injured Kurdish Fighter Receives Hospital Visit
Ahmed Ibrahim (18), an SDF fighter badly burned in conflict with Turkish forces, is visited by his girlfriend at a hospital in Al-Hasakah, on 20 October. She had at first been unable to enter the room, as she was horrified by his injuries, but a nurse encouraged her to go in to hold Ahmed's hand and have a short conversation.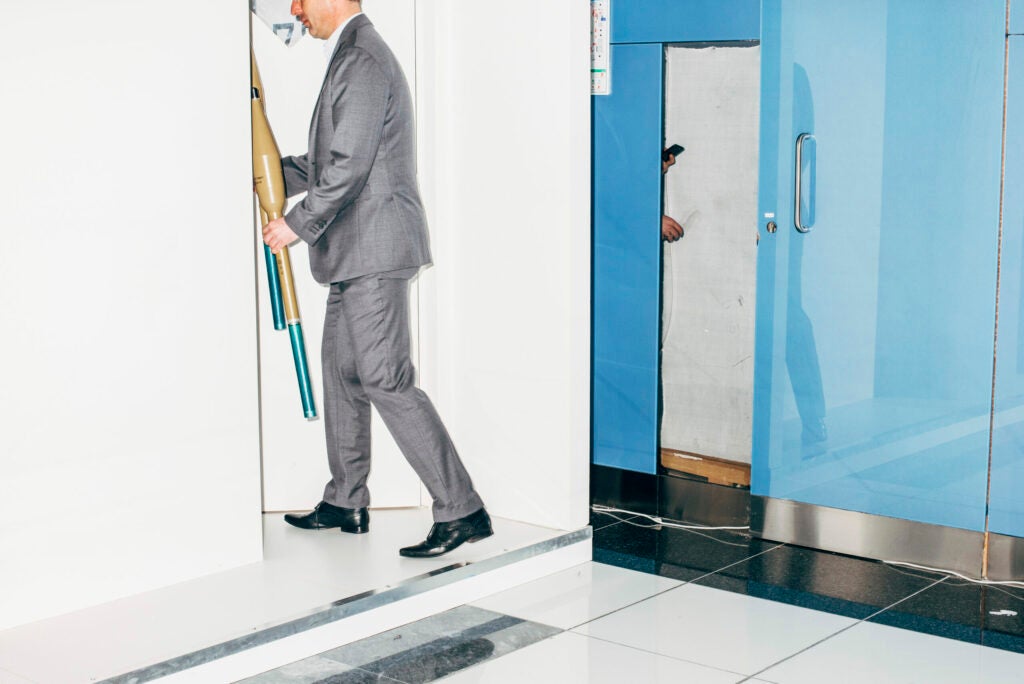 Nothing Personal – the Back Office of War
A businessman locks away a pair of anti-tank grenade launchers at the end of an exhibition day, at the International Defence Exhibition and Conference (IDEX) in Abu Dhabi, United Arab Emirates, on 18 February.
The winners of World Press Photo will be announced in April during the World Press Photo Festival in Amsterdam. Winners of Story of the Year and Photo of the Year will be awarded a 10,000 euro prize. In addition to these top nominations, the jury has nominated three single images and three stories across eight categories: Contemporary Issues, General News, Environment, Nature, Long-Term Projects, Portraits, Spot News and Sports. We've highlighted some of our favorites below, more work from the nominees can be found on the World Press Photo site.
Exodus
A political and socio-economic crisis in Venezuela, from 2016 onwards, led to an increasing outflow of migrants from the country. Venezuelans said they were compelled to leave for reasons of insecurity and violence, lack of access to food, medicine and essential services, and loss of income due to the political situation.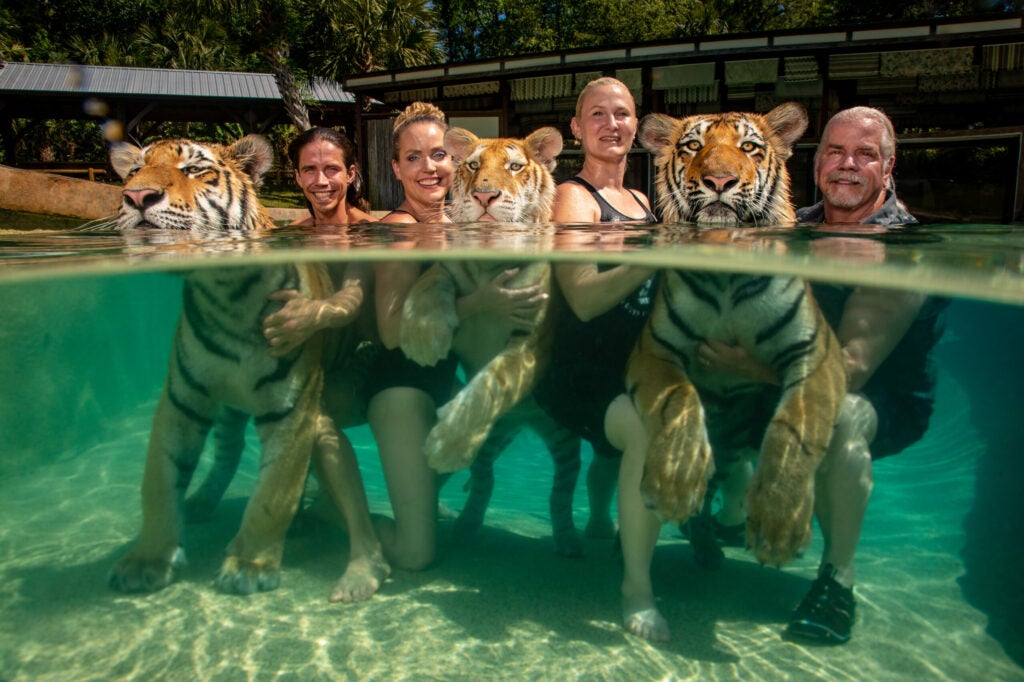 The Tigers Next Door
Between 5,000 and 10,000 tigers live in captivity in the US. Roadside zoos and other businesses breed tigers and charge guests to pet and pose with them. Staff in the swimming pool with tigers. 4 week old liger cubs.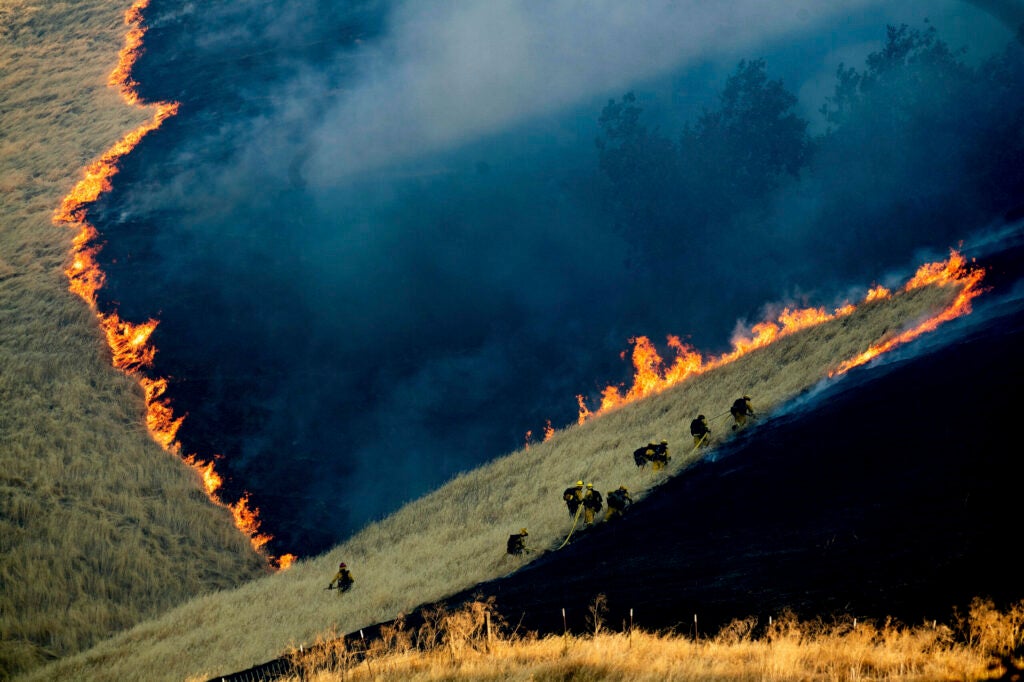 Battling the Marsh Fire
Firefighters battle the Marsh Complex Fire, near the town of Brentwood, California, USA on 3 August.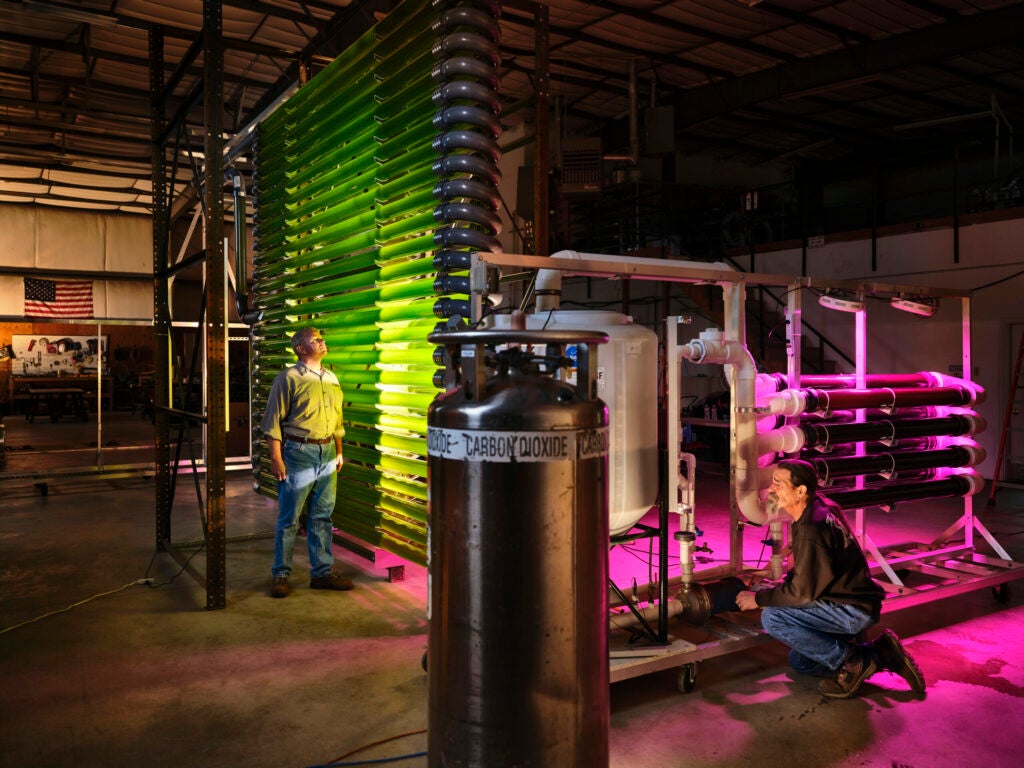 The End of Trash – Circular Economy Solutions
For centuries, industrialized countries have followed a take-make-waste linear economy: raw materials are gathered and transformed into products that are sold and then discarded as waste. Value is created in this economic system by producing and selling as many products as possible.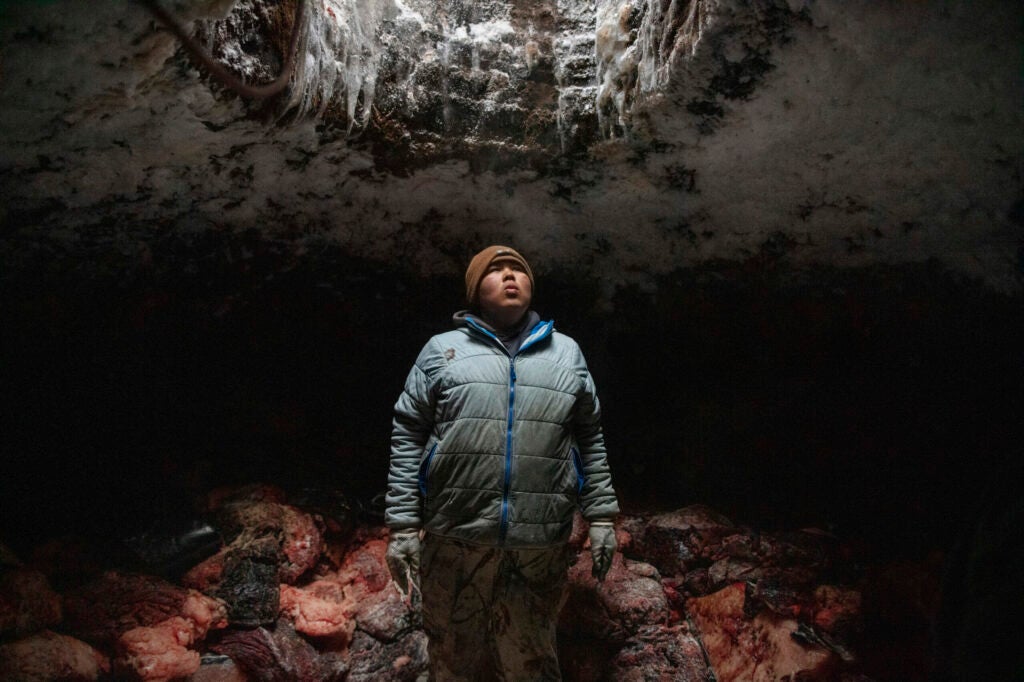 The Carbon Threat
After a successful hunt, Josiah Olemaun, a young whaling crew member takes a break from moving and stacking whale meat into his family's ice cellar in Utqiagvik, Alaska.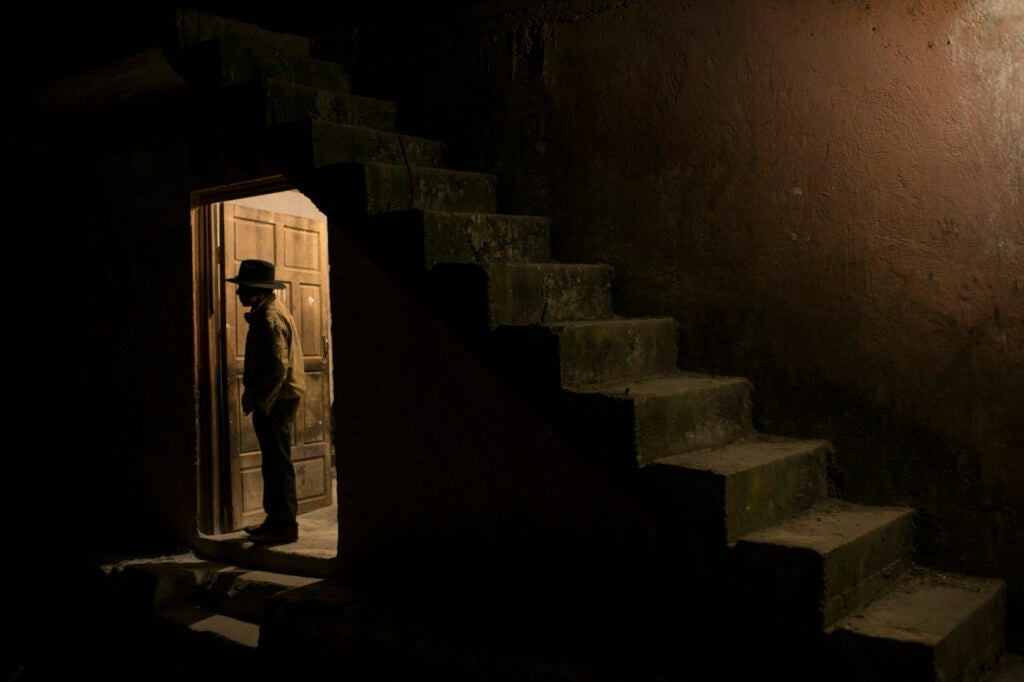 Ixil Genocide
Inside the house, relatives of Juan Gomez Sambrano are taking part of a wake in his honor. Juan Gomez was murdered at 19 by Guatemalan Army together with several members of his village, Chisis, in Cotzal municipality, in February 1982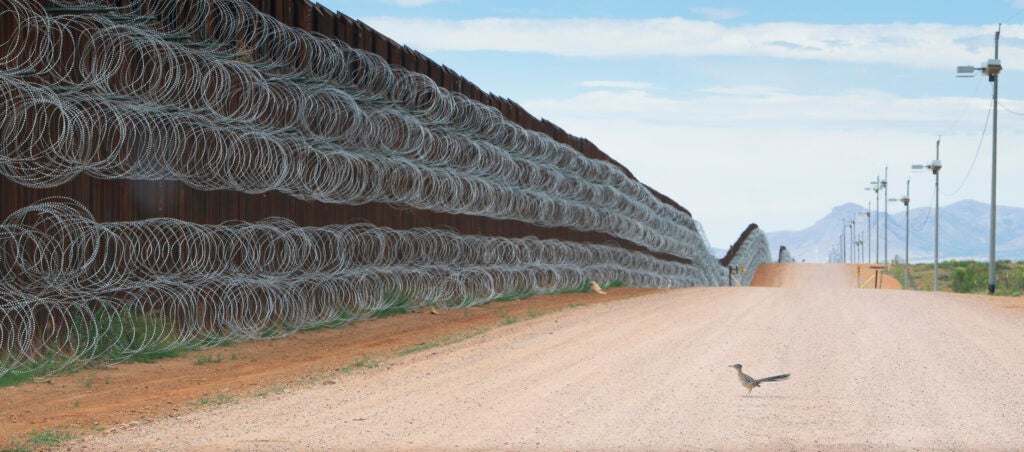 Roadrunner Approaching the Border Wall
A greater roadrunner approaches the border wall at Naco, Arizona, USA on 28 April.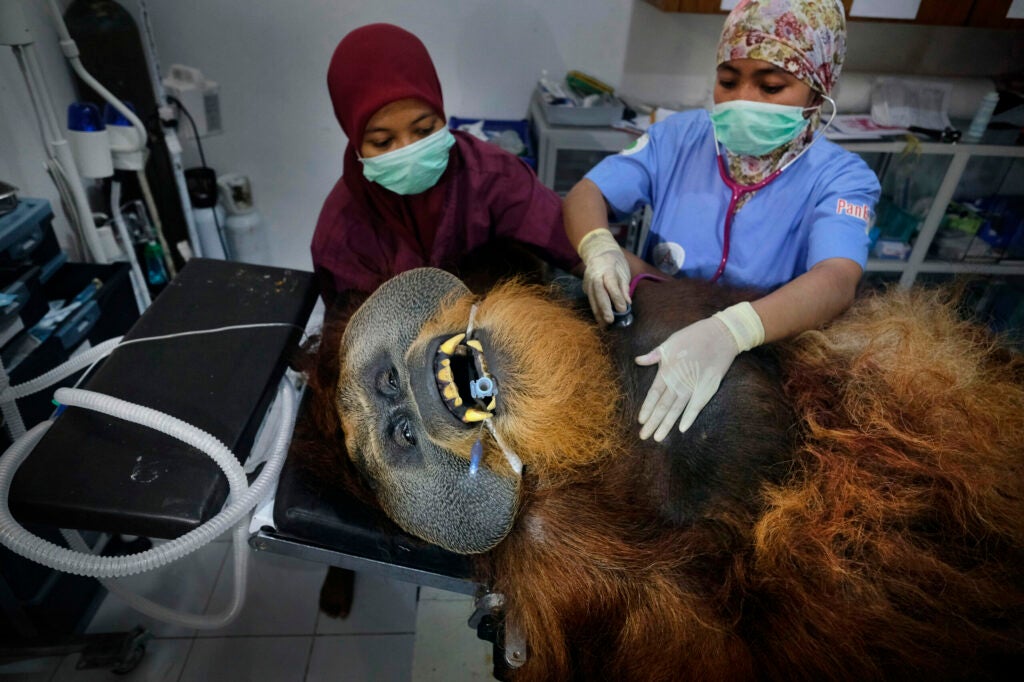 Saving Orangutans
Fahzren is undergoing a routine medical check. Junior vet Miuthya (r) and senior vet Yenny (l) left examine the orangutan. Fahzren is 30 years old and comes from a zoo in Malaysia where he has lived since he was a baby. His medical condition is fine but he does not have the skills to survive in the wild.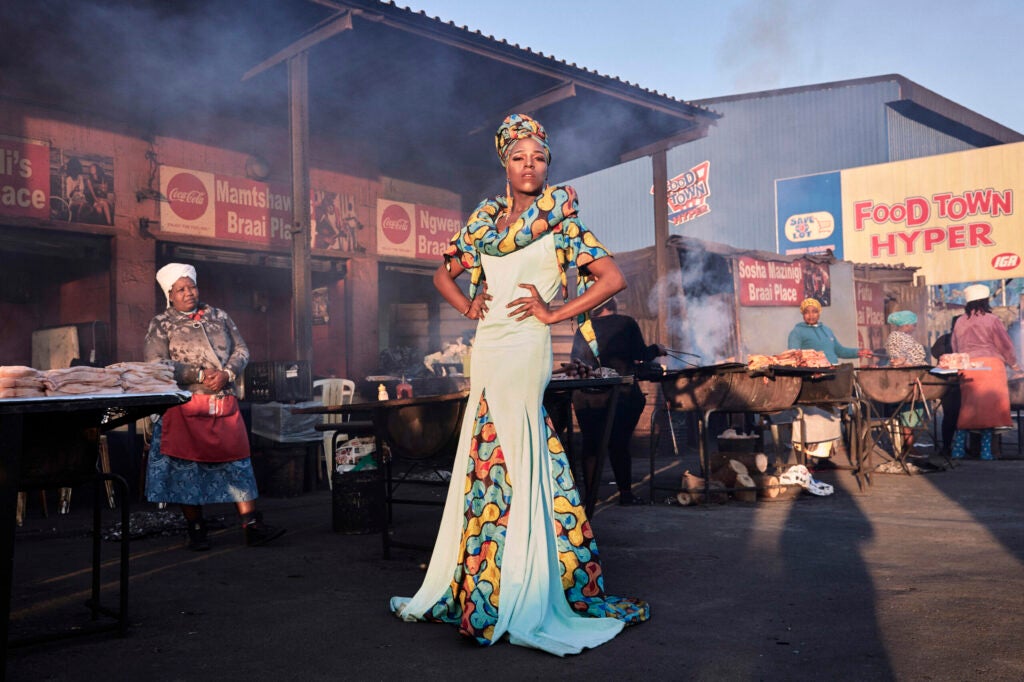 Black Drag Magic – Portrait of a Drag Artist and Activist
Belinda Qaqamba Ka-Fassie, a drag artist and activist, poses at a shisanyama—a community space where women cook and sell meat—in Khayelitsha, a township located on the Cape Flats, near Cape Town, South Africa.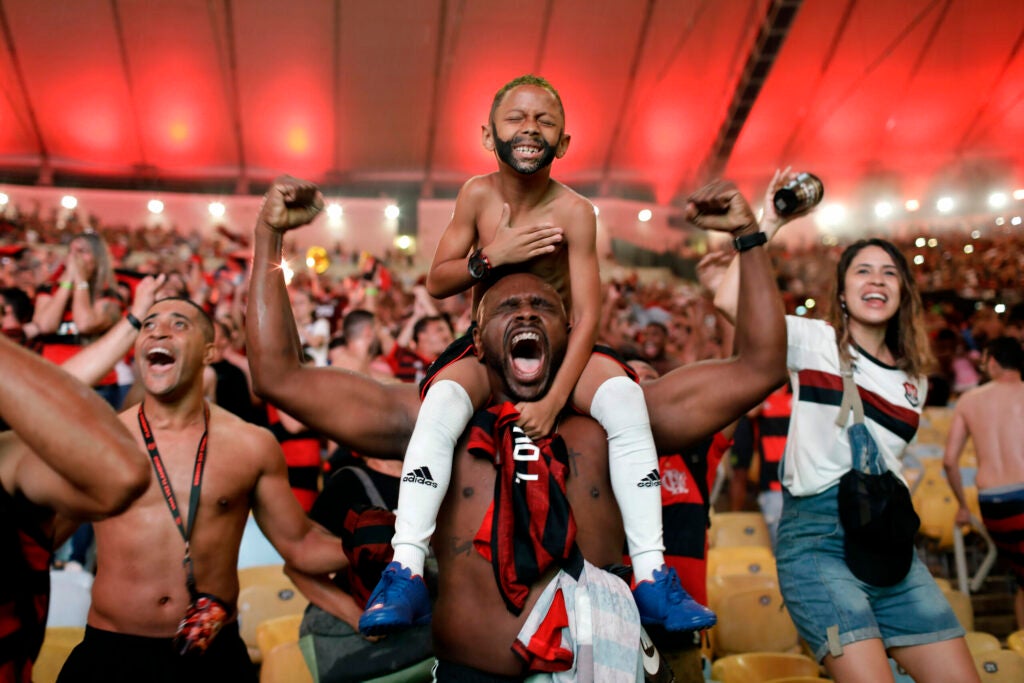 Cheering the Goal
Fans of Brazil's Flamengo football team cheer as Gabriel Barbosa scores a goal against defending champions River Plate of Argentina, in the final of the Copa Libertadores, broadcast on a giant screen during a watch party at Maracanã Stadium in Rio de Janeiro, Brazil, on 23 November 2019.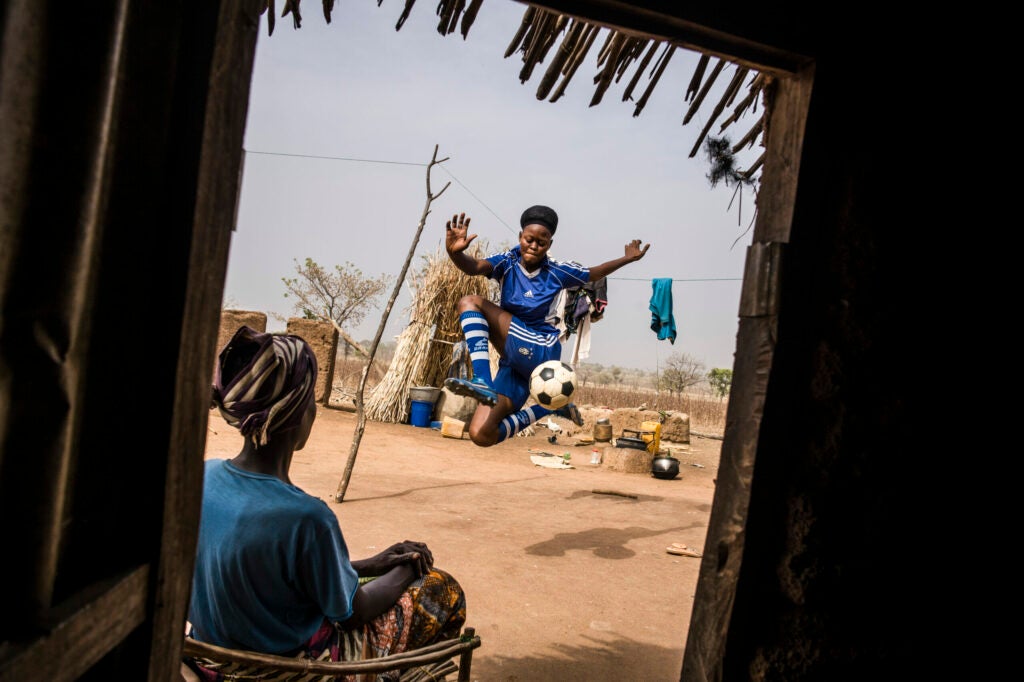 The Gouandé Gazelles
In two years, the footballers from the village of Gouande, in northern Benin, have made their mark and blazed new trails. Refusing to be confined to the status of women who are fragile, incompetent or solely dedicated to motherhood, they have come together to defend their place on all the fields.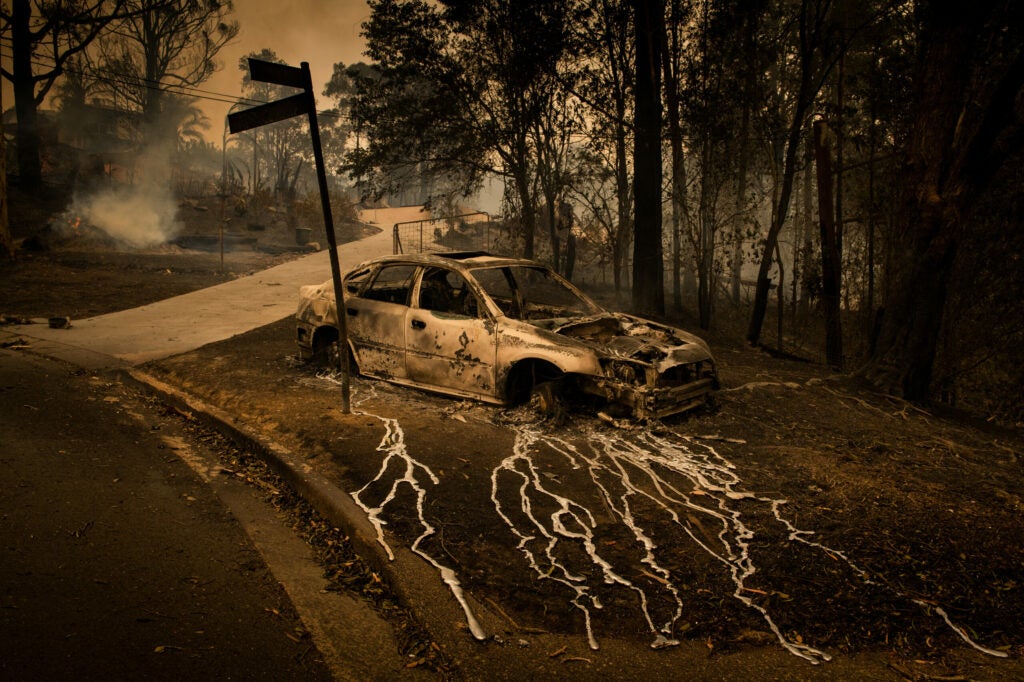 Australia's Bushfire Crisis
A destroyed car on a street corner in Conjola Park. The fire was so hot in the town that the aluminium in several cars melted. Pure aluminium melts at 1221 Fahrenheit or 660.3 degrees Celsius. Two people died and at least 70 properties have been lost in Conjola Park, NSW.