Sigma FP L review: An ambitious, beautiful, and deeply weird camera
The tiny Sigma FP L has a big, beautiful sensor inside, but it's lack of a mechanical shutter makes it tricky to shoot on the move.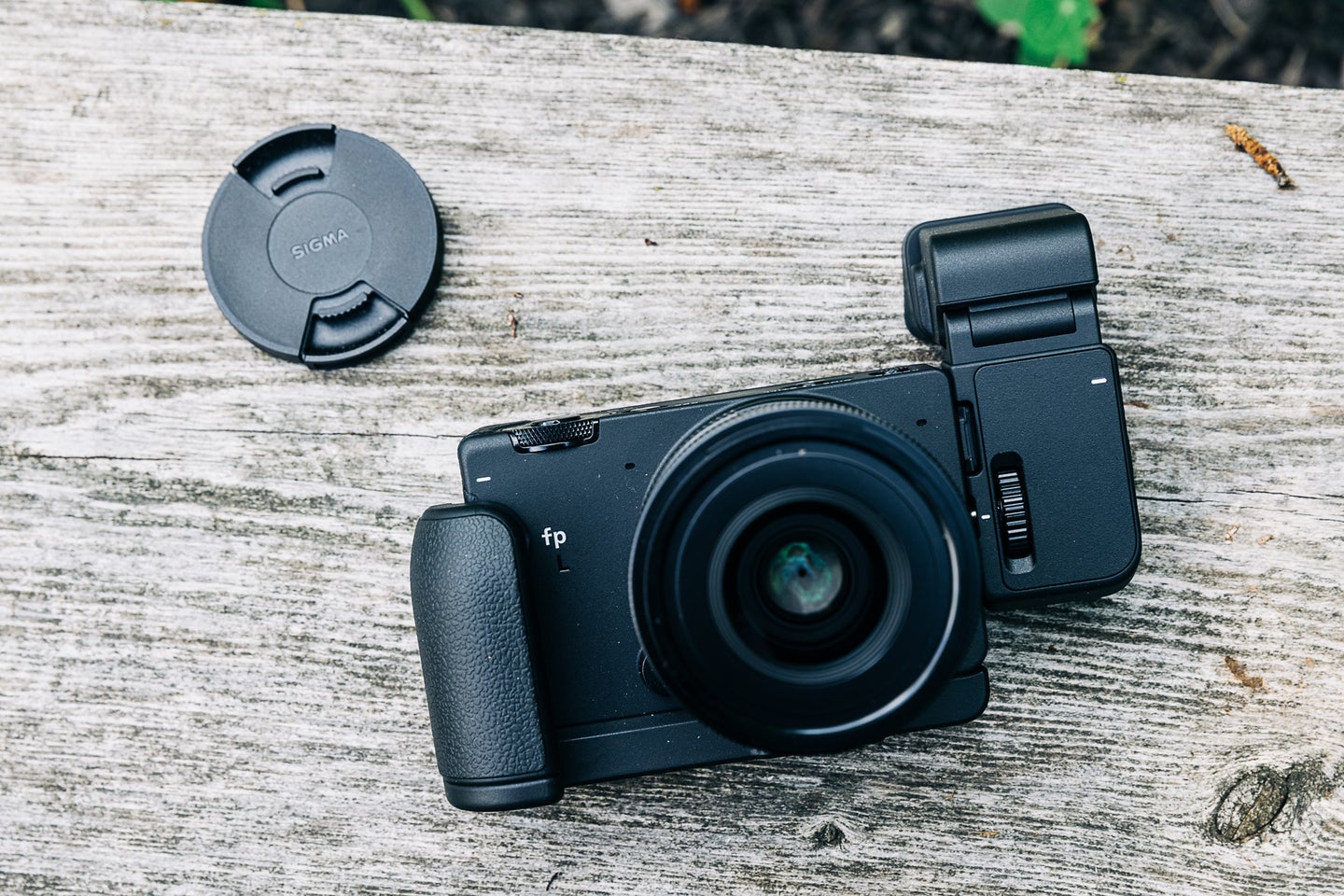 We may earn revenue from the products available on this page and participate in affiliate programs. Learn more ›
| | |
| --- | --- |
| Pros | Cons |
| – Tiny compared to other full-frame cameras | – No mechanical shutter and slow electronic shutter |
| – Beautiful image quality | – Accessories get expensive quickly |
| – Solid connectivity for video gear | – No rotating screen |
Pop the lens off of Sigma's FP L camera and you'll find its 61-megapixel full-frame sensor staring directly back at you. The shiny chip seems huge compared to the rest of the camera. The body is a small brick that's 2.8 inches tall, 4.4 inches wide, and 1.8 inches thick. It uses the same body as the original FP that came before it. But the new FL L cranks the still imaging capabilities up to maximum. The result: A tiny full-frame digital camera with tons of potential and a few quirks that will displease photographers.
What is it?
The Sigma FP L manages to achieve its tiny size and slightly sub-one-pound weight by jettisoning just about every non-essential feature it can. It doesn't have a built-in electronic viewfinder like you'd expect to find on a $2,500 mirrorless digital camera. The screen doesn't rotate, and the shooter's selection of buttons and control dials is somewhat sparse. It doesn't even have a built-in hot shoe to attach a flash or hold a shotgun microphone. Sigma offers a wide variety of add-on accessories, including an electronic viewfinder and an accessory shoe that connects to the camera via a USB-C port. 
The little brick-like Sigma feels at home on a tripod. It also slots nicely into a video rig or onto a stabilizer. You'll find tripod sockets on the bottom and sides of the camera, so it's simple to attach to a rig. It's not very comfortable to handhold without an additional grip, especially once you start attaching larger lenses (it uses the Leica L mount) to it. It's not meant for too much moving around, but more on that later.
Design and handling
Using the Sigma FP L without a grip, rig, or tripod feels slightly odd. The body itself is so small and smooth on the sides that even moderately sized lenses, like a standard zoom, start to feel a little large. Handling improves drastically with one of the optional handgrips attached. You can choose from the $58 grip or the $95 larger one, which has a plate that extends across the bottom of the entire camera. The extra stability from the grips feels extra necessary when you consider that the FP L lacks in-body image stabilization.
When you are attached to a gimbal or some other form of stabilization, the small size is great. I tested the Sigma FP L with the DJI Ronin RS2 gimbal, and I really appreciated the small size and lightweight. 
If you're planning to use the FP L as a photography camera, you'll probably want to add the $699(!) electronic viewfinder and a grip. Accessories make the whole thing start to feel a bit like a Frankenstein of different components. The half-inch, 3.68-million-dot EVF has solid resolution and magnification, but it also sticks awkwardly off to the side and looks, well, kinda weird. 
If you're sticking to the on-camera 3.15-inch screen, it looks like it should rotate because of some notches around the edges of the display, but don't be fooled. Those are actually vents, which allow hot air to escape from inside the camera body. That helps counteract the intense heat generated by high-res video capture. 
Using the FP L for photography
The lack of a mechanical shutter really hinders the Sigma FP L as a photography-oriented camera. The huge, color-accurate images that come out of the image sensor are excellent. But, because that sensor has a relatively slow read-out rate, moving objects in the frame can appear skewed. 
Imagine you're on a fast-moving train and you take a photo out the window of some trees that are relatively close to the tracks. When you push the shutter button, the image sensor takes the photo, but it doesn't capture all the pixels at once. Instead it starts at the top and moves quickly to the bottom. This happens in a fraction of a second, but that can be long enough to make a subject look as though it's slanted when it shouldn't. You'll notice a similar phenomenon with your smartphone camera, which typically relies on an electronic shutter. 
This also poses a problem when you're trying to shoot photos with a flash. If you attach a flash with the $130 hot shoe accessory, your shutter speed will be limited to a very slow 1/15th second. That means you're likely to get considerable ambient light mixing with your flash whether you want it or not. Those are obviously big drawbacks for photographers.
If you're shooting serene scenes on a tripod, though, the Sigma FP L is wonderful. Even the jpeg images that come right out of the camera have nice contrast and excellent color reproduction. You can extend the camera's ISO settings all the way down to 6, which enables longer exposures or wider apertures in brightly lit situations. That's a nice touch if you want to capture motion blur without using an external neutral density filter.
It's ultimately a camera that likes to go slow. If that doesn't match your style, then this likely isn't the camera for you. 
Shooting video with the Sigma FP L
The format, image quality, and framerates available all depend on what kind of storage you're recording to. The Sigma FP L has a single built-in SD card slot that supports UHS-II media. Even with the fastest SD card, you can't quite max out the quality and framerate settings. The cap is 8-bit 4K at 25 fps in CinemaDNG raw. If you opt to connect a portable SSD to the camera's built-in USB 3 port, you can bump that to the maximum 12-bit 4K at 29.97 fps. Both of those offer a maximum of two hours of recording time—if your storage solution can handle it. That's an improvement over cameras like the Canon EOR R5, which maxes out at 30 minutes. 
The FP L can output raw video feeds via HDMI, as well, which means you can send uncompressed footage to an external recorder like an Atmos. This is the configuration you'll want to use most of the time if you're making the leap into this camera. 
Once you're set up, the footage looks beautiful. The sensor provides clean, color-accurate video that's simple to edit and extremely high quality. 
Who should buy the Sigma FP L?
Recommending the Sigma FP L is tricky because it's a truly difficult camera to classify. If you're dedicated to shooting video, the slightly older (and cheaper) FP is likely a slightly safer bet. Its 24-megapixel sensor is a little better suited to motion capture. The Sigma FP L is a high-resolution camera.
The FP L is out as a street photography or sports camera, but can turn out some truly beautiful landscape, nature, or editorial images. 
While the camera makes some slightly confusing choices, I have to give Sigma a lot of credit for taking a chance on something truly different. People who are more creative than me have likely already come up with great uses for it. It can draw power from an external source and output high-res video via HDMI, so it's likely a solid livestreaming rig. And if you can get your subjects to keep relatively still, its overall image quality is excellent. The Sigma FP L is full of potential, it just needs the right situation to shine.