Sennheiser MKE 400 Mobile Kit review: Bring clarity to your video's sound
Small, rugged, and rich with features, this compact Sennheiser MKE 400 microphone kit is a gateway to pro audio.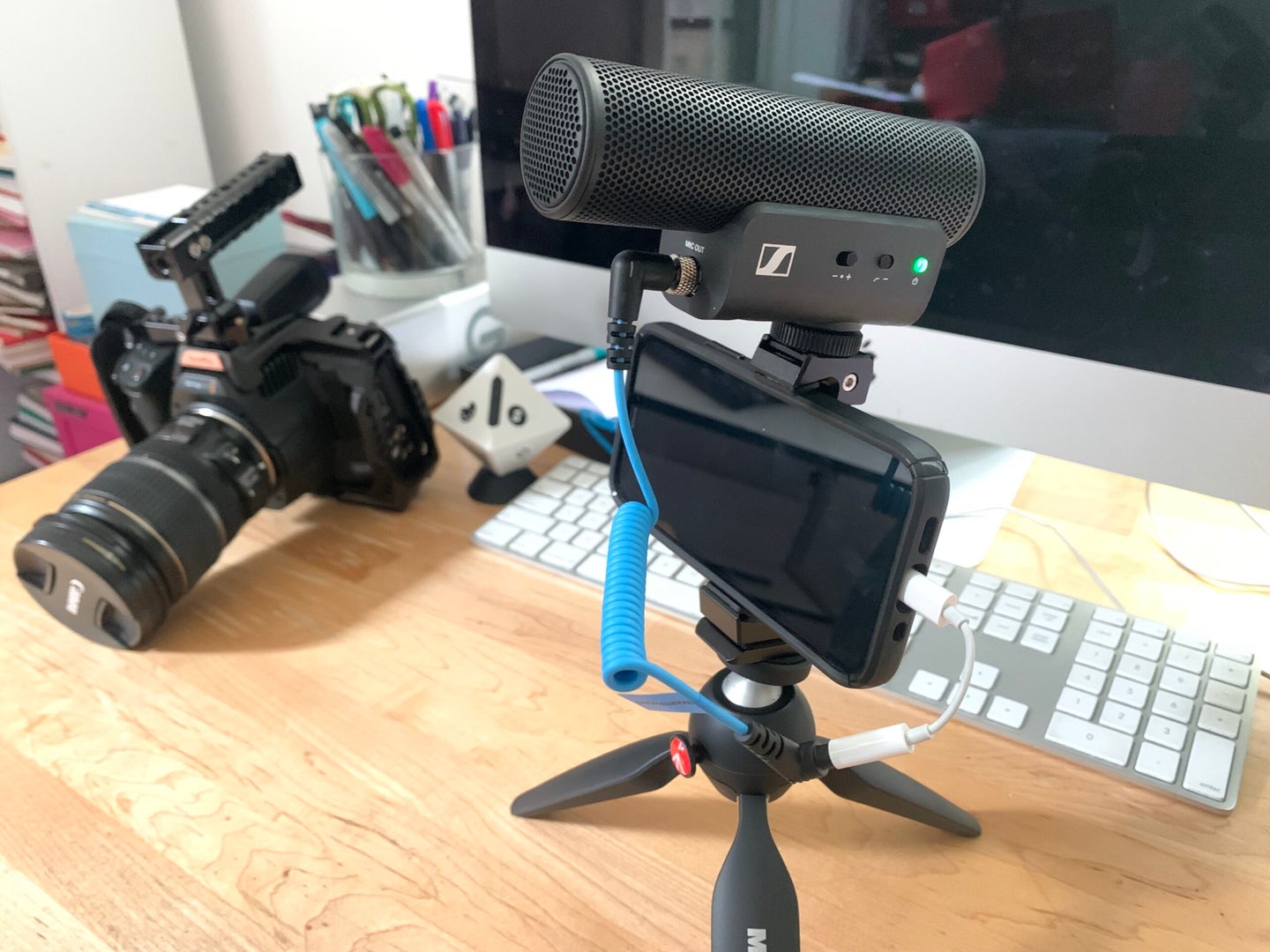 We may earn revenue from the products available on this page and participate in affiliate programs. Learn more ›
High-quality audio is critical to making videos people want to watch. You can always edit around a bad shot, but if the person on screen is indecipherable, your audience isn't going to stick around to see how your opus ends. The built-in microphones found on DSLRs and smartphones pump out pathetic sound, but you also don't need to have a Michael Bay budget to get into good gear. The Sennheiser MKE 400 Mobile Kit delivers satisfying sound at an affordable price, making it an excellent entry point into the world of better audio. So read on and to find out how this Sennheiser microphone will elevate your audio and help your projects sing.   
So, what is the Sennheiser MKE 400 Mobile Kit?
Sennheiser's MKE 400 Mobile Kit contains an updated MKE 400 shotgun microphone (which was first released way back in 2008), a metal clamp with integrated cold-shoe that holds your phone and the mic, a desk-top tripod that doubles as a handle, a fuzzy windscreen for blustery days, and two locking 3.5mm cables—one to attach to a DSLR, mirrorless camera, or field recorder; and the other to connect the mic to a smartphone. For a relatively affordable retail price of $229.95, the MKE 400 transports beginners away from their built-in phone or camera microphone and into the world of more professional sound recording. At only 3 ounces, the mic's also a compact, lightweight option for vloggers or journalists in the field who want to use their phones to broadcast live, or who want a feature-rich mic that won't bust their budget. 
The Sennheiser MKE 400 mic's narrow, supercardioid polar pattern picks up audio from whatever direction it's facing while rejecting sound from off to the side. This makes it excellent for recording interview subjects or speakers.
The Sennheiser MKE 400's design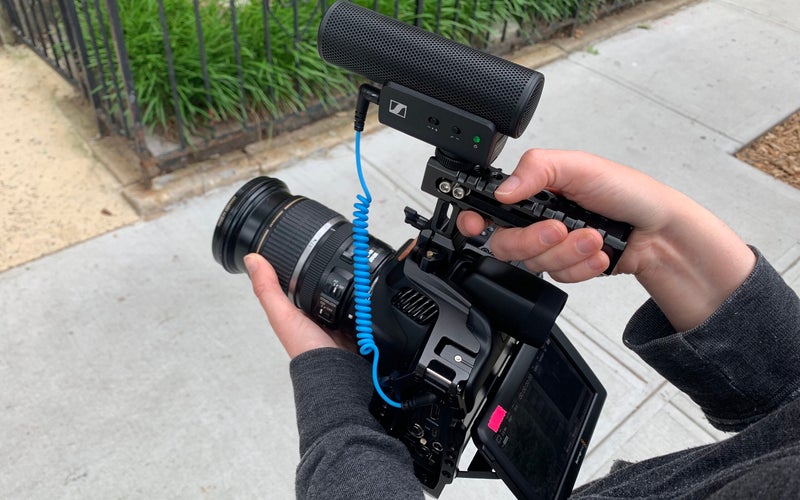 | | |
| --- | --- |
| Pros | Cons |
| Won't weigh down your rig | Front audio jack is awkward |
| Protective metal housing | Mic mount can't tilt |
| Versatile phone-clamp | Tripod lacks a bubble-level |
| Captures clear, focused audio | Audio-gain is easy to accidentally engage |
I've worked with a lot of microphones over the years, and I was immediately struck by the 5-inch, 3.2-ounce Sennheiser MKE 400's compact size. It never got in the way when I attached it to either my iPhone 12 Mini, using the included clamp, or my $2,500 Blackmagic Pocket 6K Pro cinema camera (which has a similar design profile as a DSLR). I like to keep my rigs lean and I was happy that the microphone didn't add any uncomfortable bulk or get in the way of my having a solid grip on the camera. 
The barrel-like metal housing with its integrated windscreen and internal shock mount gives the shotgun microphone a clean and professional look while protecting the capsule from damage in the field. Shock mounts help prevent handling noise from spoiling your sound by floating the microphone in its holder using thick, rubber bands. Often, they're located on the outside where they're more susceptible to wear—I like the added protection provided by Sennheiser's design. 
On the right of the microphone's battery compartment are the 3.5mm headphone jack and volume rocker button. Switches for the three-step input volume, and an included 80Hz cut-off, are positioned next to the on/off button on the mic's left side, and I had no problem reaching them when out on shoots. The 80Hz cut-off decreases low-frequency response, which helps reduce sounds like crowd noise, traffic, and other rumbles that might muddy up your recording. 
I did find the input volume switch a bit too easy to slide, and twice when shooting I accidentally knocked it, cutting the mic's volume. Thankfully, I wasn't recording anything with critical audio, but it's definitely something to watch out for.  
Curiously, Sennheiser placed the 3.5mm output jack at the front of the Sennheiser MKE 400, and I had to be careful about accidentally letting the cable fall in front of the lens on my iPhone 12 Mini. The cable's a nice shade of blue, no doubt, but it's not something I want cluttering up my video frame.
The microphone's jack has threads to screw and lock the cable in place, which I love. Sennheiser smartly included a TRRS cable for use with phones—so you can make calls with the mic plugged in—but I was disappointed that the company didn't provide an adapter for modern iPhones, which no longer have 3.5mm inputs. At the very least, I'd love to see some sort of locking mechanism for third-party adapters; the Lightning port on the phone doesn't provide the tightest grip, making it a point of potential failure in the audio chain. 
Sennheiser included what might be the absolute best phone holder I've ever used—and I have a box with literally half-a-dozen holders that failed me over the years. Made from aluminum, the unit features not only a cold-shoe connector for holding the mic, but also industry-standard 1/4-20 threaded holes for mounting to tripods, monopods, and all sorts of external arms and plates. It also has a spring-loaded clamp that locks securely into place. This holder is rugged and clearly designed with professionals in mind. 
The included desk-top tripod comes from Manfrotto, a leader in the field, and the fuzzy windscreen for outdoor use is a nice extra that did a good job cutting wind noise when I shot outdoors.
Sound quality
I'm a jerk. On a recent interview shoot, I decided to pit the more humble Sennheiser MKE 400 shotgun microphone against Sennheiser's flagship boom microphone, the $1,200 MKH 50P48. This supercardioid microphone is used industrywide by recording engineers in TV and film and costs about four times as much as the MKE 400. I knew it wasn't a fair fight, but putting the Sennheiser microphones side-by-side is a great way to really hear what the budget shotgun does well and where it falls short. 
Sennheiser says the frequency response of the MKE 400 is 50Hz to 20,000Hz, but that doesn't really tell us how the mic sounds. In my real-world test, I found the Sennheiser MKE 400 to be thinner sounding than the more nuanced MKH 50—not at all surprising. However, I was very happy with how clearly the MKE captured natural-sounding dialogue from the person being interviewed. The directional mic also did an excellent job of rejecting some of the room noise (like a distant air-conditioning unit I couldn't turn off) and the sounds of traffic from outside the building. 
I also mounted the mic to the video camera I use for hand-held shooting—this time without the high-end competition—and spent a day filming in my neighborhood. I spoke to people on streets busy with traffic and pedestrian crowds and found the microphone did an excellent job of keeping the subject's voice separate from the natural sound around us. It doesn't completely isolate it (no mic will do that), but the conversation seems to hang above the ambient noise instead of getting lost in it. A robust mid-range combined with the 80Hz low-cut does a good job of increasing clarity without becoming harsh or tinny sounding.
Finally, even though I'm not a vlogger, I pretended by attaching the microphone to my phone facing myself, and then I walked the neighborhood again while giving a tour to my nonexistent audience. From only a few feet away, the microphone picked me up loud and clear. I had to set the input volume to its lowest level (-20dB), which also helped prevent background noise from seeping in. So, as vlogging equipment the Sennheiser MKE 400 was great. However, once done, I promptly erased the narration; it was terrible, and I'm never going to have a career as a host on a TV travel show.
The rest of the specs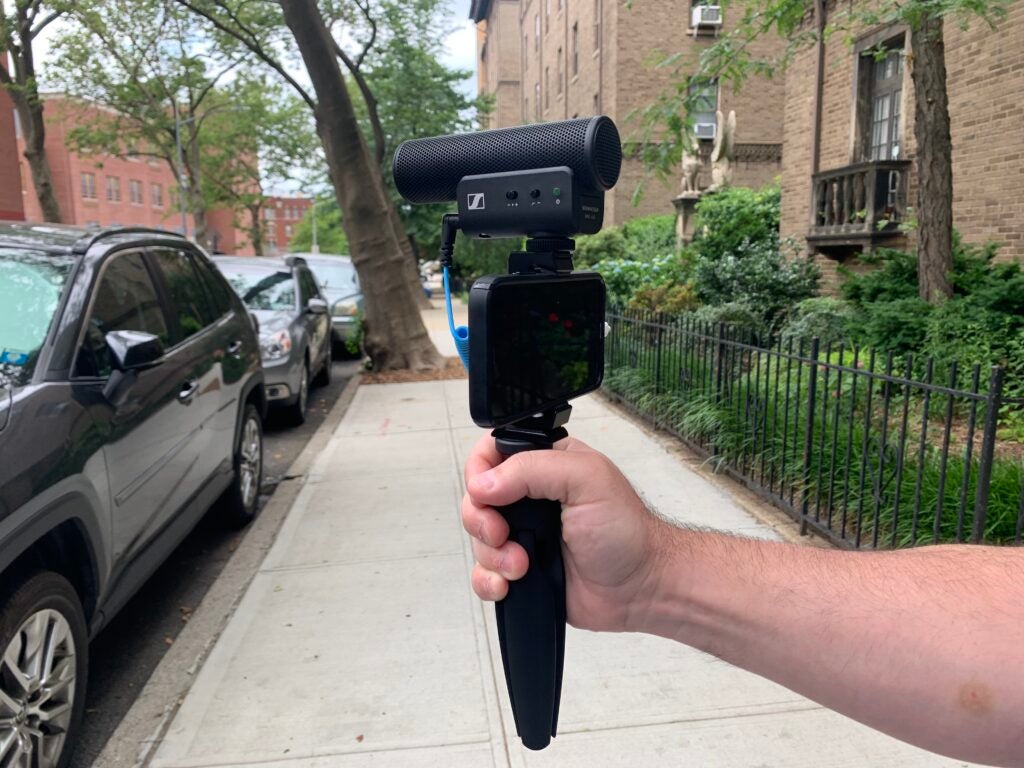 The Sennheiser MKE 400 runs on two AAA batteries, which Sennheiser claims will last 100 hours—this is actually a downgrade from the original 2008 model of the MKE 400, which the company estimated would last 300 hours on a single AAA battery. 
I left the shotgun mic on for four days straight, recording about 15 hours of audio in that time, and the two AAA batteries never ran out of juice. I did get a low-battery warning at about 96 hours. Audio quality was consistent throughout the entire run. That's impressive. However, I wouldn't recommend using the mic in this way. Best practices really dictate changing batteries before a shoot; why risk dropping audio at a crucial time just because you were too cheap to spend extra on batteries? Do yourself a favor and keep a couple of packs in your kit.  
The microphone features a convenient auto-on/auto-off function. When it's attached to DSLRs and mirrorless cameras, it turns on and off when the camera does. It also worked well with my iPhone 12 Mini whether I used Apple's native video app or my video app of choice, Filmic Pro. The on/off button itself needs to be held down for a couple of seconds to turn off the mic, which helps prevent accidental shut down.  
So, who should buy the Sennheiser MKE 400 Mobile Kit?
If you're new to external camera microphones, the Sennheiser MKE 400 is a great choice for your first shotgun mic. It compares favorably in price and quality with similar mics by companies like the VideoMic by Rode (or RØDE, if you enjoy hunting for special characters), but when you throw in all the extras included with the mobile kit, there's a lot of bang for the buck. This compact, durably built directional microphone is also an excellent choice for anyone who wants to keep their video kit compact. Journalists and documentary-makers will love the shotgun mic's simple, all-in-one design and ability to pull voices out of crowds—it's great for on-the-street interviews. And finally, its flexibility and portability will appeal to anyone needing vlogging equipment, especially folks who like to take their show on the road by streaming live from their phones.