The best late Black Friday deals for photographers
Whether you're looking to upgrade from a smartphone camera or build out a pro camera kit, the best Black Friday photo deals can save your budget.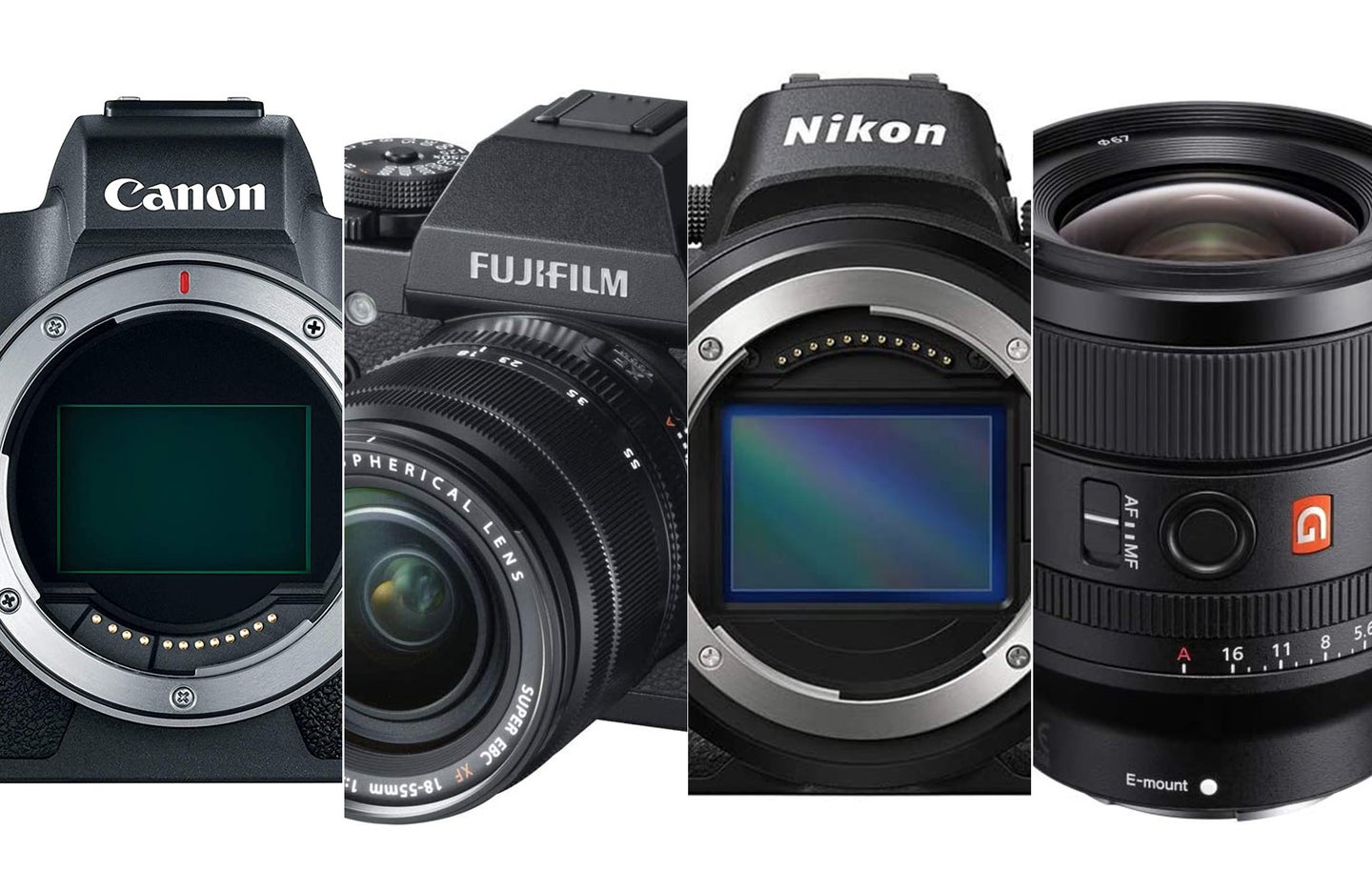 It's Black Friday and that means the gear after which you have been lusting all year is probably on-sale. And while the equipment doesn't make the photographer, you'll have a hard time taking pictures without it. This year's deals span a wide range or product categories, from cameras and lenses, to storage and memory cards. We'll be updating this list throughout the entire Black Friday weekend, so get out there and do some photography, then come back here and buy some new gear.
Check out our post dedicated to Adorama's Black Friday deals.
Photo storage Black Friday deals
WD 12 TB elements desktop hard drive $197 (Was $309)
Crucial X8 2 TB Portable SSD $189 (Was $279)
WD 5 TB My Passport Portable external hard drive $99 (Was $149)
Synology 2-bay NAS DiskStation DS220+ $239 (Was $299)
Black Friday Memory Card Deals
SanDisk 128 GB Ultra MicroSDXC memory card $16 (Was $25)
SanDisk 400 GB Ultra MicroSDXC memory card $39 (Was $70)
Black Friday Lighting deals
Neewar Ring Light Kit $68 (Was $97)
Neewar Photo Studio Backdrop Support System $34 (Was $50)
Neewar 43-inch light reflector $24 (Was $41)
Neewar 90W Desk-mounted Video Light $146 (Was $209)
Accessory deals
Joby Gorillapod 1K Kit with Phone Clamp $50 (Was $60)
Sony Black Friday deals
Sony E-mount FE 24mm F1.4 GM Full Frame Wide-angle Prime Lens $1,298 (Was $1,398)
Sony – FE 24-105mm F4 G OSS Standard Zoom Lens $1,098 (Was $1,399)
Sony FE 24-70 mm F2.8 G Master Full Frame Standard Zoom Lens $1,798 (Was $2,281)
Sony SEL85F18 85mm F/1.8-22 Medium-Telephoto Fixed Prime Camera Lens $548 ($599)
Sony Alpha 7R III Mirrorless Camera $1,998 at Amazon (Was $2,799)
Sony Alpha 7R IV Full Frame Mirrorless Interchangeable Lens Camera $2,998 (Was $3,499)
Sony a7 III camera $1,798 at Amazon (Was $1,999)
Sony a7 III camera with 28-70mm zoom lens $1,998 (Was $2,198)
Canon Black Friday deals
Canon EOS R Mirrorless Full Frame Camera $1,599 (Was $1,799)
Canon EF-S 24mm f/2.8 STM Lens $129 (Was $149)
Canon EOS R Mirrorless Camera w/ RF24-105mm F4-7.1 IS STM Lens $1,899 (Was $2,099)
Canon EF 17-40mm f/4L USM Ultra Wide Angle Zoom Lens $499 (Was $799)
Canon RF 35mm f/1.8 IS Macro STM Lens $399 (Was $499)
Nikon Black Friday deals
NIKON NIKKOR Z 50mm f/1.8 S Standard Fast Prime Lens $496 (Was $596)

NIKON NIKKOR Z 24-70mm f/2.8 S Standard Zoom Lens $1,996 (Was $2,296)
Nikon Z50 Compact Mirrorless Digital Camera $1,196 (Was $1,346)
Nikon Z6 Full Frame Mirrorless Camera $1,596 (Was $1,996)
Nikon AF-S FX NIKKOR 105mm f/1.4E ED Lens $1,896 ($2,096)
Nikon Z 5 camera $999 (Was $1,399)
Olympus Black Friday deals
Polaroid Originals Now I-Type Instant Camera + Bonus Photo Album $108 (Was $133)
Olympus OM-D E-M5 Mark III Black Body with M.Zuiko Digital ED 14-150mm $1,099 (Was $1,799)
Olympus OM-D E-M1X $1,699 (Was $2,999)
Olympus M.Zuiko Digital ED 12-100mm F4.0 Pro Lens $1,199 (Was $1,299)
Fujifilm Black Friday deals
Fujifilm X-T4 Mirrorless Camera $1,499 (Was $1,699)
Fujifilm Instax Mini 40 Instant Camera $89 (Was $99)
Fujifilm X-T3 Mirrorless Digital Camera $1,499 (Was $1,899)
Fujifilm Fujinon XF 23mm F1.4 R $699 (Was $899)
Sigma Black Friday deals
Sigma 16mm f/1.4 DC DN Contemporary Lens for Sony E $368 (Was $620)
Sigma 18-35mm F1.8 Art DC HSM Lens for Canon $675 (Was $799)
Sigma 16 mm f/1.4 (C) AF DC DN Lens for Canon EF-M $369 (Was $628)
Sigma 150-600mm 5-6.3 Contemporary DG OS HSM Lens for Canon $885 (Was $1,089)
Sigma 35mm F1.4 Art DG HSM Lens for Canon $679 (Was $899)
Sigma 85mm f/1.4 DG HSM Art Lens for Canon $1,079 (Was $1,450)
Software Black Friday deals
Skylum Luminar Neo $59 (Was $109)
More camera gear Black Friday deals
Gopro Hero10 Black $449 (Was $499)
GoPro Hero9 Black $349 (Was $399)
DJI FPV Drone Combo $999 (Was $1,299)
Sandisk Extreme Plus 128 GB SDXC UHS-I Memory Card $19 (Was $67)
Logitech 4K Pro Webcam $149 (Was $199)
Blue Microphones Pro Streamer Pack $149 (Was $229)
Blue Microphones Snowball iCE $39 (Was $49)
Panasonic Lumix G7 mirrorless camera $599 (Was $799)
Digipower Streamer LED video light $29 (Was $59)