| | | | | | |
| --- | --- | --- | --- | --- | --- |
| Best for photographers | | Apple Pencil 2nd Generation | | SEE IT | Still one of the best digital pens on the market. |
| Best for artists | | Adonit Note+ Digital Pencil with Palm Rejection | | SEE IT | A great alternative to the Apple Pencil. |
| Best for note-takers | | Logitech Crayon Digital Pencil for iPad Pro | | SEE IT | A wonderful tool for taking notes. |
Updated Jan 10, 2023 9:05 AM
We may earn revenue from the products available on this page and participate in affiliate programs. Learn more ›
Time to give your fingers a rest and get better control of your work with the best styluses for iPads. Touting new, improved functions and a range of price points, the world of digital pens goes well beyond the iconic Apple Pencil. But how do you know which pen is the new king of iPad accessories and which is just a glorified twig? The stylus used for sketching and drawing may not be the best stylus for note-taking and photo editing. Explore your options, discover today's latest and greatest features, and find the best stylus pen for artists, photographers, and anyone else who wants to get the most out of their iPad.
The best stylus for iPads
No matter your budget, there is a new, high-quality stylus that can make creative work a whole lot easier. When you understand the different functions and features of the top tier digital pens, these new tools can be incredibly useful and worth the extra cash. But even if you need a simple stylus for jotting notes, there are new, affordable designs that feel great.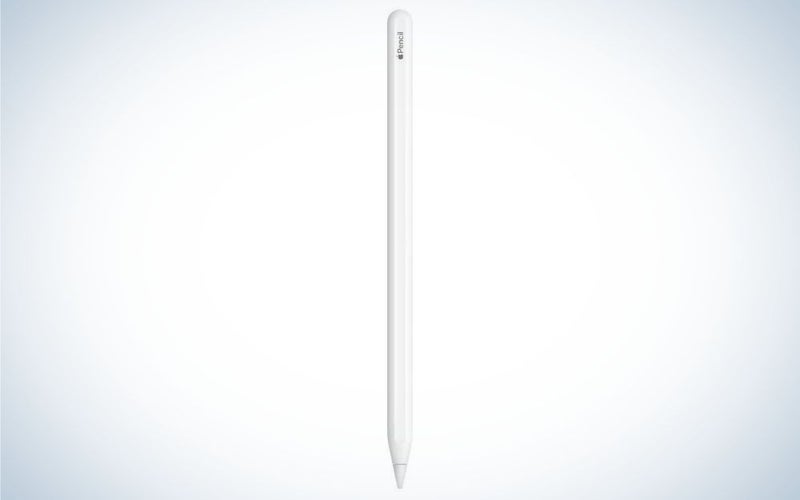 Let's start with the all-star, the best iPad stylus for photographers. The Apple Pencil 2nd Generation is the overall best stylus for drawing or photo editing on the iPad. It's a precise instrument capable of multiple functions simply by tapping the side of the barrel. It works seamlessly with Lightroom, Affinity Photo, or Pixelmato. It connects magnetically to iPad Pro 12 and 11 for easy charging and device pairing. Simply set the pen along the top of your iPad and everything magically connects and charges. The second-generation Apple Pencil feels better than the original, with a matte finish and flat side that prevents it from rolling away. It's not the cheapest stylus for iPads, but it is one of the best.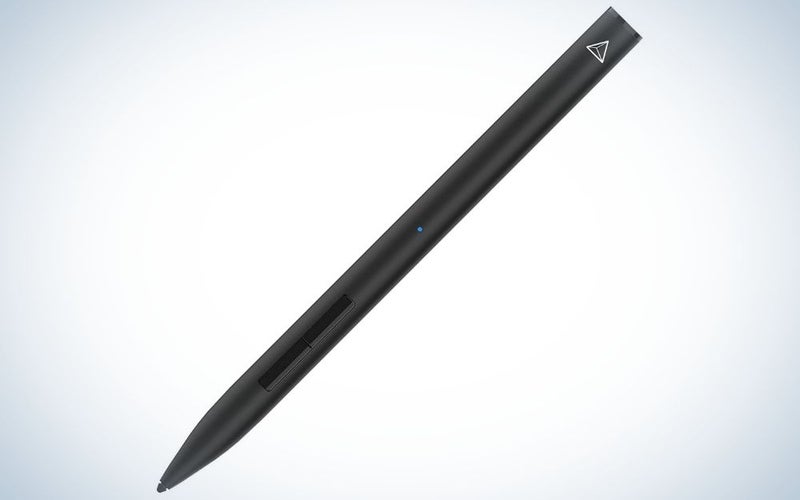 Price matters, and not all of us can afford the $120 Apple Pencil. Fortunately, the Adonit Note+ has all the pressure and tilt sensitivity an artist needs for half the price of an Apple Pencil. Use the two shortcut buttons to make drawing and erasing easier. If your app of choice supports it, the Note+ has palm recognition sensitivity. And the pen feels solid and professional in your hand. The downside: No magnets. It must be charged via cable. And the pressure sensitivity is good, but not as great as the Apple Pencil. If you're looking for a cheap alternative to the Apple Pencil but still want robust functionality, the Note+ is one powerful quill as the best iPad stylus for artists.
Logitech had originally designed the Crayon digital pencil for schools, but it's now one of the best all-around iPad styluses. The lines are fast and accurate, and the tilt control works well enough for quick doodles. If you need an iPad stylus for taking notes during a meeting or sketching out rough ideas, the Logitech Crayon is one of the best. The biggest drawback is the lack of pressure sensitivity, which means this isn't ideal for serious artists who need greater control of the lines.  Plus, the price point is a bit too high for this to be a toss-in-the-backpack school stylus.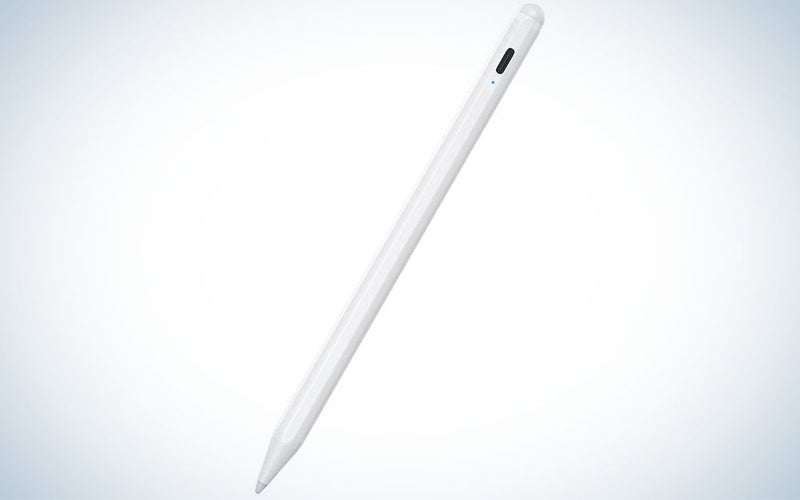 An iPad can be your kid's best friend, but trying to do school work on the screen is tough without a good stylus. The JAMEJAKE stylus has palm recognition, which is a must for kids who will easily get frustrated with unwanted lines and marks caused by their resting hands. At $25, it's not the cheapest iPad stylus, but it will last longer than low-quality $5 styluses. This is the perfect stylus for students in middle school and high school who want to write and draw on their tablets.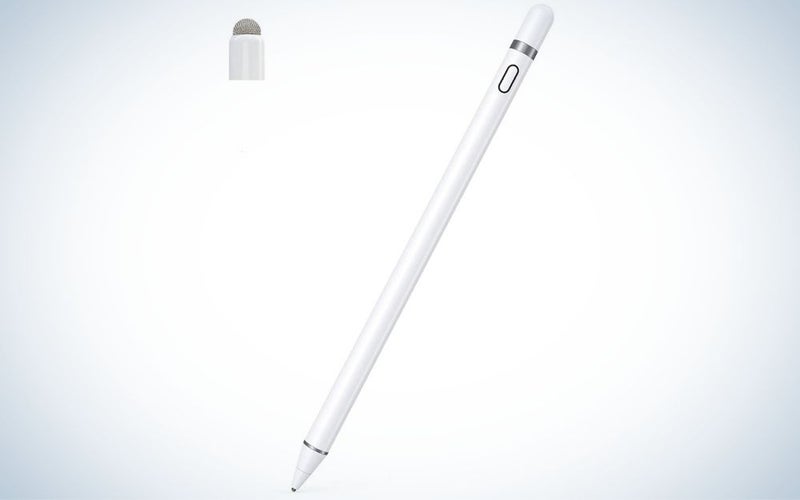 As the best IPad stylus for multi-taskers the KECOW Active Stylus is the mid-step between cheaply designed styluses that cost from $5 to a $50 high-quality digital writing instrument. There is no pressure or tilt sensitivity. There is no Bluetooth connectivity. This is a simple writing stylus that works well and feels great. Go from quick sketching on an iPad to writing notes on your smartphone without hassle or connectivity issues. Writing appears on screen without lag. It's great for offices and meetings. Best of all, it's more professional than the dollar store styluses and will make any work feel more important.   
Things to consider when shopping for the best stylus for iPads
While using the official Apple Pencil seems like the obvious best choice for an iPad stylus, new features and precision from its competitors have opened up the stylus market. Today's iPad styluses come in a wide variety of options, with plenty to choose from. But you don't need to be overwhelmed. The most important part of any quality stylus is that it makes your work easier. Look for the options and ergonomics that suit your work. 
How much should you spend on a stylus?
There's no denying that some of the best styluses for iPads have a shockingly scary price tag. Spending over $100 for something your finger can do for free is a huge barrier for entry to those new to stylus drawing. But many of these pricey pens are loaded with features that are well worth the money. 
For artists and designers, a stylus is required for creating content quickly and comfortably on an iPad. You're paying for precision and convenience. Pressure-sensitive pens let users change line width on the fly, just like a real pen or brush. Tilt functions can also help cycle through different line types for shading. And high-tech sensors will detect and ignore your palm as it rests on the screen. Those bells and whistles aren't cheap, but they are handy. 
If you don't need all the pressure sensitivity in your drawing stylus, you can find inexpensive pens for less than $20. These get the job done, but only if the job is simple note-taking or doodling. The less expensive models are nothing more than a plastic barrel with a conductive rubber or plastic tip. However, they are a comfortable step up from using your fingers. 
Before the price of an iPad stylus sends you into recoil, look at the form and functions of these iPad accessories. The extra money may well be worth it if the tool eliminates frustration and increases productivity. 
Do you want a stylus that works well under pressure?
Pressure sensitivity is one of the biggest concerns for artists and designers. The ability to render lines of varying thickness in a natural motion makes sketching on a digital screen much easier. Programs like Photoshop recognize pressure-sensitive styluses and put them to good use. With a little practice, an old-school pen and paper artist will have complete control over their new digital canvas. 
Pressure-sensitive pens will need to sync up to your tablet (usually via Bluetooth) so the pen and the screen can communicate and give you the most accurate line possible. 
Tilt sensitivity allows users to alter the line like that of a traditional pencil. Tilt the stylus down and the side of the tip will create shaded markings. This is a fantastic tool for artists who do a lot of inking and shading to create shadow effects. However, if you're just using the pen for note-taking, a tilt function may not be necessary. 
What type of tablet are you using?
Apple loves to update its products and operating systems. Before you buy any expensive stylus for iPads, check to make sure the pen is compatible with your current tablet. For example, the Apple Pencil 2nd Generation works with the iPad Pro 12.9 inch (3rd and 4th generation) and the iPad Pro11 inch (1st and 2nd generation). If your tablet is outdated, a new stylus will lose some (or all!) of its features. 
But don't be afraid to pair another stylus brand like Adonit with your Apple product. These third-party pen makers have a proven track record of artist-worthy materials and will often work well with an iPad. Just read the specs and double-check that the pen is designed to work with your tablet.
The stylus must feel good in your hand
Do not overlook ergonomics. The stylus should feel solid, yet lightweight in your hand. Your thumb and forefinger should rest comfortably around the barrel. Your hand should not cramp even after twenty minutes of heavy use. And any additional buttons or controls should be easy to operate. 
You may think some iPad styluses look too big and bulky, but these larger pens actually feel great when you start using them. There will be a learning curve, especially for the more feature-rich styluses, so even if you don't like the feel of the stylus right away, try it out for a few minutes if possible. It may look clunky, but after a couple of dashes and dots, you'll get the hang of it and wonder how you ever worked with standard pens and pencils.
Don't lose your iPad stylus
Losing a stylus is no laughing matter, especially if you paid $100 for the mighty pen. Even the best stylus for iPads has a tendency to disappear. The barrels of some stylus designs are round…very round. They will roll right off your desk if you're not careful. There are magnetic pens and tablet cases that will keep your digital pen secured when not in use. Depending on the brand, you can even find dedicated pen holders that sit on your desk. A simple pocket clip can also ensure the stylus pen won't scurry off the desk, or a  few strategically placed rubber bands may also do the tick. Whatever method you choose, don't underestimate the stylus's ability to slide away into the unknown.
FAQs
Q: Can you use any stylus with an iPad? 
No, you can't use any stylus with an iPad. Today's styluses are high-tech writing tools with features like palm recognition, pressure sensitivity, and tilt responsiveness. To accomplish those features, the stylus will need to pair with the tablet. Some styluses will only work with Microsoft and Android devices, and some iPad styluses will only pair with the latest generation of Apple tablet. That's why it's important to read the specifications of any stylus to ensure it will work with your tablet. That said, if all you want is a simple stick for making marks and writing notes, you can use just about any stylus you want. But you're giving up many of the fun functions of truly digital pens. 
Q: Is there a cheaper alternative to the Apple Pencil?
Yes, there is a cheaper alternative to the Apple Pencil. The Adonit Note+ is one of the best styluses you can get and costs much less than the Apple Pencil. It has all the functions of the Apple Pencil with one exception: It needs a cord to charge. The Apple Pencil uses conductive charging through its handy magnetic pen holder, making for a more elegant experience. But if you don't mind charging your iPad stylus with a USB cable, the Adonit Note+ is a solid choice for the best stylus.
Q: Which is better: Apple Pencil or Logitech Crayon?
Between the Apple Pencil or the Logitech Crayon, the Apple-branded stylus is the clear winner. Engineered and designed specifically for iPads, the Apple Pencil works like a dream with easy connectivity, sensitive pressure control, and seamless app integration. The Logitech Crayon is a great stylus, but its lack of pressure sensitivity can be a dealbreaker for artists. The Crayon attempts to make up for it with a useful tilt function (tilt the stylus to create different line widths), but for professionals familiar with the pixel-precise pressure sensitivity of a Cintiq artist tablet, the Apple Pencil is the best all-around stylus for iPads.
The final word on the best stylus for iPads
There's no shortage of iPad styluses with all types of functions and price points. The key is to find an iPad stylus that not only has all the functions you need, but with a price tag you can afford. For students and younger iPad users, you may want to save money and get a basic digital pen. For artists and photographers who need precision, a high-end iPad stylus is well worth the money. Check the make and model of your iPad to find a stylus that works. And don't get frustrated straight away—it may take a while before you become comfortable with the new writing tool. With a little practice, the best stylus for an iPad makes any creative endeavor easier and more productive.