| | | | | | |
| --- | --- | --- | --- | --- | --- |
| The GOAT | | Adobe Photoshop | | SEE IT | With more than 30 years of refinement, Adobe's full-featured editing software can do just about anything. |
| Feel the workflow | | Capture One Pro | | SEE IT | Excellent image quality and ever-improving organizational tools make this a fantastic all-in-one solution. |
| Edit on the go | | Pixelmator Photo | | SEE IT | Robust features and a low price make this an attractive option for iOS and iPadOS users. |
We may earn revenue from the products available on this page and participate in affiliate programs. Learn more ›
Published Jul 30, 2021 3:30 PM
Iconic landscape photographer Ansel Adams didn't consider a photo done until it was printed. He considered his negatives raw materials for his meticulous printing process, which included dodging, burning, and other transformative adjustments. We don't work in the dark room much any more, but now we spend time sitting in front of our software. But choosing the best photo editor can be tricky. You have to decide a number of variables, including platform, featureset, and budget before you can make your choice. Luckily, this guide is here to help you find the best photo editor.
What kind of editor are you?
There's no right way to edit a photo. In fact, most photographers who have been shooting for a long time have likely cobbled together a ragtag editing routine based almost entirely on habit. Whether you're just starting out on your photo editing journey, or you're looking to revamp your process, changing photo editors can make a big difference in your workflow. 
Most photo editing software companies offer free trials so you can give the program a spin before you commit to learning its ins and outs. Adobe and Capture One both offer 30-day trials of their full software. Affinity Photo offers a full 90 days to get you into the software's ecosystem. 
Free trials are a fantastic way to find out what you like and what you don't like without spending a single cent. 
Don't skip the tours and tutorials
Install a piece of software like Affinity Photo or Luminar AI and you'll find yourself presented with some handy instructional content. Advanced photo editing tools often come with steep learning curves and diving in with no guidance can be a frustrating experience. Worse than that, it can help you develop bad habits that stick with you for a long time. For instance, you might miss out on a simple keyboard shortcut that could save you tons of time over a lifetime of editing sessions. 
Adobe doesn't typically build tutorials into its programs, but it does have an extensive set of informational content on its site and social channels to help you navigate its software. As old school as it may sound, you also shouldn't discount the idea of getting a book to learn the ropes. Books have the advantage of teaching you techniques in a specific order so you can build your skills as you go rather than hopping around from tutorial to tutorial. 
Make sure your computer can run the best photo editor
Editing photos can take up enough time on its own. If you're staring at the spinning beach ball of death for 30 seconds every time you're waiting for a photo to load, you're not going to enjoy your time. Most software will have a section of its site in which it tells you the requirements for using the program. 
Stick with the classic photo editors
Adobe is the 800-pound gorilla in the photo editing room. You can trace the first version of Photoshop all the way back to 1987, but Adobe bought it in 1988. Since then, the program has gone through innumerable updates, but it has kept many familiar features while adding tons more.
Adobe still dominates the photo editing space in part because of its Creative Cloud Photography subscription, which grants access to Photoshop, Lightroom, Lightroom Classic, and some mobile apps for just $10 per month. If you've been around long enough to remember when Photoshop required you to pay for a full license, which cost more than $600. Compared to that, $10 monthly seems like a steal. 
While Adobe adds new features all the time, it also typically keeps older features around for the people who have grown to depend on them over the years. After all, there are people who have been using Photoshop for three decades. That can lead to some serious habits. 
Best photo editor for total control: Adobe Photoshop
Even if you've never actually used Adobe Photoshop, you've almost certainly heard of it. This venerable program allows you to work on one image at a time and make careful, in-depth adjustments. If you're going to be doing heavy-duty retouching, this is likely where you want to be. 
Photoshop allows you to work in layers with advanced masks for super-precise local adjustments. It grants you full access to color correction and curves tools. You can apply different effects and perform in-depth retouching jobs that require intense concentration. 
Start with raw photos
If you're going to be editing your photos, you want to start with raw files. Pretty much every camera offers a raw option now, and that includes smartphone cameras. The iPhone added more advanced raw features last year and Android has offered DNG capture for quite some time now. 
By shooting in raw, you're going to keep more image data that the camera would otherwise throw away when converting to a lossy format like JPEG. That extra image data can come in handy when you're editing. It might let you pull back a sky you thought might be blown out. Or, it could let you rescue a shot during which the flash didn't fire so it's three stops under-exposed. 
Raw files take up more space than JPEGs and they also require your image editor's support. When a new camera comes out, it can take weeks before a specific image editing tool will support its raw files. I got an early Canon R5 last year and had to wait months before I could easily handle my raw files. 
Like Lightroom Classic, Capture One Pro is designed to guide you through the entire raw editing process. It can organize your files as you import them into your library. You can then sort them with tags and flags. Then put them through the advanced editing process and export the final versions. You can buy Capture One Pro for a $300 one-time fee, or you can subscribe to the app for $25 monthly. If you're a dedicated Sony, Fujifilm, or Nikon user, you can get a discount down to $19 monthly. 
Don't blow your budget
Camera gear can get pricey quickly. It's not just "bought the name brand Oreos," expensive either. It's "cut your credit card in half and run screaming into the woods," expensive. You don't necessarily have to spend a ton of money on your photo editing software, though. 
There are some cheap and even free options out there to explore if you can't swing monthly payments on your editing software. The mobile apps we'll mention later both come with relatively low price tags. Gimp is an open-source photo editor that used to only run on Linux. Now it works on all the major computer platforms. It's totally free and offers pro-grade editing. It also comes with a very steep learning curve, though. You'll make up for the money you save in time spent watching tutorials. 
If you're looking for the best online photo editor that works in a browser, you could consider Canva. It allows you to make some advanced adjustments directly in your browser. There's a free version for occasional, simple use, but you'll want to step up to one of the subscription plans if you're going to use it extensively. 
Best photo editor on a budget: Affinity Photo
Affinity Photo has been around for the better part of a decade now. It has gotten better over time. $50 gets you a perpetual license with updates that include new features. It works with layers and offers many tools that look and feel like the ones you'll find in Photoshop. You'll make some concessions when it comes to total options and overall performance, but this is a great place to start and the skills you learn will mostly transfer to Photoshop if you decide to upgrade. 
Go mobile
Smartphones and tablets have become extremely capable portable editing machines. In fact, image editing programs meant for mobile devices often offer full sets of editing tools for much lower prices than you'll find on a desktop. 
Many mobile-based photo editors can also sync your work across multiple platforms. Adobe's Creative Cloud, for instance, can tightly integrate mobile apps with desktop apps if you want to work across all your devices. 
Best photo editor for iOS/iPadOS: Pixelmator Photo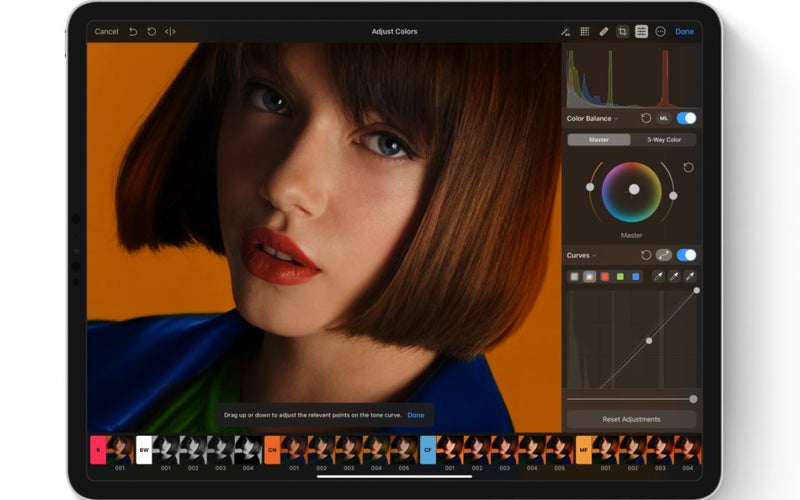 This app earned Apple's Editor's Choice badge and for good reason. You get color and lighting adjustment options that can compete with most of the more expensive desktop photo editors. The app relies heavily on machine learning to help create automatic features that allow you to easily take objects out of a photo. Plus, it has intelligent auto corrections that look surprisingly good with a single click. All that and it will only cost you $8. 
Best Photo editor for Android: Snapseed
Click the "tools" button in this totally free mobile app and you'll get access to nearly 30 different editing tools. You can adjust everything, including typical stuff like color balance and tint Google takes it beyond that, though, and can add synthetic blur for portrait mode effects and even mimic double exposures. 
FAQs
Q: What do professional photographers use to edit photos?
It depends on what kind of professional photographer we're talking about. Photoshop is a solid bet across the board because it's useful for retouching and basic edits. If a pro is shooting tethered in the studio, they're almost always using Capture One Pro because of its robust features. Some pros rely on specialized tools like Photo Mechanic to help them get through sorting at super speed. 
Q: How can I edit my photos like a professional? 
Even if you splurge on the fanciest photo editor software, you still have to learn how to use it. If you're not looking to put in lots of work to understand how editing works, you might want to opt for something more automated like Luminar AI, which uses machine learning to automatically apply adjustments to your photos. 
Q: Does Windows 10 come with a photo editor?
It does. It's called Photos and it's a catch-all program that's fine for very basic use. If you're considering taking photography seriously, however, you're going to want to get a dedicated editing program. 
A last word about the best photo editor
No matter what platform you choose, you should expect to take time to learn how to use it. Even the most advanced platform still requires some skill on the user's part. If learning the ropes gets tough, don't get discouraged. You'll find that editing your photos can help take them up a several levels and help you realize your creative vision.