| | | | | | |
| --- | --- | --- | --- | --- | --- |
| Best overall | | Rotolight Neo 3 | | SEE IT | A versatile LED panel that doubles as an action-freezing flash. |
| Best for artists | | Lume Cube Flex Light Pro | | SEE IT | You get two LED light panels in one with this light. |
| Best for video | | Neewer RGB1200 60W RGB LED Video Light | | SEE IT | A great light for video shoots thanks to the 18 special effects and RGB color options. |
Updated Aug 28, 2023 5:57 PM
We may earn revenue from the products available on this page and participate in affiliate programs. Learn more ›
LED light panels can help you create interesting, depth-creating light where it doesn't exist. That's crucial because having a great camera is just one part of the equation. Without quality light, your images and videos will fall flat. Most LED panels offer constant light, meaning they are ideal for video applications or photographers who are new to lighting. They come in bicolor, temperature-adjustable formats, or RGB models that offer the full rainbow. Many are portable and camera-mountable, so you can bring them with you out into the wild. No matter what style you are looking for, the best LED light panels put the power of an adjustable sun in your creative hands. 
The best LED light panels: Reviews & Recommendations
The best LED light panel transforms boring images and videos into dynamic works of art. With a budget in mind, look for options that fit your style and environment. Will you only be using the LED light panel indoors? Will you be using it on top of a camera or phone? Do you need multiple lights? Do you want to change the light color? Is portability a factor? Browse the best LED light panels below and find the illumination that works for you.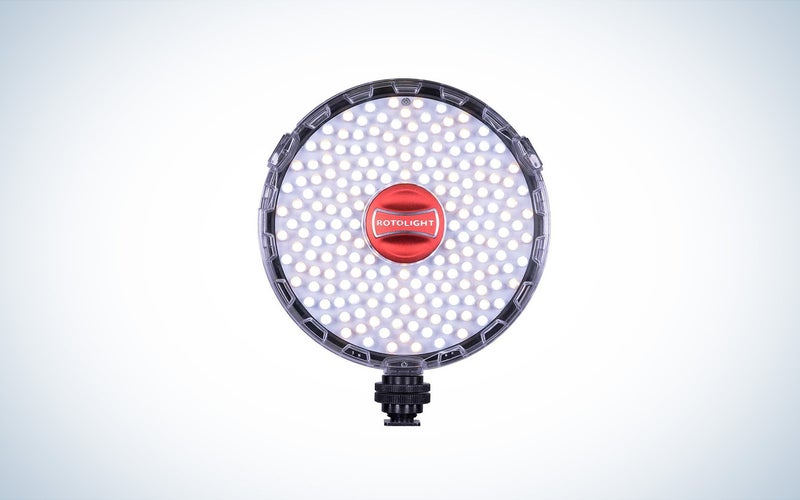 Specs
Color temperature: 3,000-10,000K
Dimming: Yes
Lux: 4,541 Lux at 3.3 feet
Color accuracy: TLCI 99, CRI 95
Power source: Rechargeable battery
Dimensions: 5.7 x 5.7 x 2
Weight: 12.8 ounces
Pros
Provides constant light and flash modes
Compact and lightweight for use on camera
Comes with a rechargeable battery
Able to produce 16.7 million colors
Cons
Perhaps the most versatile LED panel around, the Rotolight NEO 3 is an ideal choice for hybrid shooters. Videographers and vloggers will appreciate the steady stream of constant light at 5,443 lux at 3.3 feet. Photographers can use the light to sync with a camera's flash system to provide super-fast bursts of light for freezing action mid-movement. In fact, it can sync up to 1/8,000 second with no recycle time, enabling fast burst shooting without loss of light quality. Typical LED panels can't do that. 
The Rotolight NEO 3 offers full RGB lighting with 16.7 million colors. The range of colors can be used in both constant and flash modes, adding to its versatility. You'll be able to use this one light as a key, fill, or colored accent. And perhaps more importantly, it provides highly accurate color, with a TLCI rating of 99. It can function on or off-camera thanks to built-in wireless support, though you'll need to buy wireless transmitters separately.
The back of the light features plenty of controls for easy use. There are two physical knobs along with a color touchscreen. You can save presets to quickly go back to your favorite modes, and there are special effects settings such as lightning and fire. The mobile app adds even more flexibility and control, including the ability to use multiple lights at the same time. It weighs just over a pound, and you can mount it to a light stand, handle, or other grip for easy maneuvering.  It's not a cheap light, but it sure does give you a lot for the price.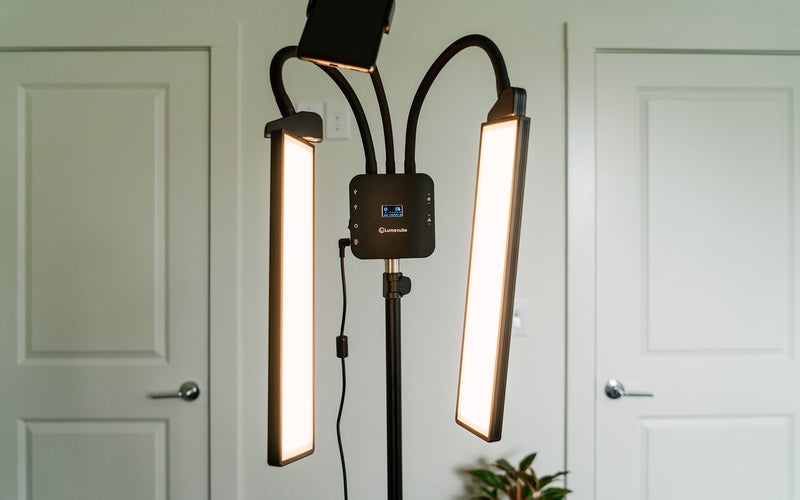 Specs
Color temperature: 3,000-6,500K
Dimming: Yes, 5-100%
Lux: 1,800 lux at 1.6 feet
Color accuracy: CRI 96
Power source: AC Power
Dimensions: 13 x 2.25 (fixture panel)
Weight: Not provided
Pros
Two lights in one
Comes with a light stand, phone holder, and case
Easy to use
High-quality and color-accurate light
Cons
Arms don't stay in position very well
Requires a power source
The Lume Cube Flex Light Pro is a rather unique LED panel as it is two lights in one. The two-light setup is ideal for tattoo artists, painters, or any other creative who needs even light with no distracting shadows. As a constant light source, it's also ideal for videographers or photographers who don't want to deal with flash.
Lume Cube built this light with 128 high-quality LEDs per panel, providing a total of 2300 Lumens and 1800 lux at 1.6 feet. The built-in diffusion ensures even light with no hot spots or shadows. Both panels are mounted on 11-inch flexible arms so that you can adjust the angle and position of each light independently. It features adjustable brightness from 5 to 100 percent and automatically saves the settings from when you last shut it down. 
The Flex Light Pro features an LCD screen on the base of the light so that you can easily see and adjust your settings. It comes with a quality light stand that can extend to 70 inches. The kit also includes a gooseneck phone mount, so you can record hands-free. Additionally, you'll get a power cable and a handy travel case to keep it all together.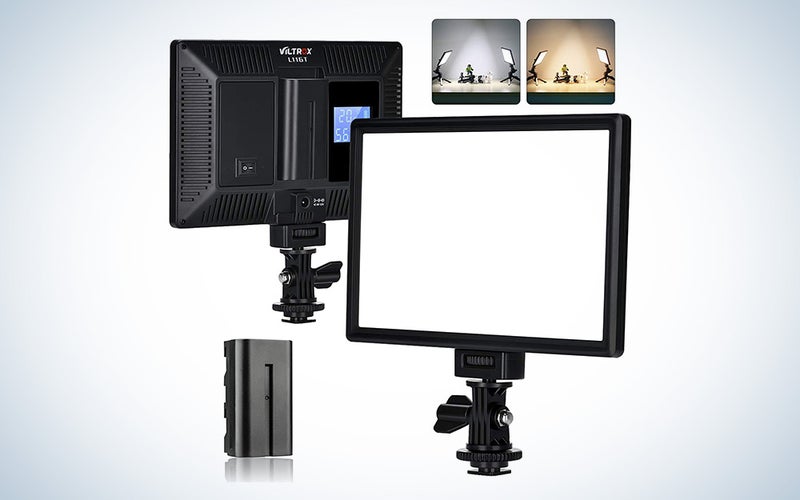 Specs
Color temperature: 3,300-5,600k
Dimming: Yes, 20-100%
Lux: 810 lux at 1.6 feet
Color accuracy: CRI 95+
Power source: Rechargeable battery (Li-battery NP-F550)
Dimensions: 7.56 x 5.04 x 0.98 inches
Weight: 9.17 ounces
Pros
Comes with a hot shoe adapter for on-camera use
Can be used with an AC adapter for continuous battery life
Adjustable brightness and temperature
Very compact and lightweight
Cons
Not as bright as other panels
The Viltrox L116T is the best LED light panel for Zoom hosts or other live-streamers thanks to its simple design and settings and even light. You can easily adjust the color temperature (3,300K to 5,600K) and brightness (20 to 100 percent) from the rear control panel and LCD display. And once you've honed in on the right look, you can set it and forget it thanks to the automatic recall. 
The L116T provides 15W of light, with 810 lux at 1.6 feet. The soft light makes it ideal for a simple, single-light setup when the subject can stay relatively close to the light. It features a built-in diffuser for even light. This LED panel utilizes a rechargeable NF-F550 battery, which will only last a couple of hours. And it can take a while to charge. But you can buy an AC adapter separately if you want to ensure you don't run out of battery power in the middle of your meeting or streaming session.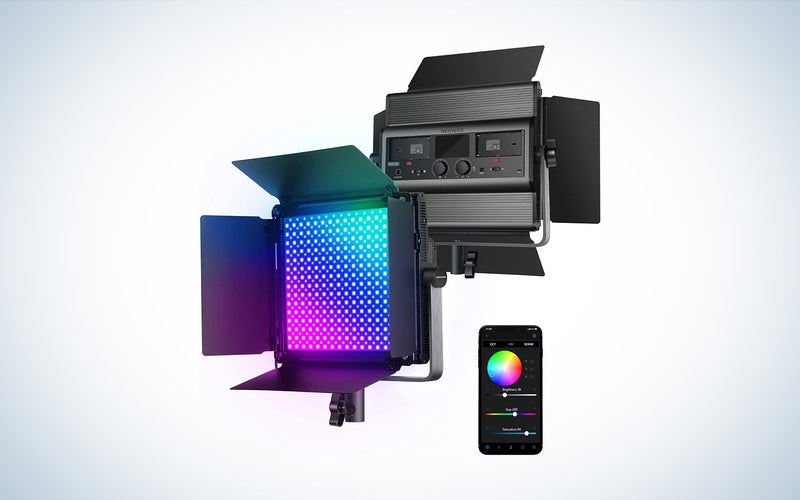 Specs
Color temperature: 2,500-8,500K
Dimming: Yes, 1-100%
Lux: 22,000 lux at 1.6 feet
Color accuracy: CRI 97+
Power source: AC adapter (included) or NP-F batteries (not included)
Dimensions: Not provided
Weight: Not provided
Pros
18 different special effects
Compatible with a smartphone app for easy control
Can sync to music
Wide range of colors and brightness
Cons
Batteries must be purchased separately
Requires two NP-F batteries for full power
The Neewer RGB1200 is the best LED panel for videographers because of its robust set of options and features. You can adjust the color temperature from 2,500 to 8,500K and brightness as low as one percent to a full hundred percent. And it offers 18 different special effects, such as lightning, explosion, welding, and more. You can also sync the light to music, which changes the light based on pitch and volume, making it a fun tool for music videos. 
This light comes with barn doors attached and includes a diffuser, giving you more control over your light. The U-shaped bracket allows you to adjust the angle of the light a full 360 degrees. It makes a great LED panel for Etsy sellers and product photographers for these reasons. There are plenty of physical controls on the back of the light, but you can also use the Neewer app to remotely adjust settings and save your own presets. And you can sync multiple lights to the app if you need more than one light. 
The Neewer RGB1200 comes with an AC power adapter, but you can also use NP-F batteries. You'll need to purchase them separately, though, and will need to for full power. It doesn't come with a light stand, so you'll need to pick one of those up for hands-free operation.
Specs
Color temperature: 3,200-5,600K
Dimming: Yes, 1-100%
Lux: 550 lux at 1.6 feet
Color accuracy: CRI 96
Power source: Rechargeable battery (built-in)
Dimensions: 3.6 x 2.2 x 0.5 inches
Weight: 3.04 ounces
Pros
Extremely tiny and portable
Fully adjustable color temperature and brightness
LCD screen for adjusting settings
Built-in battery runs for 1.2 hours at full brightness
Cons
Not as bright as other options
Lume Cube makes some of the best lights for vloggers, YouTubers, and video creators. The Panel Mini is the most affordable option from the lighting company, and it's also one of the smallest. It is roughly the size of a credit card and weighs just over three ounces. That makes it very easy to keep on you when shooting on location or traveling. And it won't add much weight to your camera, which is ideal if you are shooting handheld. 
The Panel Mini provides an adjustable temperature from 3,200 to 5,600K, and it offers a CRI rating of 96, so you can trust the color will be accurate. You can also adjust the brightness from one to 100 percent. This is a bicolor light, meaning you'll only be able to adjust temperature and light strength. But for many, that's ideal, especially as it keeps the cost down. If you do want the ability to change color while keeping the tiny size, the Lume Cube RGB Panel GO is another great option. 
This tiny LED panel offers 550 lux at 1.6 feet, which is less than the others on our list. As a result, it is best used in situations where the subject is fairly close to the camera, such as recording yourself at arm's length or tabletop photography. It comes with a silicone diffuser for softening the light when you need to. The easy controls, small size, and minimal settings make this an ideal choice for beginners but also a fun tool for experienced pros.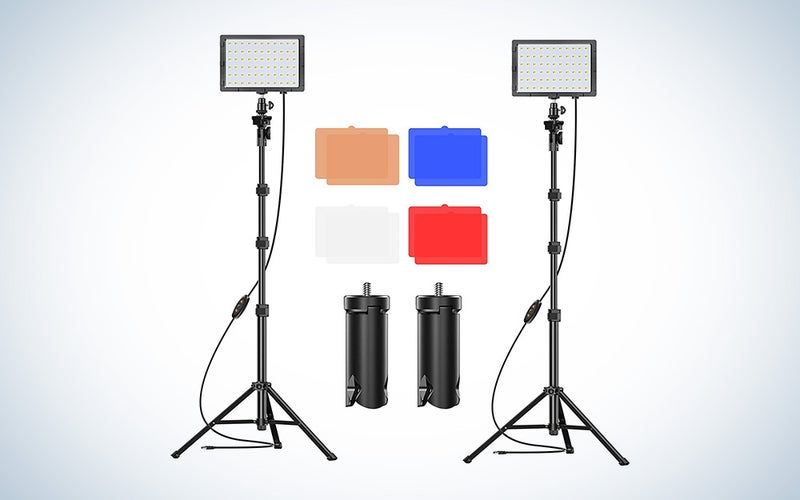 Specs
Color temperature: 5,600K
Dimming: Yes, 11 levels from 10-100%
Lux: Not provided, 1,000 lumen
Color accuracy: CRI 90+
Power source: USB
Dimensions: 5.51 x 3.74 x 54 inches (light stand included)
Weight: 
Pros
11 brightness levels
Comes with two lights and lots of accessories
180 degrees of angle adjustment
Cons
If you've never used a lighting kit and want some practice before investing a lot of money, this inexpensive LED kit gives you plenty to get started. It comes with two LED panels, two stands that extend to 54 inches, and two mini tripods for tabletop use. Additionally, it includes four colored filters (white, red, orange, and blue) that allow you to experiment with light setups and play with creative lighting. 
They are very easy to use, making them great for creative kids. It offers 11 levels of brightness from 10 to 100 percent. They are powered via USB, so you can plug them into a computer in a pinch if you don't have access to an outlet. The temperature is fixed to 5,600K, which some may not like. But it makes them extra simple to use. 
For less than $50, don't expect high-quality materials and dependable manufacturing. This is a budget-priced lighting kit that's more fun than functional. Some users have reported that they don't last very long. But if you need some lights in a pinch to get started, these will do the job.
What to consider when shopping for the best LED light panels
For a long time, LED light panels were looked down on as inaccurate tools for amateurs. They couldn't hold a candle (pun intended) to traditional strobes or studio fluorescents. But in the past decade, these mighty bright lights have made huge improvements in the art of long-lasting, great-looking illumination. Today's portable LED powerhouses are professional-quality lights capable of shining stunning, precise light on all of your creative projects. 
Color temperature 
Some LED light panels offer a number of settings that you'll have to dial in before you get shooting. You will need to adjust it to get the best effect for your location. That's why you should look for LED light panels with easy, user-friendly adjustability.  
The first thing to consider when shopping for a light panel is color temperature. Measured in Kelvin, the color temperature is a number between 1,000 and 10,000 which describes the warmth of the light. For example, low-color temperature lights of 2,700K will produce orange and yellowish light like typical incandescent bulbs. Higher temperature lights of 5,000K produce more neutral light, closer to that of direct sunlight.  
The goal of the LED light panel is to match or balance the color temperature of the environment. If you're taking photos inside and want a natural, cozy look, a lower color temperature works best. Some LED light panels can be adjusted to meet your needs with a variety of color options. 
Dimming
Another key adjustment you'll want is brightness. You don't always need a light at 100 percent power, as it could easily overwhelm the subject or scenario. Most LED light panels will offer some degree of built-in dimming. Some will only offer a limited range, and some may only offer incremental steps instead of smooth adjustability. If you want lots of control, look for a light that offers a wide range of dimming options. 
Bicolor & RGB
When shopping for LED light panels, you can choose between bicolor or RGB. Bicolor lights will only offer white light with adjustable temperature. These are usually cheaper and more straightforward to use. RGB lights, as you might guess by the name, offer many colors along with temperature-adjustable white. RGB-compatible lights will allow you to get really creative with your lighting, providing more room to play. They provide the ability to create those colorful backgrounds you see in so many YouTube videos or add color as a fill light to your studio portraits.
Power source
LED light panels come with different power source options. You'll need to choose between a battery-powered device or one that requires you to keep it plugged into a power source. If you plan on doing lots of shooting outside or on location or want to use the LED light panel on your camera, a battery-powered device is best. But if you are using the light panel in a studio or office setting, you can get away with a corded option.
Some lights offer the ability to use both methods, though you'll likely have to buy either a power adapter or battery separately. Be sure to look closely at the power source before purchasing so that you don't end up with a corded light that you meant to use outside.
Color rendering index numbers
You may see a Color Rendering Index (CRI) number when shopping for LED light panels. CRI is not the same as color temperature. Confused? Even pros have trouble wrapping their brain around this one. While color temperature can tell you if the light will look like a sunny day or an orange indoor dining room, the CRI number tells you how accurately the color of an object will look. CRI is measured on a scale of 1 to 100. 
Sunlight has a CRI of 100 because the colors always look accurate. The higher the number, the better. Any light with a CRI above 90 will be great for photos and videos. And for LED lights, you'll be hard-pressed to find a CRI number below 80. For that reason, don't get hung up on this stat. Focus on color temperature. You'll want a good range, between 3,200K degrees to 5,600K. 
Light size & modifiers
When it comes to controlling the hardness of your light, there are a few things you should consider. The light source's size relative to the subject does a lot to dictate how hard the light looks. A larger light source creates softer light. But, even if you have a relatively small light source, you can put an umbrella or other light modifier over the light itself to make the source seem bigger. If you don't want to fuss with a modifier, get a light with a bigger surface area.
You can also soften a light source by adding a diffuser. Some LED light panels come with their own right in the box. A diffuser typically consists of a translucent layer that scatters the light as it exits the panel. Because all the rays aren't traveling in the same direction, some of them will fill in shadowy areas that otherwise may go too dark or harsh. 
Budget
Keep an eye on your budget, as some LED lighting kits can be very expensive. A simple LED light panel may cost no more than $30, but a full-blown, pro-level lighting kit with key light, backlight, and fill light can run over $2,000, which hurts if you're on an indie budget. Unless you're a professional portrait photographer or a high-end video shooter, there's no need to clean out your bank account for LED light panels.
For making online videos, taking impressive Instagram pics, or hosting a live-streamed conference call, a set of two LED light panels should run less than $200 and will cover you in all the glorious light needed to make an impact. Prices escalate when you add more features and larger lights. But a low-priced table-top light panel will provide more than enough light for great-looking photos, videos, and jealousy-inducing social media posts.   
Number of lights
Most professional pics and videos are based on the three-point-lighting rule: A key light aimed at the subject, a fill light from the opposite angle to shine away any harsh shadows, and a backlight to make the subject pop out from the background. You may not need all three lights, but having at least two light panels will give you options to turn flat, dull pictures and videos into eye-catching images. 
Depending on the look you're going for, you can ditch the backlight. This is the most subtle of the three lights and can be the most difficult to position. Using two soft lights in front of your subject will get the job done. And if you only have one LED light panel, position the soft light panel at a 45-degree angle from the subject for a dramatic look, or stick it right in front of your subject for the now popular YouTuber aesthetic. Bottom line: Experiment and have fun. Use however many lights you've got in your kit and try new setups to find dynamic looks. 
FAQs
Q: Are LED panels good?
Yes, LED panels are good. They offer highly adjustable light at a great price. They also last a long time (if you take care of your equipment). For shooting pictures or videos, you'll need a quality light kit. And unlike other types of lighting kits, LED panels are incredibly easy to transport, set up, and tear down. They can be small enough to fit in a pocket. They are also intuitive, so even novice photogs can pinpoint perfect lighting setups without needing a PhD in lightwave engineering.

And while they're already good, they're getting better all the time. 
Q: What to look for in an LED light panel?
When looking for an LED light panel, consider how you'll use it. Do you want to attach it to a camera or use it on a tripod? And how large a light do you need? Small, fist-sized LED light panels can be great for quick, impromptu photoshoots and vlogs. But if you want studio lighting, you'll need a larger panel…and probably more than one. Make sure color temperature is easy to control and the display screen is easy to read. When shooting videos or photos, everything must be as simple as possible — you don't want to stop working because you need to squint and read a tiny display while adjusting color temperature. 

Most LED light panels on the market will be bright enough for closeups, but if the subject is standing far away (8-feet or more), you'll need stronger light output to reach them. 

If you've never used an LED light panel before, don't spend too much. Buy something that works within your budget and play around with your lighting setup to find what you like and what you hate about lighting kits. Then upgrade as needed. 
Q: Which LED light panels are better? Round or Square? 
When choosing between round and square LED light panels, think of where you want the light. Popular ring lights are good for smartphones and cameras that are aimed through the center of the light, to give an even coating of glow. But the look of ring lights may be fleeting, as all social media aesthetics can be. While the ring light look is hot now, it may be as cool as The Harlem Shake in a few months or a year. Square LED light panels will give you more traditional, time-tested lighting looks. And with the right adjustments and positioning, any LED square light can make you look good. 
Final thoughts on the best LED light panels
Give photos and videos the light they deserve with an LED light panel. These thin rectangles of light are powerful tools for every type of image capturing. Use them for live-streaming, taking pictures of cats, shooting a sci-fi epic in your backyard, or any other creative project on your list. Don't let the numbers and stats intimidate you. With a basic understanding of color temperature, you'll have enough know-how to pick and choose the best LED light panel for your needs.
Why trust us
PopPhoto has a long history of delivering the opinions of some of the sharpest and most prolific camera dorks the world has to offer. Since 1937, we've been reviewing cameras, providing wisdom from well-known photographers, and generally just nerding out about all that goes into making great pictures. Our current crop of writers and editors have decades of professional photography and camera writing experience among them. Collectively, we've probably shot with just about every camera and lens combo you can imagine—as well as some obscure stuff you may not even know about. Remember the Casio Tryx folding camera? PopPhoto does.
We also get that buying a camera is a big decision, which is why we're dedicated to helping folks choose the right one (or, in our case "ones") for their needs. Case in point: Handing over top dollar for an expensive rig may leave you unsatisfied if it doesn't fit your preferred shooting style. Sure, a $6,000 sports-oriented DSLR can capture landscapes, but do you really need to do it at 30 frames-per-second? No, you don't.