Best Father's Day gifts and camera gear for your shutterbug dad
Looking for the best Father's Day gifts can be hard, but if your dad's into photography, we've got some help for you.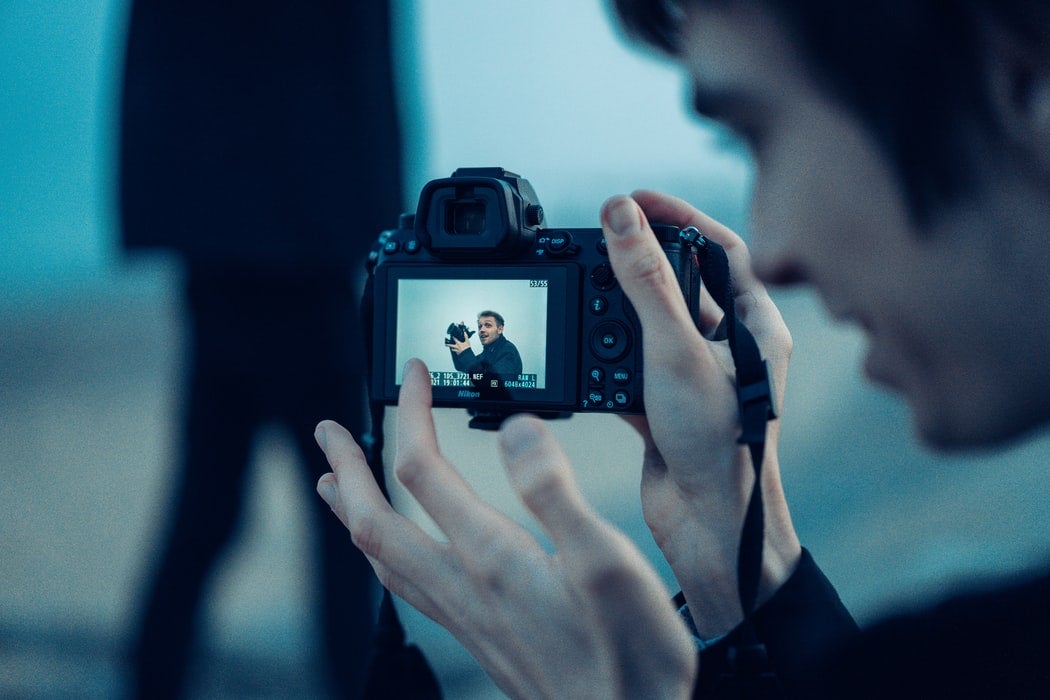 We may earn revenue from the products available on this page and participate in affiliate programs. Learn more ›
Photographers are legendarily picky about their camera gear, but if you're looking for the best Father's Day gifts for a photography-loving dad, you're gonna have to get into the weeds a little. You'll want to know what your giftee's camera situation is like—are they tied into Nikon, Canon, Sony, or Pentax? Do they already own a camera body that they're happy with? Are they just starting to get into photography, and looking for a great beginner package?
If your dad already loves photography and has a big camera equipment stash, try to do some sneaky research into what brands he's alr
eady shooting with. Some of the newer mirrorless cameras are compatible, via adapters, with lenses that were built for DSLRs, which means that dad can keep using his favorite glass with a new body. And mirrorless cameras can work either as a primary camera or as a thin, light secondary camera.
Something else to consider: what kind of photographer is this dad? Different cameras excel at different things, and when you're buying something as expensive as a camera body, you'll definitely want to consider the use case. 
We've selected an array of the best camera bodies out there, from a variety of the premier camera manufacturers. With any luck, you'll find the best Father's Day gifts below.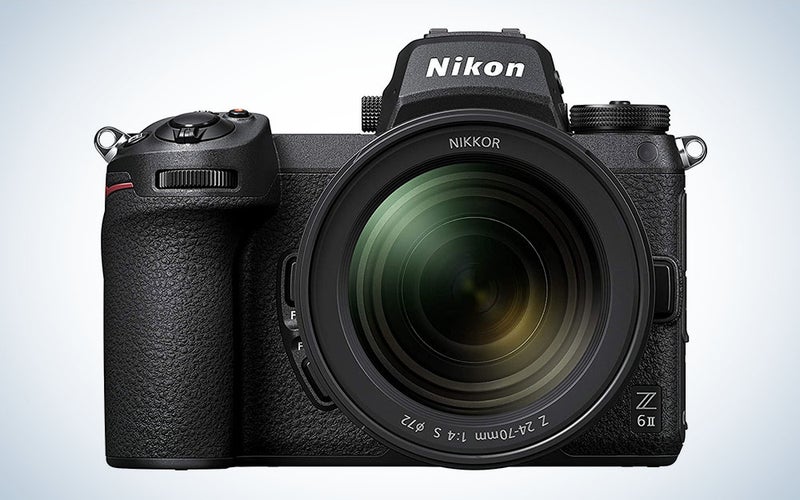 Nikon's Z 6II is built around a 24-megapixel full-frame sensor, has in-body 5-axis image stabilization, and offers 4K video shooting. It has faster continuous shooting, improved autofocus over its predecessor, and dual card slots for both a CFexpress card and an SD card. It's compatible with F-mount NIKKOR lenses with an FTZ mount adapter, so if your dad has been a long-time Nikon DSLR shooter, this might be one of the best Father's Day gifts for dad.
Built around a 45 megapixel full-frame CMOS sensor, the EOS R5 has an impressive ISO range of 100-51200, high-speed continuous shooting up to 12fps with mechanical shutter—or 20fps, using the silent electronic shutter. The autofocus covers 100 percent of the sensor, and the camera has advanced subject tracking with eye and face detection for both people and animals. The camera has video capabilities of up to 8K, too. If your dad is already in the Canon ecosystem, this is a simply excellent high-end camera and makes one of the best Father's Day gifts.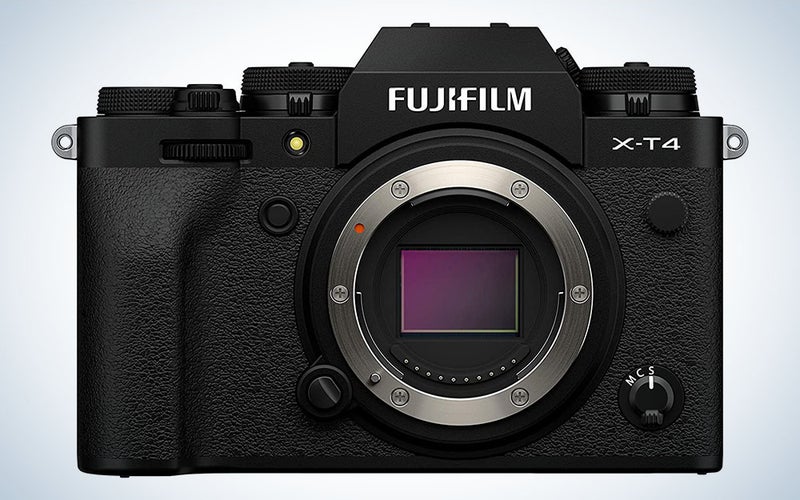 Fujfilm's cameras are consistently ranked as some of the most fun cameras to shoot with—super customizable yet easy to use, with minimal processing required. The X-T4 features advanced five-axis in-body image stabilization up to 6.5 stops, so that images remain nice and sharp, regardless of the shooting conditions. The XT-4 has the fastest mechanical shutter in the Fujifilm line and can shoot at 15 fps. It also packs a 1.62 million pixel vari-angle touchscreen LCD that's easy to control, or hide away for more discrete shooting. While the insides are state-of-the-art, the camera's body controls have a design aesthetic that is reminiscent of analog cameras from an earlier era—if your dad used to be a film shooter, he'll appreciate Fujifilm's tactile design elements and the film-simulations that come included with this Father's Day gift.
Best Father's Day Gifts for the Dad Who Shoots Video: Sony Alpha 7S III
These days it's hard to find a stills camera that doesn't also shoot video, but that doesn't mean they all shoot equally well. The Sony Alpha 7S III is the brand's first camera that is primarily designed for folks who want to shoot video. Built around a 12.1 megapixel Exmor R sensor that is optimized for shooting 4K, the camera has an ISO range from 40-409,600, 15+ stops of dynamic range and can shoot full-pixel 4K video. It supports EYE-AF in human and animal subjects—great for puppy videos—and features 759 phase-detection AF points on its sensor. If dad is serious about video but also wants something that'll take great stills, the Sony Alpha 7S III will make for impressive Father's Day gifts.
Best Camera for Black and White Film: Leica Q2 Monochrom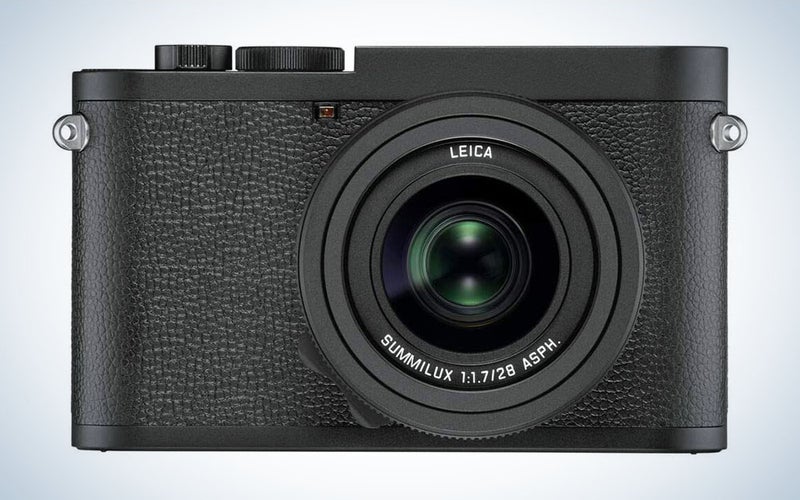 A digital camera that only shoots black and white images might sound like an expensive gimmick, but for the photographer who loves black and white photography, the Leica Q2 Monochrom is simply amazing. The Q2 Monochrom has a full-frame 47-megapixel sensor, a stabilized fixed 28mm f/1.7 lens, a 3-inch touchscreen, built-in Wi-Fi, and a body that'll resist both dust and water. The 47-megapixel sensor was designed to only see in black and white, which gives this camera an increased ISO sensitivity range when compared to the original Leica Q2.
Best Camera for the Gadget Loving Dad: DJI Pocket 2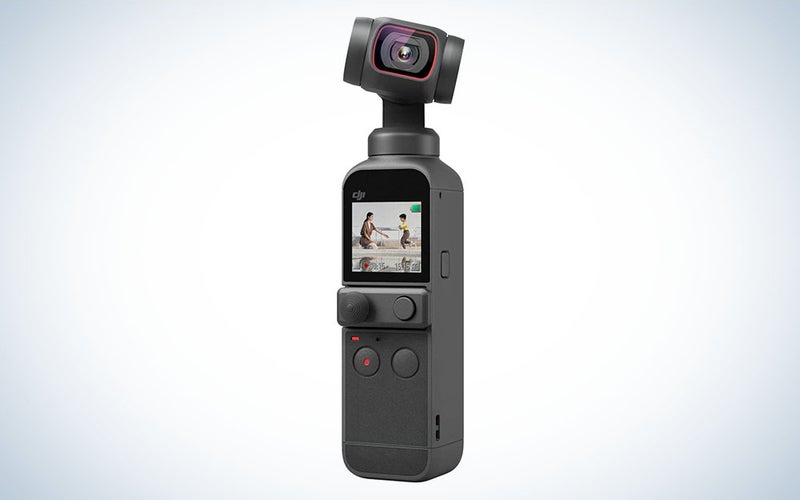 As the name suggests, the DJI Pocket 2 is a pocket-sized camera gadget that's part camera and part 3-axis gimbal. It's also a great tool for shooting long-exposure pictures, even in low-light situations. The DJI Pocket 2 is built around a 1/1.7-inch sensor, has a 20mm f/1.8 lens, and can capture 64-megapixel stills or 4K video. DJI's AI editor combines clips with transitions and music to make it easy for dad to share his daily adventures without logging hours behind a computer editing—one of the best Father's Day gifts!
Best Father's Day Gifts for Beginner Photographers: Canon EOS M200
If your dad loves shooting with his smartphone and wants to get deeper into the photography world, an easy-to-use camera like the Canon EOS M200 might be the perfect thing to put a smile on his face this Father's Day. This entry-level mirrorless interchangeable lens camera is built around a 24 megapixel APS-C CMOS sensor and is equipped with a dual-pixel autofocus system, a 3-inch touchscreen, built-in WiFI, and 4K video support. Most of the operation is done through the touchscreen, making it an easy transition from smartphone photography. It also comes bundled with an EF-M 15-45mm lens, which means dad can start shooting as soon as he unwraps this thoughtful Father's Day gift.
If your dad is into shooting things that are far away—sports games, birds, animals, that kind of thing—he'll need a camera with an impressive zoom, and the Sony Cyber-Shot RX10 IV certainly qualifies. The camera has a zoom range of 24mm-600mm, super fast autofocus, and optical image stabilization to provide dad with stable shots even when he's zoomed in at 600mm. The camera is built around a 20 megapixel stacked CMOS sensor, can shoot over 100 RAW photos per burst, and shoots full HD video at 120 fps.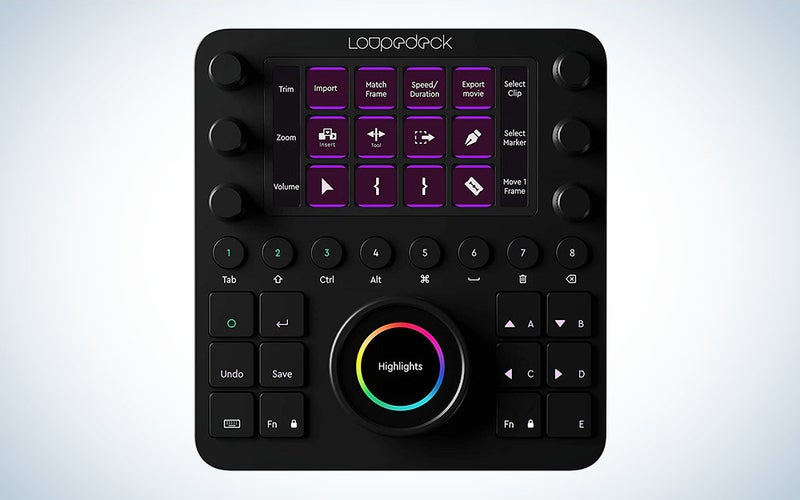 Having an excellent camera to shoot pictures with is really only the first step to getting great photos. After all, so much can happen in the edit room. If your dad is already an avid shooter with up-to-date photography equipment, consider a gift that will improve his editing efficiency. The Loupedeck Creative Tool is a fully customizable editing console for photo, video, and even audio, and is way more ergonomically friendly than a mouse or touchpad. It's designed to work with a number of Adobe programs and will allow your dad to make precise edits by turning dials or crafting custom shortcuts, rather than navigating through his workspace with a mouse.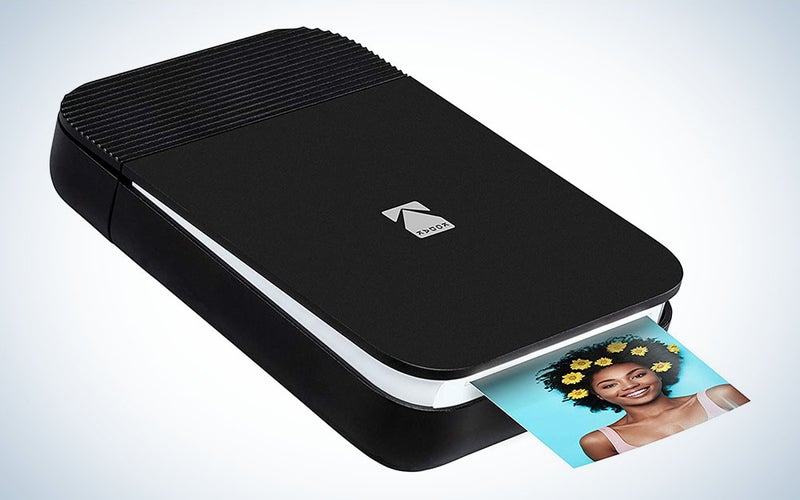 KODAK's Smile Instant printer makes sharing tangible photos from your dad's smartphone camera roll easy. This wireless printer uses Zink Zero Ink technology and prints pictures on 2×3 sticky-backed paper. When it's not in use, it's pocket-sized; when you want to use it, it folds outwards. It's compatible with iPhone and Android phones, can print up to 40 prints per charge, and the Zink Zero Ink paper is a lot more affordable than Instax film.
Last thoughts on buying camera equipment as Father's Day gifts
Buying a high-priced item for a Father's Day gift can be a little scary, but if your dad is the kind of person who doesn't like to spend money on himself or hasn't upgraded his camera equipment in over a decade, he's sure to appreciate one of these excellent camera bodies. Doing a little bit of research about what camera brands your dad might already be using and the kinds of things that he likes shooting can go a long way in making an informed purchase this Father's Day. If your dad is a bit of a camera equipment nerd who's always up-to-date on the newest camera bodies and lenses, an editing console or a digital printer might be a better way to go. If you have a big budget this Father's Day, consider a piece of camera gear that will help dad document the world around him for years to come—he'll never forget it.