Updated Jan 9, 2023 5:49 PM
We may earn revenue from the products available on this page and participate in affiliate programs. Learn more ›
The best drones for kids aren't simply toys anymore. Those unwieldy plastic crafts still exist at super low prices, but there are better options out there. Many have become easier to fly, better at handling crashes, and many even have cameras to allow kids to dip their toes into drone photography. Many of the best drones for kids are considered toys, but they can be a blast to fly. They can also be a great introduction to STEM learning. We've also included a few higher-level drones for those who may be above the curve in drone control skills or want to get more serious about drone photography. Either way, drones are a great excuse to get outside and explore or a way to keep the kids busy inside on rainy days.
How we chose the best drones for kids
The writers and editors at Popular Photography have decades of experience in nearly every genre of photography and have covered about every major camera and drone brand on the market. We looked at a variety of features when selecting the best drones for kids. Since we are a photography-focused site, we mainly chose drones with cameras for kids. Safety was also a primary consideration, so features like propeller guards and safe and beginner-friendly flying modes were important. We factored in battery life and charging time as well. Lastly, features like flips and other special maneuvers were looked at, as those will maximize the fun for kids.
The best drones for kids: Reviews & recommendations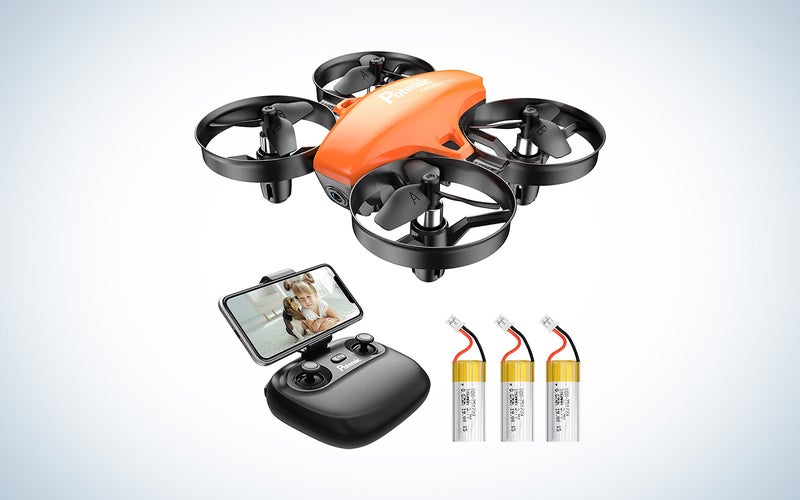 Why it made the cut: Featuring a 720p camera, stable flying, and easy flight controls at an affordable price, the Potensic A20W is the best overall drone for kids.
Specs:
Camera: 720p HD photos and video
Max flight time: 21 minutes via three batteries
Control type: Remote control and/or smartphone app
Dimensions: 3.54 x 3.1 x 1.25 inches
Pros
Easy to use flight controls
Stable flight
Good propeller guards
Affordable
Cons
Smartphone and app required to use the camera
The Potensic A20W, also called the Firefly, is a great all-around drone for getting kids started with flying drones. It has a 720p HD camera for recording photos and taking videos. Although the camera is not exceptional in quality, it can serve as an introduction to drone photography and videography. In addition, it comes with a 2.4G WiFi remote control, which can connect to a smartphone via an app, allowing for a real-time FPV experience.
The A20W has one-button take-off and landing and headless and altitude hold mode for easier flying. When paired with a phone, it also has Gravity Induction mode, which allows your child to control the drone by tilting the phone. For being such a small, inexpensive drone, it is very stable to fly. And it has good propeller guards to protect both the drone and people from getting hurt.
Why it made the cut: Though more than just a toy, the DJI Mini 2 balances quality and price, making it a good fit for teenagers. With a 12mp camera, 4K video, and a 3-axis gimbal, your teen will be able to create beautiful content without breaking the bank.
Specs:
Camera: 12MP JPG/RAW photos, 4K/30 fps video
Max flight time: 31 min
Control type: Remote control
Dimensions: 5.4 x 3.2 x 2.3 inches
Pros
Excellent camera
Great stabilization for smooth video
Extremely stable flight
Good battery life
Cons
DJI is one of the best-known drone companies in the game. While most of their drones are geared towards professionals, the DJI Mini 2 is a nice bridge between toy drones and more professional–and expensive–options. The Mini 2 is still lightweight enough not to require registration with the FAA but has a range of 6.2 miles and can fly at elevations as high as 13,123 feet above sea level. Of course, these capabilities mean that certain FAA regulations will come into play, so be sure to familiarize yourself and your teen with the rules before lifting off. 
The Mini 2 has an impressive camera capable of 4K video and 12MP RAW images. In addition, it has a 3-axis gimble, meaning video footage will be incredibly smooth and steady. Flying is also highly stable, even when there is some wind, making it easier to control. Built-in GPS and smart flying modes make flying easy as well. For example, Return to Home mode brings the drone back more easily, and Cine mode results in slower speeds for easier control. While it may be on the pricey side for a teen, the stability and controls of this drone should reduce crashes. And, DJI offers a protection plan should you want that. 
Best for teenagers runner-up: DJI Mini SE
Why it made the cut: The DJI Mini SE is like the little sibling of the Mini 2. It features the same 3-axis gimble and light, foldable body but does have lower camera specs. The price is also lower, making it more approachable for use with teens or experienced kids.
Specs:
Camera: 12MP JPG, 2.7K/30 fps video
Max flight time: 30 minutes
Control type: Remote control
Dimensions: 5.4 x 3.2 x 2.3 inches
Pros
Extremely stable flight
Good battery life
Great stabilization for smooth video
Cons
Can't handle too many crashes
DJI's Mini SE is very similar to the more expensive Mini 2; the camera quality and price are the main differences. You still get the highly stable flight and impressive wind resistance of the Mini 2. The 30-minute battery life and small size are also the same. Also, like the Mini 2, the SE has a 2.4/5.8GHz Dual Frequency system in the remote, providing a reliable signal even when flying at the far end of its range. 
The camera in the SE is still 12MP, though it can only take JPG images. The video quality is a lower 2.7K, though it still has a 3-axis gimble for smooth recording. The range of the SE is also lower. It can only fly 2.5 miles from the controller, but that should still be enough for your teen. It is also far enough that you should know FAA regulations. The SE is a good amount cheaper than the Mini 2, so if your teen is newer to drone flying, this may be the better option.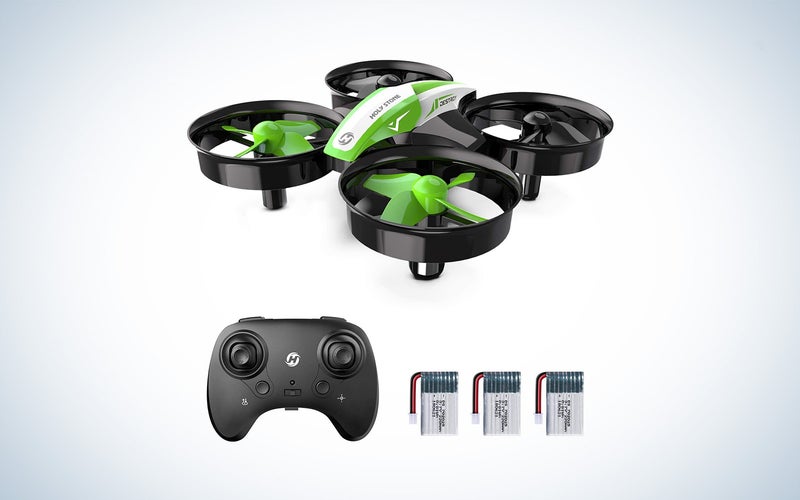 Why it made the cut: The Holy Stone Mini RC Drone comes with features that make it easier and safer to fly, such as auto-hovering and headless mode, and strong propeller guards. The battery life is also better than many kids' drones at 21 minutes.
Specs:
Camera: None
Max flight time: 21 minutes via three batteries
Control type: Remote control
Dimensions: 3.15 x 3.15 x 1.18 inches
Pros
Easy to use flight controls
Small and lightweight
Doesn't require a smartphone
Good battery life
Cons
With its easy-to-use flight controls, Holy Stone's HS210 mini drone is an excellent introduction to drone flying for kids. Auto-hovering mode allows kids to work on turns and speed changes without also thinking about altitude. And the addition of headless mode means that it doesn't matter which direction the drone is facing, the directional controls will always be the same. It has a range of 164 feet and an expected battery life of 21 minutes, longer than most comparable drones.
This mini drone also has fun additions like the ability to make 3D flips and fly in circles, which kids will be sure to love. In addition, it can launch and land with one button or launch by being thrown in the air. There is also an emergency land button, a nice safety feature. And, for parents' peace of mind, there are good propellor guards to prevent any serious damage.
Why it made the cut: This DJI-powered drone features a 5MP camera with 720p video. It is also fully programmable for those kids who want to try their hand at coding. And although it doesn't have the highest quality camera on the list, the price is much more reasonable and kid-friendly.
Specs:
Camera: 5MP and HD 720p video
Max flight time: 13 minutes
Control type: Smartphone or remote control (purchased separately)
Dimensions: 3.9 x 3.6 x 1.6 inches
Pros
Programmable
Easy for beginners
Good camera
Preprogrammed image modes for easy photos and videos
Cons
Dedicated controller must be purchased separately
The Ryze Tech Tello is a fantastic introductory drone for kids with a camera. While the camera isn't the most impressive, it does produce really nice 5MP images and 720p HD videos. It has electronic stabilization for smoothing out video nicely as well. In addition, it is very stable in flight and is even capable of 8D flips and bounce mode for bouncing off your hand. It can also start by simply throwing it in the air.
One of the unique things about the Tello is that it is programmable in different coding languages, including Scratch, Python, and Swift. You can even program synchronized acrobatic performances if you know others with the same drone. It is a great way to introduce coding to kids in a fun, approachable way.
Why it made the cut: The Syma X20 is a tiny drone perfect for beginners but is still a blast to fly for those with some experience. It has stable and easy-to-use flight modes, such as headless and auto-hover, and two different speeds.
Specs:
Camera: None
Max flight time: 5 minutes
Control type: Remote control
Dimensions: 4.13 x 4.13 x 0.98 inches
Pros
Very stable in flight
Extremely small
Affordable
Easy to fly
Cons
Battery does not come out
Short flight time
The Syma X20 is a pocket-sized drone for beginners. The small size makes it possible to fly inside, ideal for entertaining your child on those rainy or extra cold days spent inside. In addition, the LED light on the drone makes it fun to fly at night or in dark rooms as well.
The X20 has a six-axis gyro for stability and is very straightforward to fly. It has one key take-off and landing, headless mode, and auto-hover. The drone can go back to the position it took off from for landing, which can be helpful when the battery is low or if it is out of control. It can also do a 360-degree continuous roll, a sure way to entertain. The battery doesn't pop out, so you can't swap out batteries to prolong the short flight time, but charging takes less than an hour. 
Things to consider before buying the best drones for kids
Safety features
Let's face it, kids flying drones can be a bit scary unless safety features are in place. Luckily, most drones for kids have guards around the propellors so that if they run into someone (or something), it won't cause any cuts or damage. Of course, some will be more robust than others, so choose which makes the most sense for your child. Some drones will also have emergency stop buttons on the controller, which could be important. 
Drone controls
Drones, even kids' drones, may use a variety of different controllers for flying the device. Some require a smartphone to plug into a controller, so you may want to steer clear if your child doesn't have regular access to one. FPV drones, or first-person view, involve flying from the drone's perspective, usually through a headset. Some headsets require a phone, and some do not. On the other hand, many kids' drones use a dedicated controller that doesn't require a phone, which may be better. Be sure to verify what type of controller is included before purchasing a drone for your kid.
Flying modes
Flying modes can change the difficulty of flying your drone. Of course, not all drones will have the full range of modes, but there are two to look for if you want an easier introduction to flying a drone. 
First, altitude mode or auto-hover mode keeps the drone at a stable height on its own. It allows kids to practice turning and changing speeds without crashing into the ground. Second, headless mode means that the drone always responds to the remote control's directions, no matter which way the drone is facing. For example, left always turns the drone left, even if it is facing the opposite direction as you. Headless mode is an excellent tool for beginners.
Battery life
Battery life is an essential thing to look at. Most parents have probably been in a situation where the battery of their child's new toy died, and tears resulted. Nothing is worse than getting their new drone up in the air only to have it unexpectedly need charging five minutes later. Be sure to check the expected battery life of the drones you are considering to at least be prepared.
Drone rules and regulations
Lastly, even though the majority of the best drones on this list are small (drones under 250 grams don't need registration) and basic enough to make the Federal Aviation Administration (FAA) drone rules mostly irrelevant, it is still good to familiarize yourself with them. No-fly zones and flight restrictions will apply for the higher-end drones we included as they are capable of higher, longer-range flights. The FAA has a complete list of regulations on its website.
FAQs
Q: How much does a drone for kids cost?
Drones for kids can cost anywhere from around $20 to $500. The cost will depend on the drone's size, the presence and quality of a camera, the stability of the drone flight, battery life, and other flight features. Lower cost drones will be extremely basic but can still provide lots of fun. 
Q: What age is appropriate for a drone?
What age is appropriate for a drone largely depends on the child and you, the parent. Most drones designed for kids are for ages seven and up, with more technical drones usually for those older than 14. 
Q: Is the DJI Mavic MINI good for kids?
The DJI Mavic Mini isn't necessarily ideal for kids, in large part because of the high cost. It also doesn't come with any propeller guards, which could cause an injury if young kids are flying it without experience. And while it is stable in the air, the DJI Mini 2 or Mini SE have improved wind resistance, making them easier to fly. However, if your child has experience with drones, the Mavic Mini may be a good fit.
Final thoughts on the best drones for kids
While there are many different kids' drones available, the Potensic A20W Drone is a well-rounded option perfect for many. It has a decent camera so that children can experience a taste of drone photography and FPV flying, is stable in the air, and has ideal beginner flight modes. Plus, you get 21 minutes of flight time between the three included batteries.