| | | | | | |
| --- | --- | --- | --- | --- | --- |
| Best Samsung Galaxy phone | | Samsung Galaxy S21 Ultra | | SEE IT | Probably the best Android phone on the market.  |
| Best camera phone on Android | | Google Pixel 5 | | SEE IT | This camera phone provides stellar nighttime photography. |
| Best budget Android phone | | Google Pixel 4a | | SEE IT | This model is fast, affordable, and sleek. |
We may earn revenue from the products available on this page and participate in affiliate programs. Learn more ›
Published Aug 17, 2021 3:19 PM
One of the great things about the best Android phones is that many different manufacturers can make their own, compared with the small lineup of iOS phones all made by Apple. The top Android, Google, and Galaxy phones vary dramatically in size, style, and price, but that's what makes them interesting.
How do I pick the best Android phone?
Android phones come in sizes ranging from tiny to enormous, made by giant companies like Google and Samsung, as well as emerging makers many Americans haven't heard of yet. Some phones have two screens; some have flexible folding screens. If you've already decided on Android, that doesn't necessarily narrow things down. It can still seem like there are tons of options.
In general, Android phones come in three price categories. There are the flagship phones, which are the best, fastest, and most expensive phones in a given manufacturer's lineup. These can cost upwards of a thousand dollars, but they'll have the best screens, the fastest processors, the most storage, and the most cutting-edge technology. Then there are the budget phones, which can cost as low as $300. These have improved in recent years; many of them remain underpowered, but there are a few that are surprisingly good. A newer category is the mid-range: around $400 to $600, with perhaps not the highest-end tech but without any real weaknesses, either. 
What's the best Samsung Galaxy phone?
Samsung sells more Android phones than any of its competitors, and it's easy to see why. The company is great at absolutely maxing out the specs, cramming more features and hardware options than anyone else into their phones. Early on, Samsung phones have sometimes attracted criticism for the way they modified Android—including new apps and a new aesthetic, for example—but recently, they've pared down.
Samsung makes a pretty wide range of Android phones under the "Galaxy" brand. There's the Galaxy S line, which is the company's normal phones; the Galaxy Note line, for larger phones; the Galaxy Z Fold, which is a folding phone; and the Galaxy Z Flip, which is…also a folding phone, though it flips vertically (like an old-school flip phone) rather than horizontally. 
The Samsung Galaxy S21 Ultra is probably the best Android phone on the market, period, in terms of specs. It has a 6.8-inch AMOLED display with a 120Hz refresh rate, which makes everything feel smoother and more natural. It takes 8K video and has a 10x optical zoom on its camera. Plus, it includes 5G support for the fastest service. It has a processor that could well be faster than your home computer! That doesn't come cheap, but if you want the best, well, here it is.
Related: Curious about the Samsung Galaxy Z Fold 2? Check out this review of the multitasking champion phone.
What's the best camera phone on Android?
A tricky thing about modern smartphone cameras is that you can't really tell how good they are just by reading the specifications. Megapixels don't mean much these days; the best Android cameras rely on the phone's image processing software to make the photos as good as possible. That said, if you do a lot of zooming, it might make sense to look for a phone with an optical zoom, which magnifies the image by moving the lens, rather than simply taking a picture and then enlarging a section of it. 
What you should look for in the best Android phone camera depends on what kind of photographer you are. Do you like messing around with settings and white balance and aperture? Go for the Samsung Galaxy S21 Ultra. But if you just want your phone to take the best pictures with the least amount of work, the Google Pixel 5 is our pick.
Google's Pixel phones, like the Google Pixel 5, never have the most powerful camera hardware, but the photos they take are often considered the best. That's thanks to the company's image processing, which analyzes photos and changes them to be more clear, more vibrant, and better to look at. Google also has "Night Sight" in its Pixel phones, a feature that enables nighttime photography that's better than what any other company has yet managed.
What's the best foldable Android phone?
Folding phones have been around on Android for a couple of generations now, something Apple can't claim; Apple has yet to release even its first. These phones generally operate in two ways: Either the phone folds out into a tablet-level size, or it is a large phone that folds down to be nicely pocketable. 
The early generations of this tech had flaws, with very obvious creases in the screen, astronomically high prices, and a tendency to break. But the newer versions are sturdier, faster, more capable, and, well, still expensive. But being able to fold your phone is just so cool and, ultimately, pragmatic.
The Samsung Galaxy Z Fold 2 is the style of phone that folds out into a larger, nearly tablet-sized device. It has a 6.2-inch display on the outside, great for quick checks and texts while on the go, but then folds out into an enormous 7.6-inch gadget, great for multitasking, typing longer emails, watching videos, and playing games. The price has gone down recently; at its original listed price of $2,000, it was hard to recommend, but with prices dropping to nearly half that, it's a great buy.
What's the best small Android phone?
There's no getting around it: phones, especially Android phones, are getting bigger and bigger. And just when you think they can't get any bigger? They do. For some people, bigger is just fine: more screen real estate for gaming or videos, the ability to make text bigger, that kind of thing. For other folks who like to keep their phones in their pockets or who want the ability to operate their phone with one hand, it's not so good.
Small phones simply don't sell as well as big phones, and the manufacturers often either don't make them or only make them with middling hardware. But there are a few out there that are nicely pocketable and still perform well.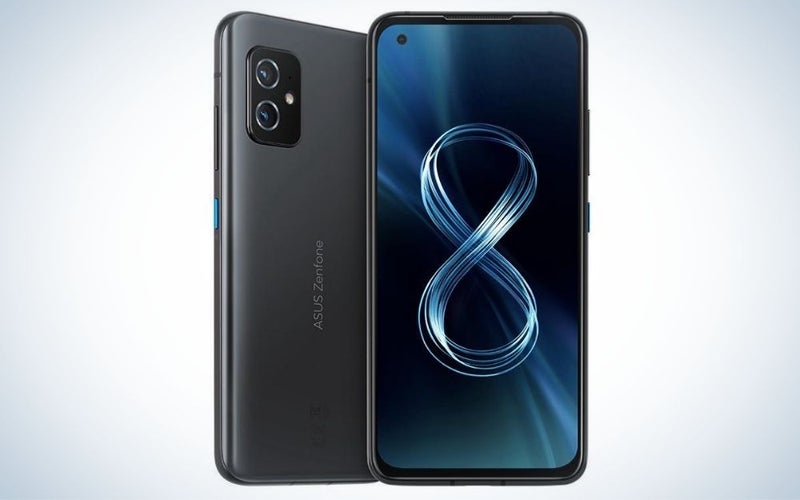 Look, if you're really into the idea of a small phone above all else, the Apple iPhone 12 Mini is considered the best. But in the Android phone world, there's a worthy competitor in the Asus ZenFone 8. It includes a superfast Snapdragon 888 processor—the same one in the Samsung Galaxy S21 Ultra—but in a small package, with a tiny (by today's standards) 5.9-inch screen. One major downside: This phone only works with GSM networks, so if you're locked into Verizon, this phone is a no-go.
What's the best budget Android phone?
When looking at budget Android phones, you should start with the company that, well, makes Android in the first place: Google. Google's Pixel line includes the "a" line—the Pixel 3a, 4a, and, likely soon, the 5a. These phones aren't the fastest and don't come with the best camera hardware, but that turns out to not really matter. 
Google knows Android better than anyone, because it's a Google product, and they have all the tricks to get the most out of the slightly cheaper hardware the Pixel "a" line uses. Don't bother looking at the megapixel count: Google's Pixels, even these budget ones, use intelligent software to optimize photos, negating the need for cutting-edge hardware. As a result, these phones feel faster, and they take better photos than much more expensive phones. In fact, the Pixel's camera is generally held to be the best in the entire industry—at least as good as any iPhone camera.
With an absolutely top-of-the-line camera and quick performance, the Google Pixel 4a dramatically outperforms its price. You'll also get a headphone jack—a rarity in many modern phones, which have moved to Bluetooth (of course, this phone also has Bluetooth). You won't get some bonuses like wireless charging, but that's a small price to pay. Just like this best Android phone under $500.
FAQs
Q: What is the best Android phone in 2023?
The best Android phone this year—and that answer changes often—will vary based on your needs. Perhaps the most complete, high-end Android phone right now is the Samsung Galaxy S21 Ultra, but it's pretty pricey. The Google Pixel 4a 5G is a more affordable option in the mid-range, or the Google Pixel 4a (sans 5G) at the budget level.

Q: Who owns Android?
Interestingly, nobody actually owns Android; it is an open-source operating system, like Linux, which means everyone is free to use and modify it to their heart's desire. In practice, though, Google has created its own core version, complete with Google services like Google Maps, Gmail, and Chrome, which the vast majority of Android phones use.

Q: What's better: Android vs. iOS?
Ah, the age-old question of Android vs. iOS. There's no answer, of course; each mobile operating system has its own strengths and weaknesses. iOS is more reliable thanks to tight hardware-software integration, has a cleaner accessory and support system, and many users prefer it aesthetically. Android phones are more varied, offer a greater variety of apps and uses, and Android has a more efficient style of notifications. 

A final word on the best Android phones
Buying a new phone is a fun process, especially if you're looking for the best Android phones (and cases). There are so many options, from tiny phones to foldable to beefy flagships— you're bound to find the perfect one for you. Making decisions about style, camera, and budget in advance should help narrow down your research and let you make the best choice for you or a family member.