PSA: If You Do Photoshoots on Railroad Tracks You Might Actually Die
Let's just stop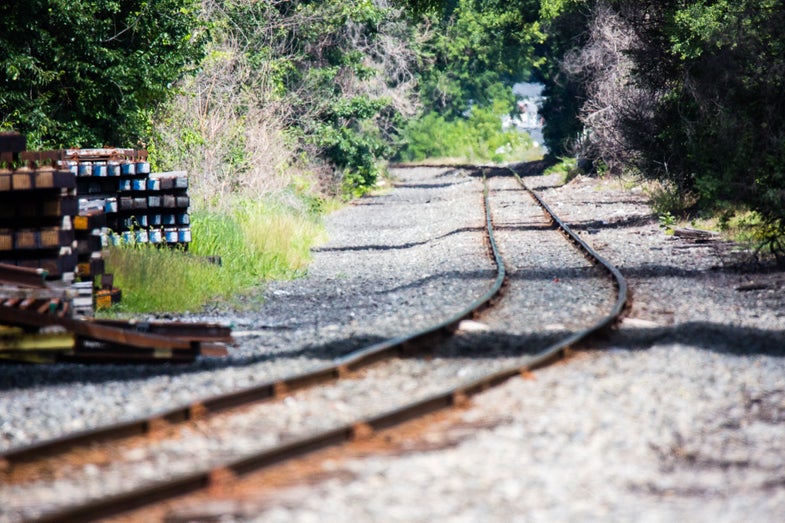 Railroad tracks are a tried and true photographic cliche. They have been the site for countless senior portraits, engagement sessions, and Model Mayhem shoots that get tons of likes on 500PX. However, a rather surprising number of people have died doing photoshoots on train tracks. It's about time we cut that out.
Now, I should be clear that I'm not interested in telling people what they "should" be photographing from a creative standpoint. Do I think portrait sessions on train tracks are tired and often lame? Yes, but that's just my personal opinion and not an official position held by Popular Photography. There are some concrete reasons you should stay away from the train tracks, which I'll outline.
First, it's literally illegal in almost every case unless you go through the official channels to get a permit. Train tracks aren't public property, they're maintained and operated by railroad companies. You don't have a right to be there and you're often breaking the law by being in the area.
Second, it's insanely unsafe. I know, it seems like it would be easy to see a train coming. Trains, after all, are huge and loud, right? And there are all those lights and signs! And yet still, roughly a thousand people get injured or even killed every year in the US. Do a quick Google search for "Photographer Killed Traintracks" and you get hundreds of thousands of results. It happens, and it seems rather likely those people went into that situation thinking they would be totally fine, too.
If you want to do it, there are official routes. You can, for instance, get in direct contact with the railroad company and get permission. You'll often need to provide proof of insurance in case something happens, and sometimes you may need to pay for a permit. But, it can help to insure that you're safe and not operating outside the law. If you have a client that's insisting on a train tracks shoot, it's best to explain the risk and then either jump through the official hoops or turn down the gig.
You can also take pictures of trains from a safe distance. If you grab a long lens and stand a safe distance away, the compression will make the train look closer than it is. You can also get some pretty cool effects by using a long-exposure as the train passes by in front of you. Plus, you can get both shots without trespassing onto the tracks.
I know people aren't going to stop completely, but I sincerely implore you to be careful. You're putting yourself, your subjects, and the people on the trains in danger that just doesn't need to exist.