My Project: Krista Long's Photos of High Speed Water Slide Riders
A photo series that captures the essence of summer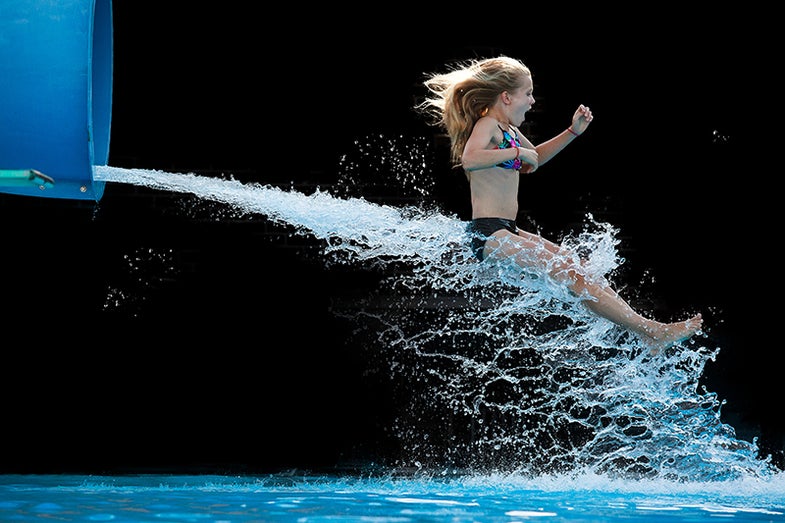 summerslide
Photo: Krista Long
Nothing says summer quite like shooting out of a water slide, taking a big deep breath and splashing into a chlorine-filled pool. Krista Long's series "I Love Summer" captures Iowa swimmers in that moment of pure joy or fear before they hit they water.
The series started last summer when Long took day trips with her two daughters to the waterparks near her Des Moines, Iowa home. Long says there was one slide in particular that captured her attention: "People would shoot out real fast and it was a little different than the typical water slide you see," she says.
A photography hobbyist for the past 20 years, Long started bringing her camera and shooting her daughters, their friends and eventually strangers as they shot out of the slide. "I wanted every little water droplet to stand out and really capture, emphasize and isolate the facial expressions and the body positions," she says. "I think it's so fun just to watch everybody come out of this thing. It is just pure entertainment for me."
Long captures her images using a Canon 5D Mark II with a Canon 70-200 zoom lens, a wide open aperture and a fast shutter speed, typically around 1/8000. After a day of shooting Long processes in Photoshop to remove a brick background from her images and replaces it with a black one—to give the splashing water and the flying human a bit more oomph. "Getting the timing down took a little practice, at first there were a lot of bumbles," she says. "Now I've practiced it enough that I can get them just right out of the slide."
See the full 18-image series on Long's Flickr account.
I Love Summer
Photo: Krista Long
I Love Summer
Photo: Krista Long
I Love Summer
Photo: Krista Long
I Love Summer
Photo: Krista Long
I Love Summer
Photo: Krista Long
I Love Summer
Photo: Krista Long
I Love Summer
Photo: Krista Long
I Love Summer
Photo: Krista Long
I Love Summer
Photo: Krista Long
I Love Summer
Photo: Krista Long