Pick the Keeper Photo: The Five Minute Tattooist Portrait
Which photo is the keeper? You be the judge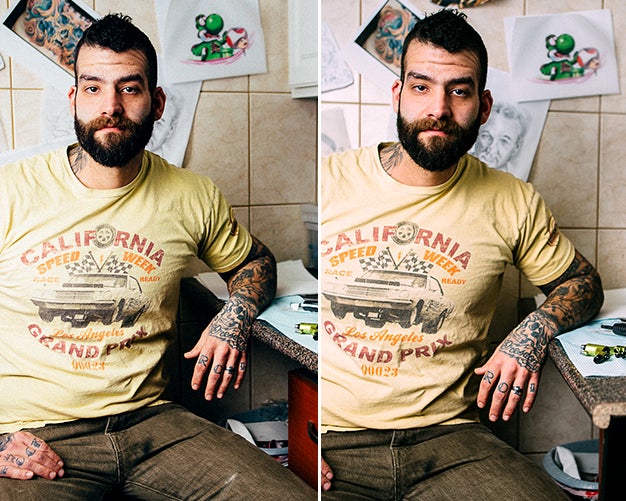 Self-editing is one of the toughest parts about photography. You come home with memory cards full of photos, then you have to pick the one that best represents what you wanted to capture. So, we're starting a new series of posts where we present two photos from the same shoot and the internet hive mind picks the keeper.
Because the internet is full of tough critics, I'm starting off with two photos of my own. Check out the description, check out the photos, then leave your comments below. You can also vote in the poll.
The photos:
**Photo 1
**
**Photo 2
**
I'm currently writing a review of the new Phottix Mitros+ flash and I couldn't stand taking another photo of my dogs, so I set up a quick portrait session with local tattoo artist, Chad Foster. When I say quick, I mean that we had a total of about 10 minutes for set-up, shooting, and teardown.
The room was small and without windows. There was fluorescent light overhead, so I used the Phottix flash (this was for a flash review after all) in a Profoto Large Translucent Umbrella from camera left as the only light. The camera was a Canon 5D Mark III and the lens was a 24-70mm F/2.8 (mark I) at roughly 35mm.
Both images were processed with the new VSCO Film Pack 05, which, yes, is also part of a review. It's not my typical post-processing, so feel free to comment on that as well.
Here are the two photos:
I only took seven frames, and I realize that neither is perfect. That said, I prefer the angle and pose of the first, but the pose and expression of the second.
I know which one I prefer, but I'm not going to reveal it here so I don't flavor the results.
A few notes:
-It's fine to say "They're both terrible!" but we expect some constructive criticism to go with that classic internet vitriol.
-Let's keep it civil
-Let us know if you'd be interested in submitting a pair of your own images. We can make this a regular thing if it's interesting and no one cries.