Swimsuit Reunion
A fashion photographer shoots a supermodel reunion on the beach in the Bahamas.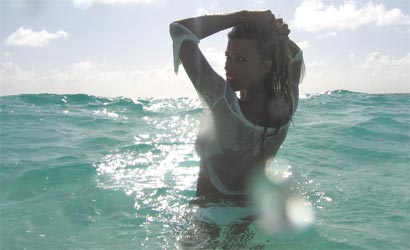 Fashion photographer Raphael Mazzucco shot the cover and 36 pages inside last year's 250-page Sports Illustrated Swimsuit Issue. But what he really liked were the pictures that never got into the magazine.
On top of his cover assignment, Mazzucco had been tasked with shooting a story featuring eight of the famous models who'd posed for SI in the past. Editor Diane Smith selected the group, including Elle Macpherson, Rebecca Romijn, and Rachel Hunter.
Shooting in the Bahamas with a Pentaz 67 and a Leica Digilux 2, Mazzucco made images that went well beyond the magazine's usual T&A requirements to capture a timeless celebration of sun, water, and beauty. The pictures can finally be seen this fall in a new book, Exposure (SI Books, $30). "You can't mess up with a crew like that," says Mazzucco.
Q&A with Raphael Mazzucco
Q. What was this shoot like?
A. We did the whole thing in one week in August 2005, at Harbor Island in the Bahamas. Elle has a home there, so that made it easier to get everyone in one place. It was really amazing that Diane Smith was able to pull it off. Some of the girls came early in the week, and we shot them then, and some came later. But they were all together for one day. That's when we did the group shots.
Q. How did you adapt to shooting each girl, one after another?
A. You know, each girl was different. Each one brought her own energy to the project. Veronica Varekova was just out-and-out sexy; Carolyn Murphy was sort of natural and fluid in her beauty. Rebecca Romijn is an actress now, and she brought this incredible talent for being funny and slipping into different characters. Yamila Diaz-Rahi and Daniela Pestova were perfect to work with.
Q. You didn't just shoot them lounging on the beach in swimsuits.
A. No, this is about them, it's about this special moment when they were all together, so I approached it like that. I wanted the pictures to be filled with movement and life.