Shooting the Great Outdoors
Canon offers free photo workshops to visitors in Yosemite, Grand Canyon, and Yellowstone National Parks.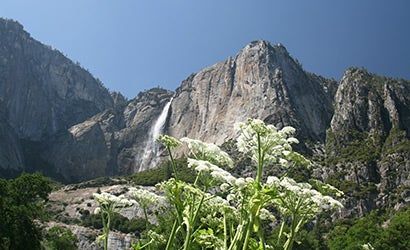 Want some free advice from a professional photographer? This summer, all you need to do is show up at the right time in the right place — namely one of America's most celebrated National Parks. Canon is offering a series of free workshops with photo pros designed to give people hands-on instruction in the great outdoors. The series kicked off at Yosemite National Park in mid-June; it runs there through June 29. The workshops move to Grand Canyon National Park July 9-29, and then they head to Yellowstone National Park August 6-12. (They are twice daily except Tuesdays, 9:30 am and 2:30 pm — for more details, check out Canon's Digital Learning Center Website.
Participants may want to use their instruction, and results, to enter Canon's Photography in the Parks Photo Contest, where the entry deadline is September 29. Accepting photographs taken in National or State Parks, the contest awards prizes in both Wildlife and Landscape categories — and winners will receive trips to participating parks and Canon equipment, including high-end digital SLRs such as the Canon EOS 5D and EOS 30D models with versatile wide-angle-to-telephoto lenses.
So far this summer, the free workshops have been filling up fast. "We try to keep the ratio of participants to instructors at a nice level, about eight people for each pro photographer," says Liyi Deng of Canon USA, "so people who have questions can talk directly with an instructor." She adds that each workshop has three or four instructors, and on weekends these include members of Canon's prestigious Explorers of Light group. "It's rare that we get the chance to share our passion for photography with people that are so eager to learn," says Adam Jones, a professional landscape photographer and Canon Explorer of Light who's teaching at Yosemite in June and at the Grand Canyon in July. "As far as wildlife and landscape photography goes, these parks are among the best locations the Earth has to offer."
In addition to more than an hour's worth of tips and field advice from the pros, participants get a chance to try out Canon DSLR cameras, including the 5D, 30D, Rebel XTi, and Rebel XT models, with an assortment of wide-angle, telephoto, and macro lenses. "People can bring their own gear or try out some of ours," says Ann Simpson, one of the pro instructors, "but we're not pushing or selling anything. The idea is for people to enjoy nature, try stuff out, and have fun."
After their equipment and memory cards are turned in, participants are invited to evening sessions that include lectures and slide shows by pro photographers; there they can also get a free CD of their workshop image files and a selected print that they can take home — or use to enter in the Parks Photo Contest. "This is all about getting people involved with the environment and with photography — getting them out there to shoot," says Deng. "What better way is there to capture the grandeur of a National Park than with a camera?"