The Halcyon Days of John & Yoko
Photographer Allan Tannenbaum's forthcoming book reveals intimate glimpses, many previously unseen, of a renowned couple at a pivotal time.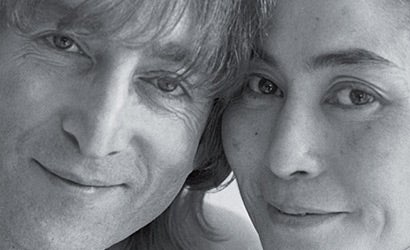 Of the myriad pictures made of John Lennon, perhaps none is more iconic than his last formal portrait, with the former Beatle in the nude and holding his wife Yoko Ono, made by Annie Leibovitz just hours before Lennon's death. After it appeared posthumously on the cover of Rolling Stone, the image became a symbol of cruel irony — the public reemergence of a famous but reclusive couple, tragically cut short by assassination.
But most of the world didn't know at the time that Lennon and Ono had been carefully orchestrating their showbiz comeback for months. While completing their Double Fantasy album, the pair reached out to a few trusted journalists to set the record straight (their side) about their years of seclusion and promote their new record. Among their most friendly press cohorts during this period was New York photographer Allan Tannenbaum, who had known the couple since 1975.
In late 1980, on assignment for the SoHo News, Tannenbaum shot images for a story about Ono called "Yoko Only," which led to more photo shoots with both Ono and Lennon. "Yoko said, John feels comfortable with you, so why don't you hang out with us?' " Tannenbaum recalls. Among the scenes he photographed was a video shoot in which the pair disrobed and simulated lovemaking in front of the camera.
Lennon and Ono liked Tannenbaum's pictures and asked him to make several prints for them. The night of December 8, while working on these in his downtown Manhattan darkroom, he heard the news that Lennon had been shot outside his home at the Dakota building. Operating "on autopilot," Tannenbaum says, he rushed uptown to photograph the murder's aftermath, including the "perp walk" of suspect Mark David Chapman at a police precinct and the gathering of grief-stricken fans at the Dakota. "I really switched modes from darkroom to news photographer," he says. "I didn't even stop long enough to cry, until later."
Tannenbaum soon found that his Lennon pictures — among the last ones of the musician — were in great demand, and some have been widely published. The photographer later made more portraits of Ono and of the couple's son, Sean. But never has the entire collection of Tannenbaum's Lennon/Ono work been gathered in one place — until now.
A new coffee-table book, John & Yoko: A New York Love Story (Insight Editions, $45) includes more than 150 photos of the couple, from 1975 images of Lennon's last public performance to Tannenbaum's intimate 1980 sessions, including many never-seen outtakes. (See slide show.) "We wanted to not only show pictures that people are familiar with and that have become iconic," Tannenbaum says, "but also to show photographs that people have never seen before." With a preface by Yoko Ono and an introduction by Govinda Gallery owner Chris Murray, the book is slated to reach stores on October 9, which would have been Lennon's 67th birthday. Exhibitions of this work will be at the Steven Kasher Gallery in New York City from October 4 through November 3, and at the Govinda Gallery in Washington, D.C., from October 5 through November 10.
American Photo's Jack Crager recently spoke with Tannenbaum about his new book, working with John & Yoko, and bittersweet memories of his friendship with John.
American Photo: This book has been a long time in the making, right?
Allan Tannenbaum: About a quarter century, yeah [Laughs]. It's pretty amazing to see these pictures all in one place, especially since the publisher did a beautiful job with the design and reproduction. And it's exciting to see a lot of photographs that I had ignored or neglected or passed over for so long being published. This coincides with what Yoko is doing — she's been focusing on John's New York years. They are about to open the John Lennon Imagine Peace Tower, in Reychavik, Iceland, on John's birthday, October 9, which is when the book comes out. So the timing is good now.
AP: Yoko wrote the book's preface. Since advance copies arrived, have you heard her reaction to it?
AT: You know, she sent me a very sweet card with the photo of the Two Virgins album cover, saying, "This is a picture that John did" [laughs]. She didn't mention the book. But I knew, because I met with her several times to show her the layout and everything, Yoko is sort of a unique personality. And at first she was, hmm, hmm, very reserved, and then I could see her face light up as she got into it. And after our second meeting she gave me a big hug. So she liked it. I think she's got to be delighted with the result. She wrote a beautiful preface. And it's not just about John — it's her and John, a kind of paeon to their love.
AP: Which is not always the case with books about an ex-Beatle…
AT: You know, there are a lot of people who don't like Yoko, and that's probably true in the UK more than it is here. But there are also a lot of people who do like her. She is a successful artist. I'm one who appreciates her art. And there are things she tries to do; she's always for peace, and she has a following. I enjoyed working with both of them.
AP: Didn't your 1980 images start out as a piece about Yoko for the SoHo News?
AT: Intially, yeah. That was the approach that the music editor I worked with at the SoHo News took to get in with them. They called the piece "Yoko Only," and ironically that was the cover line that was on the newsstands when he was killed. I had photographed her for that story and and I asked if John and Sean could come. And she said, "Not Sean, but I'll call John," and he came in and he remembered me from five years earlier. And I ended up spending a lot of time with them. We went downtown to a gallery in SoHo where they had a bedroom set up for a video shoot. So then when they started coming in and taking off their clothes and getting into bed, I was just astonished.
AP: Did they tell you that's what they would be doing?
AT: No, they just started doing it, for the film camera. And I was just kind of a fly on the wall, keeping out of the way of the crew but getting those shots. And occasionally getting something on my own in between setups. They took off their street clothes, put on kimonos, and walked into the bedroom set and took those clothes off, for the video.
AP: How far did they go with the lovemaking act?
AT: I would say it was more tender and loving than erotic. I wouldn't call it X-rated. It was discreet.
AP: That video was for the song, "(Just Like) Starting Over," right?
AT: Yes. Although pieces from that shoot wound up being used in different videos for different songs.
AP: Most accounts describe John as being very happy at that time. Was that your impression?
AT: Oh, yeah. They were in a good place, so he seemed really happy, really up, optimistic. It sounded like he had found himself, and conquered his demons, and he had a lot of creative energy going. He seemed content in his relationship with Yoko and happy about his 5-year-old son. And I envisioned, because we were getting along and working well, that we would do more things together. I knew that they were planning to go on tour with this new album, and I was hoping to be a tour photographer with them, and so a lot was happening and John was just great. He was so easy to be around. It was like talking with your oldest best friend.
AP: But I did read one photographer's comments from that time, saying John looked like he hadn't been out in awhile. Like he was reemerging.
AT: Well that's what I've heard, and it's no secret that they were fairly secluded. When we were walking around in the park, he didn't have that aspect to him, because that's one thing they did do was go out in Central Park often. What is now Strawberry Fields was their favorite place. Around there he didn't have that aspect of just being "released."
AP: So you were actually working on some pictures of John and Yoko at the time you heard that he died?
AT: I was making prints, because I had seen them a few days after our last session and I had shown them contact sheets. They'd marked the contacts and told me which ones they liked. And John would joke around about how difficult it was to pick pictures when he was with the Beatles. So I knew what they wanted, and I had made an appointment with them to bring pictures to the Dakota, and I was working on the last things in the darkroom. That's when I got the news that he had been shot. I left everything in the darkroom and grabbed my cameras and ran uptown.
AP: You described it as being "on autopilot."
AT: I really switched modes from darkroom to news photographer. And it was surreal, going to the hospital first and hoping that he would somehow still be alive, then realizing he didn't make it. And then you just find out what's going on. I was numb and shocked, and I went to the precinct and I was there when they walked [gunman Mark David] Chapman through. They had it set up for the press, so there was a lot of media inside. I had a New York City press card so it was not a problem to get in. But it was very strange. I was in shock for a long time.
AP: When did you go back with Yoko, after his death, to shoot pictures around town?
AT: That was a couple of months later. And I saw her just a couple of days after — she wanted to talk with me about taking a picture for something she was working on. So I was with her when she was in the depths of her grief. Extremely upset. I mean, you can imagine.
AP: In some of your photographs of her, from early in 1981, she looks sad but also strong.
AT: Yeah, that was it. She had to be strong, she had to survive, she had a 5-year-old son, so I guess that's a good way to put it.
AP: Then you made more pictures of her and Sean a few years later? They look much better there.
AT: Yeah, that was at the Dakota two or three years later. Life had gotten a little bit more back to normal for them.
AP: Are you friendly with Sean now?
AT: I run into him occasionally.He always recognizes me and gives me a hug. I'm going to go to the Imagine Peace Tower opening in Iceland. It's on Sean's birthday as well as John's, and I'm sure Sean will be there.
AP: Do you have special hopes for this project? Is part of your motivation to show unseen outtakes?
AT: Well, it's to put my collection of John and Yoko pictures in one place, and to not only show pictures that people are familiar with but also to show photographs that people have never seen before. And it's almost as if I had never seen them either, because I had just passed over them. There were little subtle things — when Yoko and I looked at the contact sheets together, there were a lot of nice pictures that we noticed.
AP: And they bring back memories.
AT: Yeah, which is bittersweet. As you can imagine, because it was such a heady time and it was so very exciting. John was a hero to me, and I love music, I love rock and roll, and I loved John Lennon. He was such an all-around artist and character. So it was very very exciting to be around him and to be photographing him and Yoko. And to have that terrible evil tragedy happen, right then and there, and just coming from the heights all the way down to the depths — it's a bittersweet memory.
AP: Do you think that sadness may be part of the reason it took awhile to pull this together?
AT: Well, yeah, it might be. In fact I had trouble listening to Beatles music and John Lennon music until very recently. I couldn't even listen to it. Because it would make me so sad to hear his voice. Until very recently. Now I can listen to it and I enjoy it. But it took me a long time to recover. It was strange: When he was killed, I was in such shock and I didn't really cry; a few tears would come and I would get choked up, but I was thinking, you know, "What's wrong with me?" And when things calmed down a bit, and it was the first Saturday after he died, it was like the dam broke. The floodgates were opened. I could not stop crying for hours. And then I finally pulled myself together. In a similar way, it took awhile to come back to these pictures.