Photographer Calls Out Taylor Swift Over Unfair Image-Licensing Policy
"Photographers don't ask for your music for free. Please don't ask us to provide you with your marketing material for free."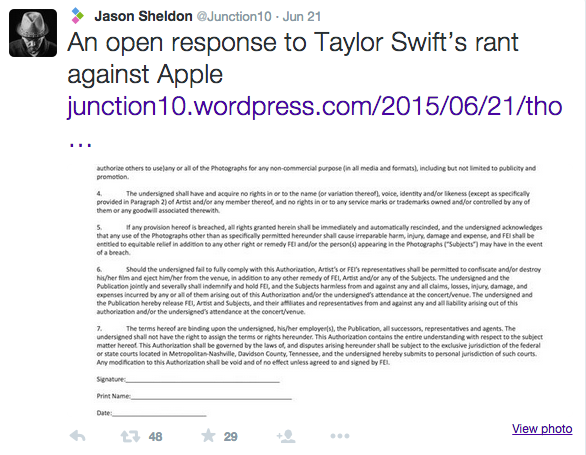 Over the weekend Taylor Swift achieved a rather unprecedented victory for musicians by publishing an open-letter to Apple on her Tumblr page. She was upset that the company wasn't planning to pay artists royalties for their music during the three month trial period of Apple Music.
"We don't ask you for free iPhones," she wrote in her letter. "Please don't ask us to provide you with our music for no compensation." Apple responded to Swift's concerns in under 24 hours, have reversed the policy and will now be paying full royalties to artists during the trial. But according to one photographer if Swift is going to ride this ethical high horse she needs to reconsider her own image-licensing policy.
Photographer Jason Sheldon penned his own open letter to the pop star, criticizing the contracts that photographers are forced to sign before bringing a camera into one of Swift's shows. In his letter he attaches a "Photo Authorization Form" from 2011 provided by Swift's management company, Firefly Entertainment.
Sheldon takes issue with two aspects of the form in particular: it states the photographs may be used on a one-time basis and not reprinted in any other publication and that "FEI shall have the perpetual, worldwide right to use (and to authorize others to us) any or all of the photographs for any non-commercial purpose, including but not limited to publicity and promotion."
Sheldon calls these contract terms a rights grab—which they absolutely are—and wonders how the pop star sees herself as being any different than Apple.
"If you don't like being exploited, that's great…make a huge statement about it, and you'll have my support. But how about making sure you're not guilty of the very same tactic before you have a pop at someone else?" he writes.
Sadly, contracts like these are becoming more and more common in the music industry—especially when dealing with huge artists like Taylor Swift. And when photographers agree to sign them, and in turn sign over the rights to their photographs, it sets a very nasty precedent.
Sheldon ends his letter by urging Swift to "do the right thing" and change her photo policy. "Photographers don't ask for your music for free. Please don't ask us to provide you with your marketing material for free," he writes.
A change in the crappy contracts that music photographers are often forced to sign would be a welcome one. Sadly for Sheldon, open letters like these seem to have more impact when they are written by someone famous and not sent to someone famous.