The Sony FE 20-70 f/4 is a compact all-around zoom lens
The newest lens from Sony brings versatility in a compact and affordable package.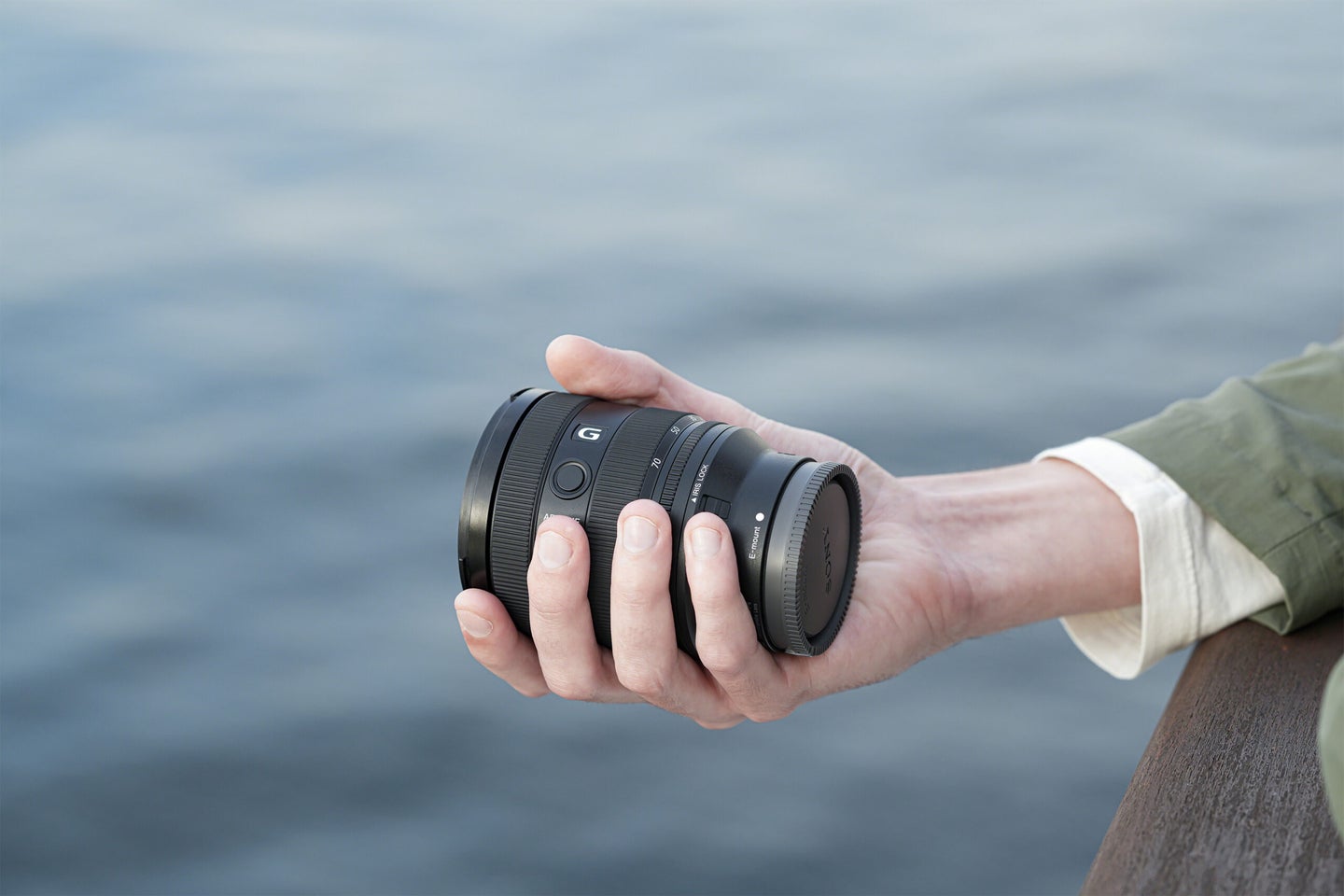 Sony shooters are getting a nice little treat today. The company has announced two new lenses, one that will be available for purchase soon and another that is in the development phase. Up first and available in March 2023 is the new full-frame E-mount 20-70mm F4 G lens. It offers an ultrawide perspective in a standard zoom, which provides a unique advantage to other standard zoom lenses and a lot of versatility. It's aimed at content creators and hybrid shooters, as the ultra-wide-angle is more conducive to vlogging and cropping in post-production.
The 300mm F2.8 G Master OSS is only in development, but Sony has spilled the beans nice and early. It fills out the fast and high-resolution super-telephoto lineup for Sony, which currently includes the FE 400mm F2.8 G Master OSS and FE 600mm F4 G Master OSS lenses.
Sony 20-70mm F4 G lens details
Design & build
Sony's new 20-70mm has a lot to offer, especially for hybrid shooters looking for an affordable, compact, do-it-all lens. The focal range makes it slightly wider than the common 24-70mm options to appeal toward video creators and vloggers. It's relatively small and compact, weighing just 17.2 ounces. It should work really well on a gimbal, thanks to the small size. Although the f.4.0 maximum aperture isn't exceptionally fast, it is constant throughout the zoom range and helps keep the cost of the lens down. It also features a 9-blade circular aperture, resulting in attractive bokeh.
The lens is made up of 16 elements in 13 groups, including two AA (advanced aspherical) elements, one aspherical element, three ED (Extra-low Dispersion) glass elements, and one ED aspherical element. All these elements help to correct aberration for sharp results at any focal length and across the entire image. Sony also utilized optimized coatings for glare and ghost reduction in order to improve clarity even when shooting in challenging lighting conditions.
On the body of the lens, you'll find aperture, zoom, and focus rings. There's also a switch to de-click the aperture ring, which is ideal for video work. Additionally, there is a switch for auto/manual focus, an Iris Lock switch, and two separate and customizable focus hold buttons. The lens is dust and moisture-resistant and, as we've come to expect, utilizes a fluorine coating on the front element to repel fingerprints, dust, and water droplets.
Although it's not a macro lens, the 20-70mm features a minimum focusing distance of 11.8 inches at the wide end and just 9.8 inches at the telephoto end. That should result in the ability to take some really nice detail shots, adding to the versatility of the lens.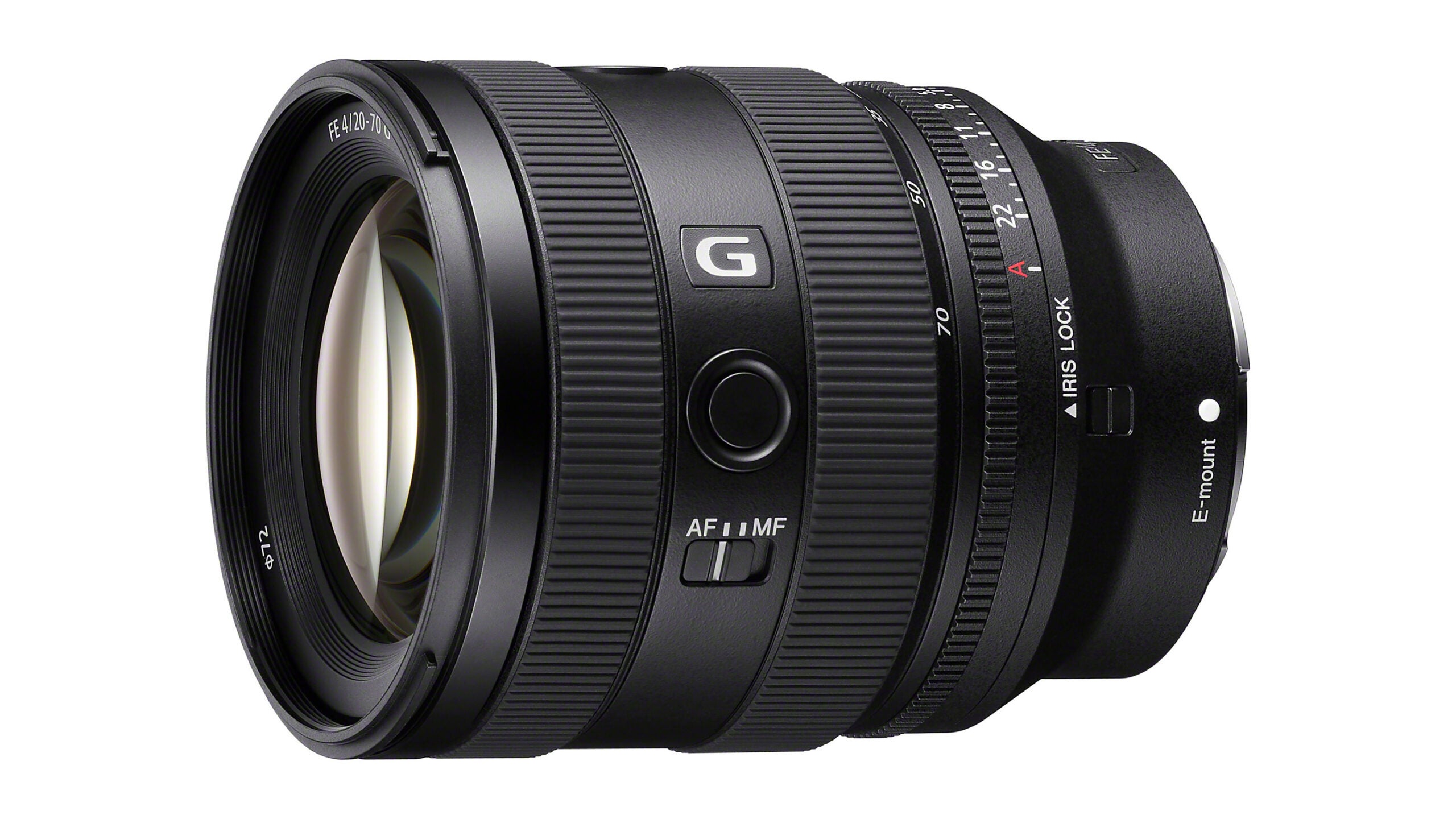 Autofocus
As we would expect from Sony, the 20-70mm gets impressive autofocus abilities and upgrades. The lens includes two of Sony's newest XD (extreme dynamic) linear motors, which are quiet and low in vibrations. Sony also says that thrust performance has been improved, "resulting in up to a 60% increase in AF speed" compared to the FE 24-70mm F4 ZA. It also says that tracking performance has improved by two times, resulting in consistent and accurate tracking of moving subjects. In fact, Sony claims that reliable tracking is possible when shooting continuous stills "of fast-moving subjects at up to 30 frames per second with the Alpha 1 camera."
Video features
Video shooters will be pleased to see that the Sony 20-70mm comes with plenty of video-centric features for even better video performance. To start, Sony reduced focus breathing as well as focus and axial shift when zooming for more stable recordings. It also focused on quiet operation when developing this lens, which is possible thanks to the focusing motors and a newly developed aperture unit.
Unfortunately, there is no in-lens stabilization. That's likely to keep the cost down. But, thanks to the wider focal length, you'll still be able to get a wide angle of view even with the resulting crop from in-camera stabilization or from post-production work to stabilize footage even more.
Pricing & availability
The new Sony 20-70mm F4 G is available for preorder now for $1,099 and will ship in March 2023.
300mm F2.8 G Master OSS details
Since Sony's newest super-telephoto is only in development, details are sparse. What Sony has said is that this lens will offer the same exceptional resolution and autofocus that we've come to expect from the G Master line, making it a top choice for wildlife, sports, and event photographers. It has a target launch date of early 2024, with more details to come at a later date.