Sigma announces 17mm and 50mm full-frame primes for Sony E and Leica L mounts
The two new lenses are part of Sigma's I series and are ultra compact.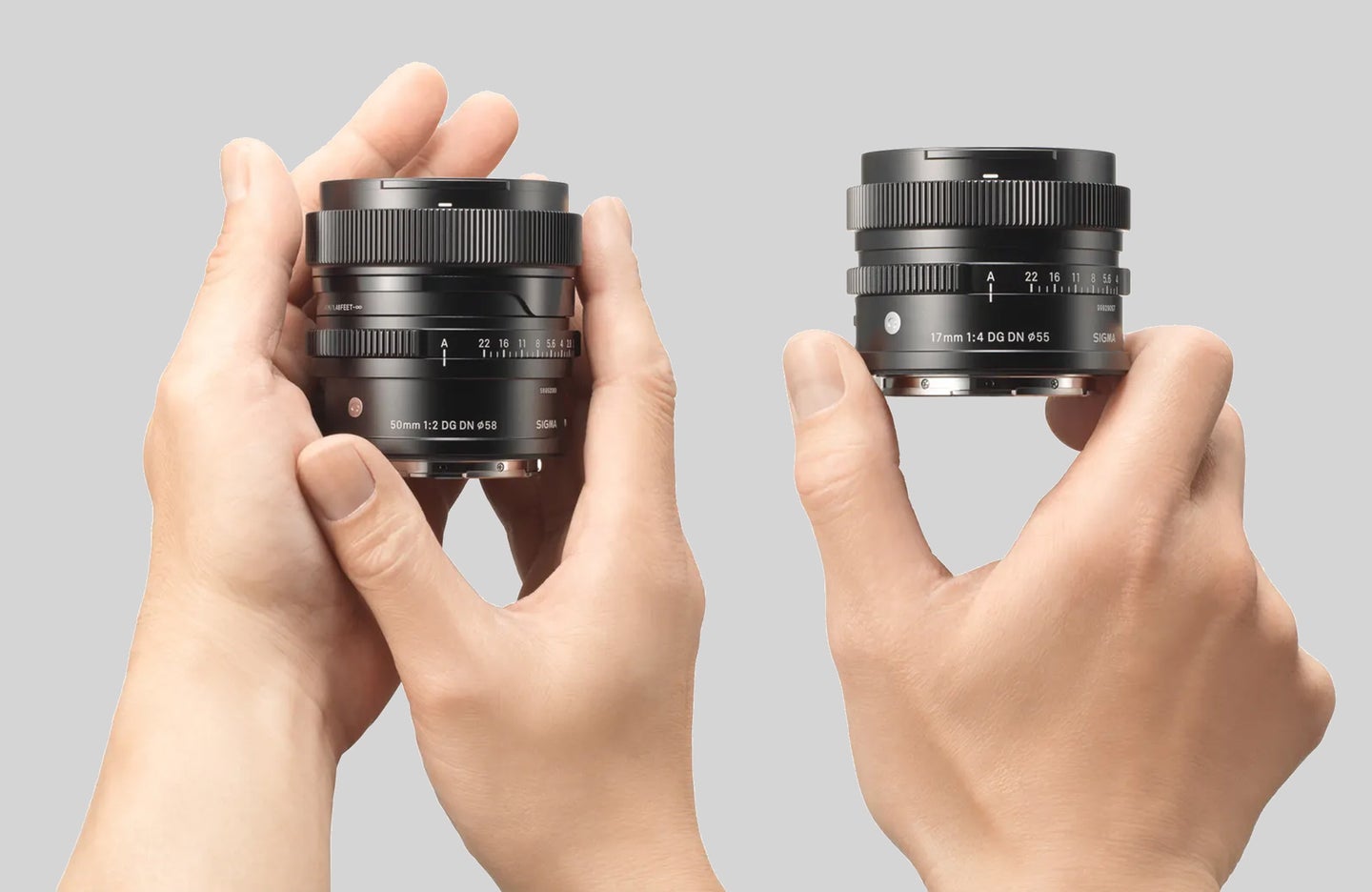 We may earn revenue from the products available on this page and participate in affiliate programs. Learn more ›
Sigma created its I Series lenses to offer high-quality compact primes for full-frame Sony E and Leica L shooters. Now, that lineup includes a pair of new lenses, including a super-wide 17mm f/4 DG DN and a standard 50mm f/4 DG DN.
Both lenses represent the main tenets of Sigma's I Series lenses. They offer full autofocus features, all-metal lens barrels, and they're considerably smaller and lighter than many of their other full-frame competitors. Here are some specifics about each of the new lenses.
Sigma I Series 50mm f/2 DG DN Contemporary
At roughly 12 ounces and about 2.8 inches long, this 50mm lens is about the same length as the Sony 50mm f/1.8 and roughly twice as heavy. That extra weight comes from its all-metal barrel, which makes it considerably more durable than its plastic counterpart. The new I Series lens also has a lot of glass in it for a small body. It offers 11 total elements spread across 9 groups. That includes three aspherical elements and one super-low dispersion element to fix common distortions and aberrations.
The I Series 50mm offers apertures between f/2 and f/22, and a stepping motor drives the autofocus performance. While it's not an f/1.4, this is absolutely designed for high-end and pro use. If you don't find yourself shooting at f/1.4 all that often, you may really appreciate the stylistic and size advantages the new I Series lens offers over something like the also excellent 50mm f/1.4 Art lens.
Sigma I Series 17mm f/4 DG DN Contemporary
While the 50mm f/2 will likely appeal to just about any photographer, this super-wide lens fills a more specialty role. It provides nine elements spread across eight groups. That count includes three aspherical and a pair of super-low distortion elements. Like the 50mm (and all the rest of the I Series lenses), it packs its glass into an all-metal barrel. But, despite its burly construction, this lens weighs just under eight ounces. The Sony 14mm f/1.8 (which is obviously much faster) weighs more than twice as much. If you're shooting a lot of landscapes or other subjects that typically require lots of depth of field, you may not even miss those extra stops.
Wide-angle lenses typically focus very closely and this lens follows suit. It can focus down to 4.7 inches and provide a 1:3.6 magnification ratio. That should come in handy for content creators who want to vlog while holding the camera on themselves or show off products while they're shooting.
Similar to cinema lenses
You'll notice that both lenses offer pronounced knurling on their focus ring, a design cue taken from Sigma's dedicated video lenses. Each lens has its own tactile aperture ring as well as a knurled lens hood to complete the aesthetic.
Both lenses start shipping at the end of April. The 50mm f/2 DG DN Contemporary will cost $639. The 17mm f/4 DG DN Contemporary will cost $599. Both lenses are currently available for pre-order for both the Sony E (full-frame) and Leica L mounts. And both of these would likely work very nicely with Sony's recently-announced ZV-E1 full-frame camera for creators.