Panasonic announces the Lumix S5II: a focus on autofocus
The new Lumix camera finally gets phase-detect autofocus, plus modest upgrades for hybrid shooters.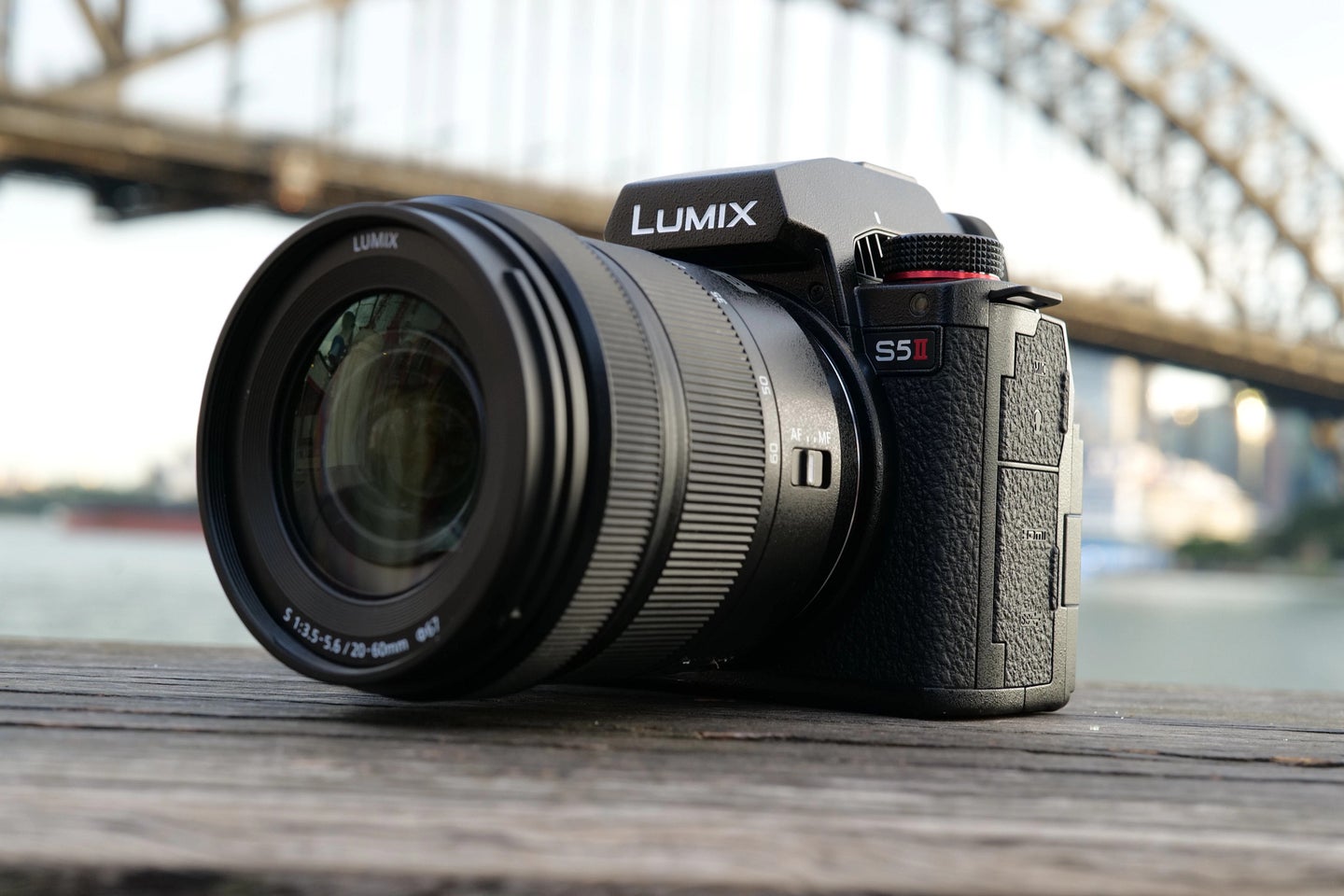 CES, the massive tech show, is underway, and Panasonic has taken the opportunity to announce two new cameras: the Lumix S5II and S5IIx. Panasonic released the original Lumix S5 in September 2020. And while the first update on the entry-level full-frame camera involves mostly modest changes, there's one key area we are excited to see a big leap: autofocus. 
Phase-detect autofocus in the Lumix S5II
Up to this point, Lumix cameras have stuck with the rather dated contrast-detect autofocus. While that was fast enough for many situations, it resulted in slower results when tracking moving subjects compared to the likes of Sony, Canon, and Nikon. Because of this, Lumix cameras were never great for action or sports photography.
Now, Panasonic has finally moved to a modern, hybrid phase-detect autofocus. The S5II offers 779 autofocus points that provide significant improvement across the board, but especially with tracking abilities. Panasonic even says it will be able to track multiple people. And it should be able to successfully track subjects even in low-light or backlit conditions. Additionally, with a lens firmware update, the camera will allow for continuous AF during zooming.
The new autofocus system is paired with the already robust subject recognition. The camera automatically identifies humans and animals, keeping you from entering menus and switching between the two while shooting. The new system as a whole should result in much more responsive and successful autofocus, even when photographing action. 
Additional updates found in the S5II
While autofocus is clearly the highlight of the S5II, other upgrades are worth noting. The camera features a brand new 24.2-megapixel 35mm full-frame CMOS sensor. It also contains a new imaging engine developed under the new L² partnership between Leica and Lumix. Panasonic says this new engine provides "high resolution, natural description, and approximately 2x higher-speed signal procession." 
The S5II also gets an upgrade to burst shooting with up to 30 fps with the electronic shutter, even when shooting raw. The buffer has also been upgraded to 200 frames, which should result in essentially limitless burst shooting. Combined with the new autofocus, Panasonic clearly wanted to better serve action-oriented photography with this camera.
The camera's body also received some changes, including a full HDMI port instead of the Mini HDMI found on the S5. It also features an improved OLED panel with 3.68 million dots of resolution and a new eight-directional joystick.
Video features of the S5II
In keeping with the trend in the industry, the S5II is very much a hybrid camera. So while the still shooting specs are strong, the video features are also significant. It's capable of 6K30 at 3:2 or 17:9 or 5.9K at 16:9 ratios, both with 10-bit 4:2:0 color sampling. It also provides 4K video at 60 fps. Additionally, the camera provides 14 stops of dynamic range and V-Log profile. And, if you want more, you can pay $199 for an upgrade that allows for ProRes Raw video.
Panasonic claims the camera will offer unlimited recording in all modes and will even work up to temperatures of 104°F. That's thanks to a new fan design that works to keep the sensor cool. One unique feature of the S5II is the "Real Time LUT" option. This allows for in-camera color grading, saving you time in post. It's ideal for those new to video editing or who just don't want to spend the time. 
Another significant video upgrade comes in the form of image stabilization. The five-axis in-body stabilization works even when recording 4K footage. And Panasonic has added Active I.S., which the company says "optimizes the horizontal, vertical, and rotational correction ratios by determining the status of camera shake." It claims this will cut down on camera shake by 200% compared to the S5 and conventional systems.
Upgrades found in the S5IIx
In addition to the S5II, Panasonic is releasing an upgraded version dubbed the S5IIx. This camera features a sleek all-black design and gets all of the features of the S5II with additional video-centric specs.
While the S5II requires an optional upgrade to record ProRes Raw, the S5IIx supports 5.8K ProRes 422 video right out of the box. You will need to record to an SSD, however. It also includes USB tethering to a smartphone along with wired and wireless IP streaming options. 
New LUMIX S 14-28mm F4-5.6 MACRO lens
If all that isn't enough, Panasonic also announced a new S Series 14-28mm f/4-5.6 macro lens. It is dust and splash protected and can withstand temperatures of 10 degrees below zero. The lens weighs just 12.7 ounces and provides a macro reproduction of 0.25-05.x.
Pricing and availability
The S5II is available as a body only priced at $1,999.99 or as a kit with a 20-60mm f/3.5-5.6 lens for $2,299.99. Both are available for pre-order now, with shipping starting at the end of January. 
The S5IIx is available for $2,199.99 as body only or $2,499.99 for the kit with the 20-60mm f/3.5-5.6 lens. It is available for pre-order now, though it will not start shipping until May.
The Panasonic LUMIX S 14-28mm f/4-5.6 Macro Lens is available for pre-order now for $799.99 and will start shipping in March.