The Lume Cube Tube Lights provide full control of your lighting
These highly portable light sources offer extremely versatile illumination.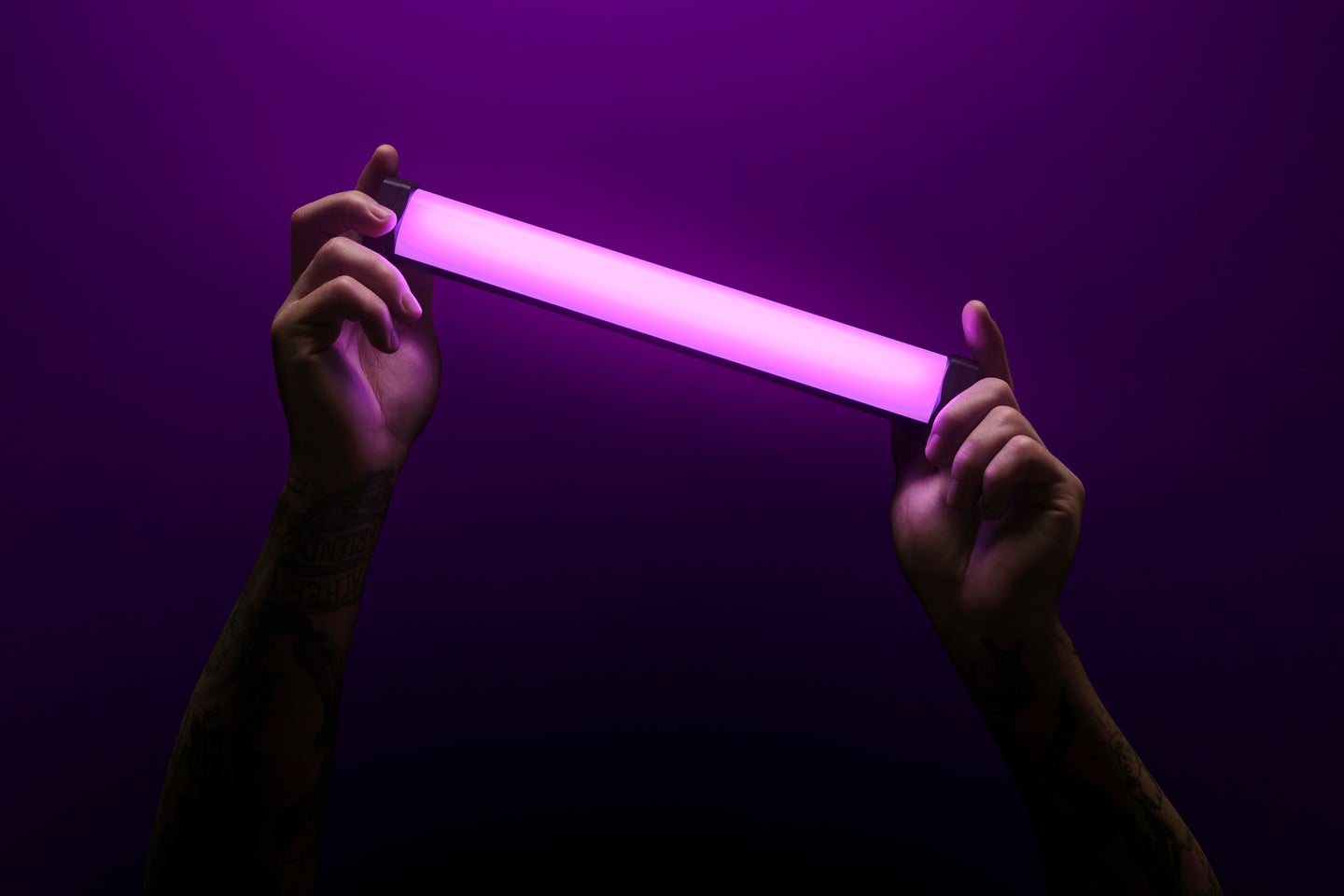 Lume Cube has always created unique and creative lighting solutions for photographers and videographers. Now the company is continuing that tradition with the announcement of its new Tube Light Mini and Tube Light XL. These new LED tube lights offer fully customizable constant lighting—including full RGB spectrum adjustments, saturation, strength, and more—in durable aluminum bodies. Along with the lights, Lume Cube is launching a new app to provide easier control of their lighting.
Lume Cube Tube Light details
Both the XL and Mini versions of the Lume Cube Tube light share all of the same features and customizability, so you get full control no matter what size of light you need. Each covers the full RGB spectrum, allowing you to fine-tune the color of your lighting. In fact, Lume Cube specifies that there are over 16 million color options in its Tube Lights. They also offer adjustable temperature between 2700 and 7500K and green/magenta tint control. The brightness is fully adjustable with stepless adjustments for smooth control. Beyond basic control, they provide seven special effects—loop, strobe, lightning, fire, candle, siren, and TV—with ten speed settings.
The Tube Light Mini and XL are designed for durability, with a premium aluminum body. They are shock and drop resistant and weatherproof, so even if your shoot takes you into the rain, you can keep using your lights. And the built-in rechargeable lithium battery can act as a power bank to charge your other devices. They charge via USB-C, so you won't have to fumble around searching for a hyper-specific cable just for the Tube Light.
The LCD screen display on the back of the lights will show you the battery life down to the minute and all available settings. A button allows you to cycle through the various menus and settings, so you can adjust everything right on the light itself quickly and easily. And both lights boast a 96+ CRI rating, meaning you'll be able to get highly accurate lighting each time. Both sizes include a durable aluminum tripod as well as a travel case.
Tube Light Mini
The Lume Cube Tube Light Mini is, as the name implies, the smaller of the two new lights. The 12-inch size makes it ideal for sitting on desks or other workspaces. It also features rotating built-in magnetic end caps, giving you more flexibility in setup. As mentioned, it comes with a hard case and tripod, as well as a charging cable and wrist strap.
Inside the light are 124 powerful LEDs. These provide 950 Lumens and 920 lux at 1.6 feet. The built-in battery should provide over one hour and forty minutes of life when the light is at 100 percent brightness. It weighs only 12.3 ounces, making it an ideal travel light.
Tube Light XL
For those who need serious lighting solutions, the XL is the way to go. It is 48 inches long and puts out 3400 lumens from the 492 LEDs. It also includes a tripod and padded travel case, as well as two coated steel loops and mounting bolts. Instead of a charging cable, it includes an AC power adapter. It weighs just over three pounds, so despite the lighting potential, it's still easy to travel with.
The larger light still offers plenty of power despite the stronger output. It promises over four and a half hours of battery life at 50 percent brightness or just over an hour and a half at 100 percent brightness. And it can charge your devices should you need some extra juice for your phone while on set.
Pricing & availability
Both Tube Lights are available for purchase as of today on Lume Cube's website. The Lume Cube Tube Light Mini will cost you $169.99, while the Tube Light XL is priced at $399.99.
Lume Cube Control app
The other exciting piece of this launch is the new Lume Cube Control Bluetooth app. It allows you to quickly pair your light to your phone, giving you easier access to settings. You can even match your lights to any color or environment using the eyedropper tool. And accessing the pre-programmed special effects is much more simple via the app instead of the back of the light. All current Lume Cube lights will work with the app.