What's new about the cameras in the iPhone 15 and 15 Pro?
The new iPhone 15 and 15 Pro smartphones offer serious camera upgrades worth looking into.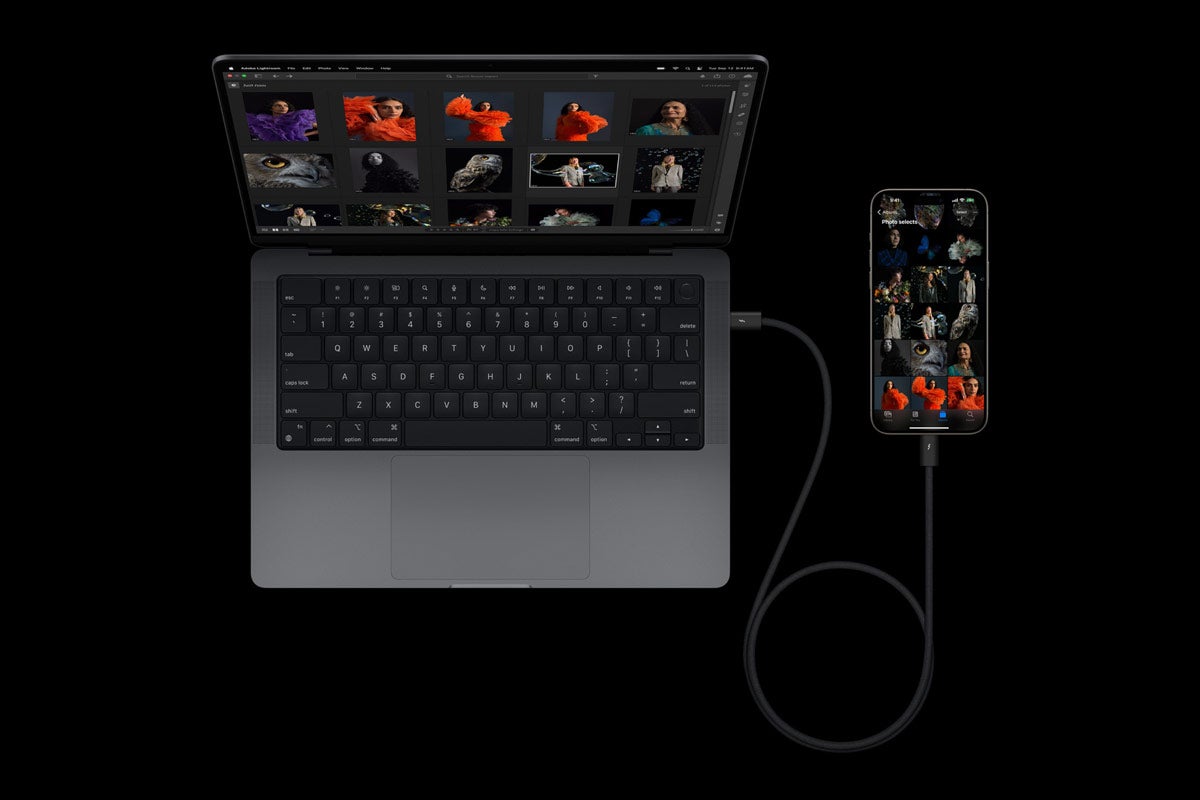 It's September and that means it's time for apple cider donuts (at least here in Upstate New York) and new iPhones. This week, Apple held its keynote event to announce a few new gadgets, including the latest generation of its iPhones. The lineup hasn't changed all that much, but the new iPhone 15 and iPhone 15 Pro models do bring some notable camera upgrades. Here's a rundown of what upgrades you can expect.
iPhone 15 camera
The iPhone 15 vanilla takes a fairly large leap in terms of camera hardware. The new module inside the iPhone 15 has a 48-megapixel sensor that allows it to shoot full-res images or bin the pixels together in order to create larger photosites for better low-light performance. If this sounds familiar, it's because other manufacturers have been using this strategy for quite some time, and the iPhone 14 Pro models introduced it last year.
The module only includes two cameras—the 48-megapixel wide-angle camera and the 0.5x zoom super-wide. The iPhone 15 also includes a 2x zoom mode that the company claims won't degrade overall image quality when compared to a normal capture. If you're looking for true optical telephoto performance, you'll need to move up to the Pro models.
In addition to the hardware, Apple has made some improvements to its computational photography features as well. Night Mode, which relies on a series of captures including a long exposure to get well-exposed shots in dark situations, now puts more emphasis on high-frequency details. This means you'll get more texture in objects with small details. Apple weirdly uses a sweater to illustrate this on a fairly regular basis, and the company did just that during the announcement. If you thought sweaters weren't detailed enough in Night Mode, Apple has fixed that.
The front-facing camera now automatically focuses on your face during calls or selfies, though the hardware doesn't seem to have changed all that much.
iPhone 15 Pro cameras
The iPhone 15 Pro-series cameras offer more pronounced upgrades. The camera system still includes three individual camera modules, including the wide-angle main camera, the super-wide camera, and a 120mm equivalent 5x zoom lens.
From a hardware perspective, the main camera works similarly to how it did in the previous generation, but it has some extra computational fanciness going on. For instance, Portrait Mode now automatically detects when there's a person or even an animal in the frame and enables the phone to capture a depth map of the scene. As a result, photographers can add simulated blur in post. Perhaps more impressively, that depth map also allows creators to choose what object in the scene should actually appear in focus. The demo looked almost reminiscent of the promising but ultimately ill-fated Lytro light field camera from many years ago. This feature also works on the iPhone 15.
When shooting with the main camera, you'll typically get 24-megapixel images created by combining pixels on the 48-megapixel sensor. Interestingly, Apple will now allow shooters to choose the default focal length for the camera when they open the app. So, you can choose between 24mm, 28mm, and 35mm without having to do any zooming in the app itself. I tend to gravitate more toward 35mm lenses in my compact cameras over the wider lenses, so I'm actually pretty excited about this change.
The 120mm equivalent zoom lens effectively takes the iPhone 15 Pro's zoom range up to 5x. That's still relatively paltry compared to some other manufacturers who have gone to 10x and beyond, but it's a new benchmark for iPhones. It maintains an f/2.8 maximum aperture on the long lens, too. Combined with an improved optical stabilization system, that should make the telephoto lens usable in practical situations. After all, things can get a bit shaky when trying to shoot telephoto on a smartphone.
Beyond the actual camera features, the iPhone 15 Pro also offers super-fast transfer speeds over its handy new USB-C connection. That's useful if you want to move big photo and video files around between camera, phone, and computer.
Which iPhone should you buy for the best camera?
While the iPhone 15 has experienced a big hardware jump from its predecessor, the camera system remains a differentiator between the standard and Pro models. The 5x optical zoom isn't going to get you absurd moon shots like Samsung's 10x lens will, but it does give you a practical focal length for real-world situations. Plus, the new focus-shifting options that come with the upgraded Portrait Mode seem really interesting. We're looking forward to putting together a full review of the new camera system in the coming weeks.