The Insta360 GO 3 is a tiny, modular action camera
The GO 3 only weighs 1.2 ounces, making it extremely simple to mount just about anywhere.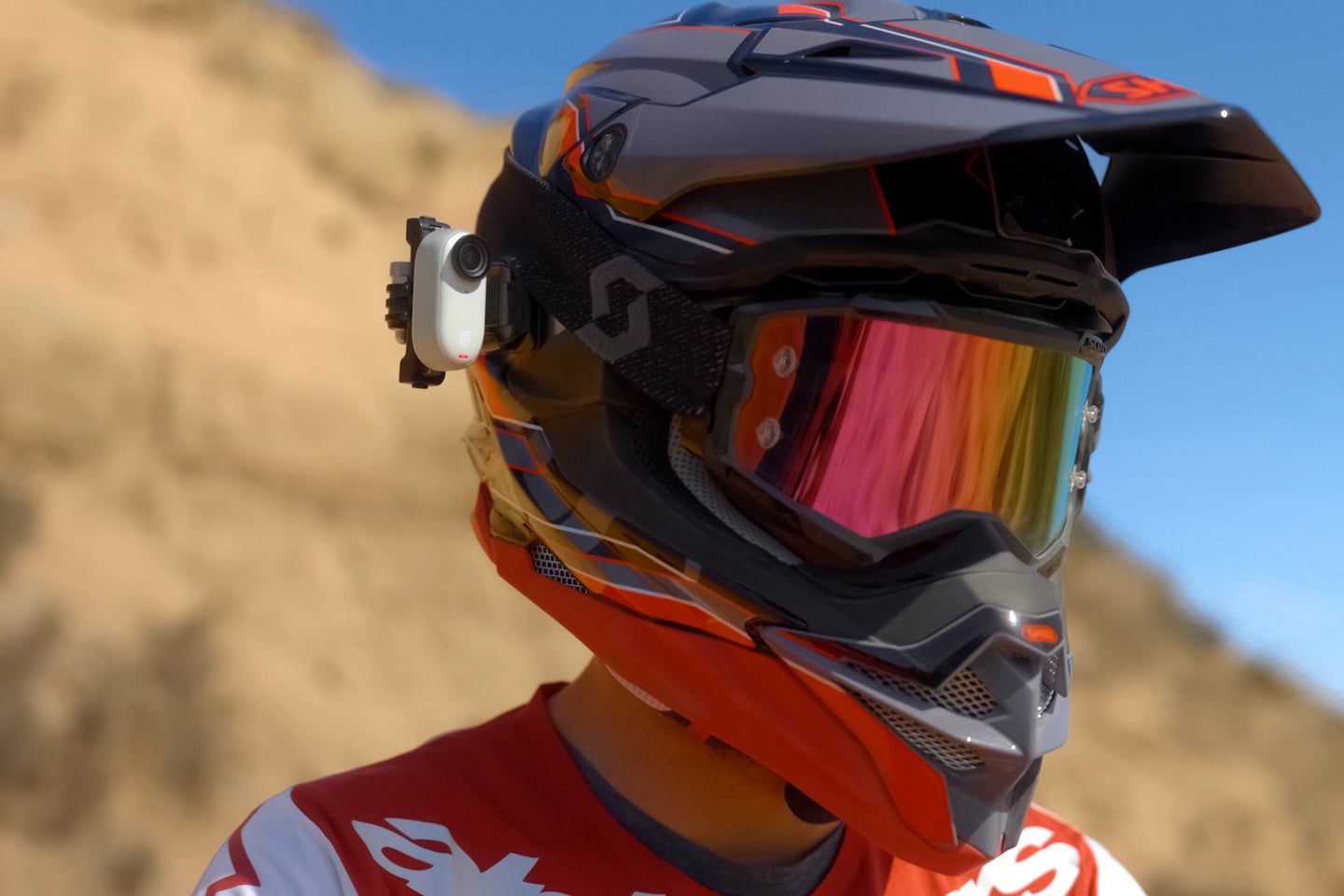 We may earn revenue from the products available on this page and participate in affiliate programs. Learn more ›
Insta360 may be best known for its 360-degree action cameras, but it makes a range of cameras suitable for all sorts of scenarios, from entry-level consumer products to high-end professional-grade cameras. The company has just announced the third version of its smallest action camera, the Insta360 GO 3. This new camera features mostly small, incremental changes from the GO 2, but there are some noteworthy updates. That includes 50 percent better battery life, a new Action Pod accessory that offers a 2.2-inch flip touchscreen and additional battery life, and a slight jump in video quality to 2.7K.
Insta360 GO 3 at a glance
Weighs 1.2 ounces
2.7K video with no clip length limitations
Magnetic mounting system
Offers Insta360's FlowState stabilization and Horizon Lock
Waterproof to 16.4 feet
45-minute battery life on its own, 170 minutes with the Action Pod
Action Pod offers a 2.2-inch flip touchscreen
Dual microphones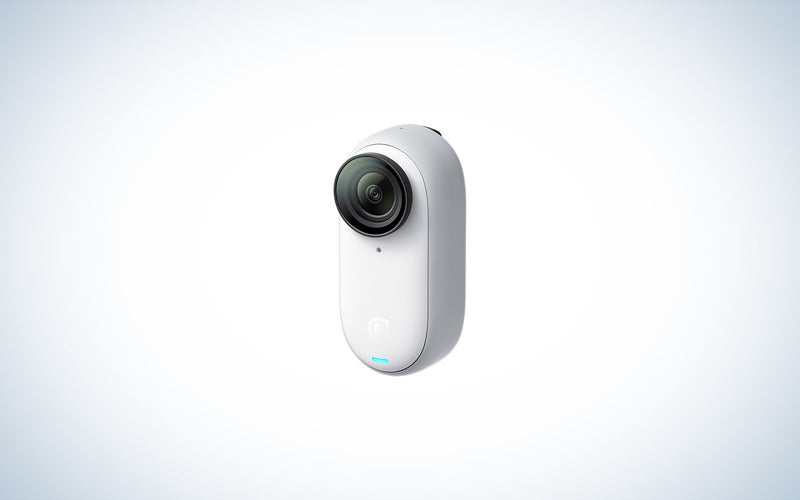 What is the Insta360 GO 3?
The Insta360 GO 3 is, at least according to Insta360, the world's smallest action camera. And we're inclined to believe that since it weighs only 1.2 ounces and measures just 1.0 by 2.1 by 0.9 inches. For comparison, the GoPro Hero 11 Black weighs 4.5 ounces and measures 2.8 x 2 x 1.3 inches. The GO 3 tiny size makes it easier to record certain types of action. For example, it's feasible to mount it to a pet's collar or wear it on the brim of your hat and hardly notice it's there.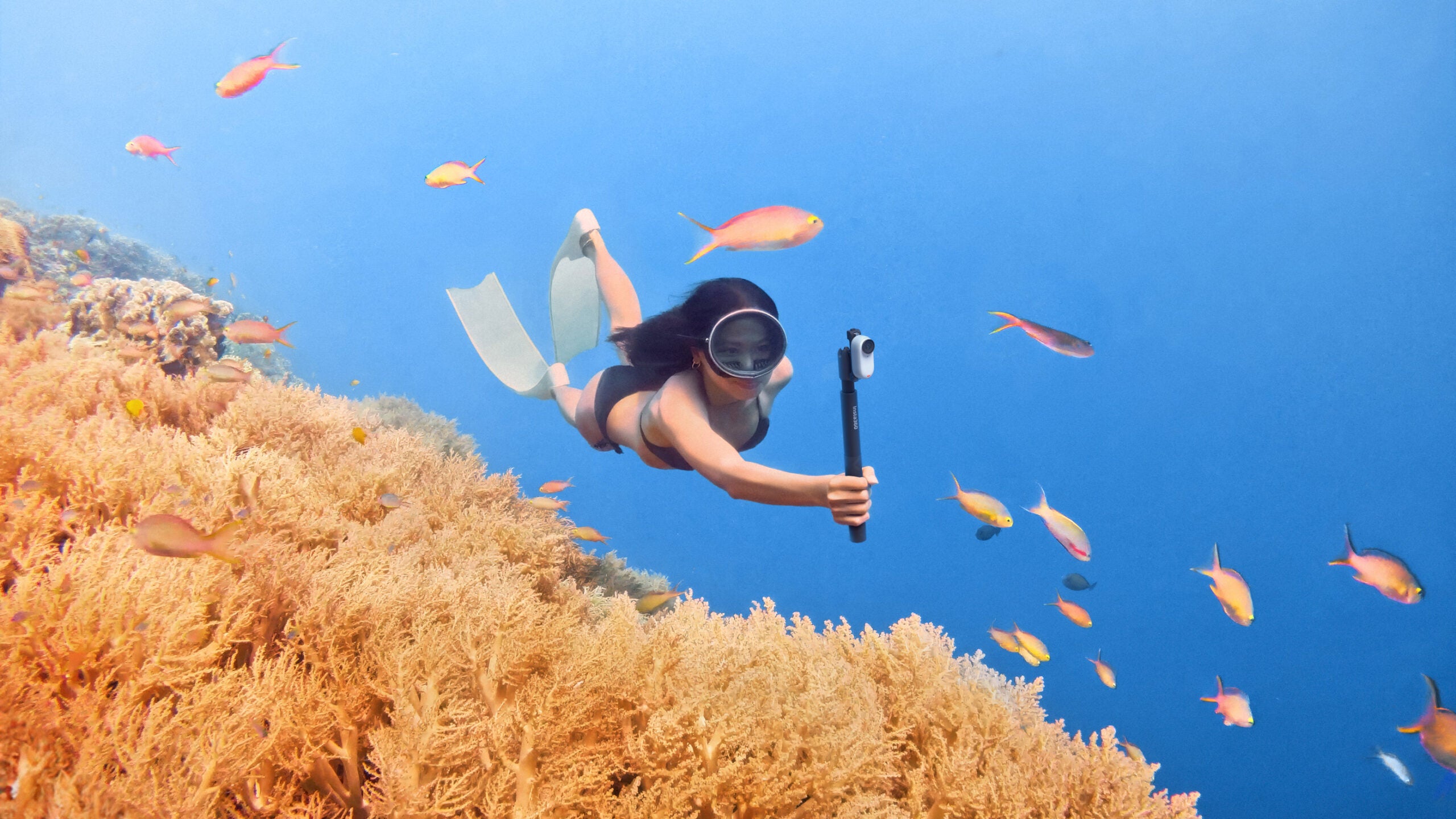 Insta360 GO 3 details
As we would hope from an action camera, the GO 3 is built for adventure. It features an IPX8 rating, making it waterproof to 16 feet. It gets Insta360's impressive FlowState stabilization and 360 Horizon Lock to keep footage level and stable even during extreme movement. And the 11.24mm lens (35mm equivalent) is wide enough to capture the entire scene at once.
The GO 3 action camera relies on internal memory, with no memory card slot for additional memory. You'll have to choose between 32GB, 64GB, and 128GB models. It promises 45 minutes of battery life, which is a 50 percent increase from the GO 2. And the camera also gains a microphone, offering a dual mic setup for better audio quality. You can also take advantage of Voice Control 2.0, allowing for hands-free use.
Video and photo specs
The compact size of the GO 3 does mean that there are some compromises. Most notable is the lower video quality when compared to Insta360's larger cameras. The GO 3 tops out at 2.7K 30p video, while the company's larger X3 can churn out 4K 30p video with the single lens setting and 5.7K 360-degree video. But, the 2.7K is a slight bump from the GO 2's 2560×1440 resolution. And there are no longer any clip length limitations, so you can record long takes in a single go.
Of course, different recording modes offer different resolution options. The new FreeFrame Mode maxes out at 1440p and up to 50fps. And if you want slow-motion video with 120 frames per second, you'll need to drop the quality down to 1080p.
Insta360 added new recording modes on the GO 3. These include pre-recording, Loop Recording, and Timed Capture. Timed Capture is a unique setting that allows you to schedule the GO 3 to turn on and start recording at a specific time. Say hello to lazy sunrise footage while you sleep away. Finally, FreeFrame Mode allows you to change the aspect ratio after shooting. That means that you can take the same video and create a 9:16 version for Instagram Reels and a 16:9 version for YouTube.
While video is definitely the focus of this camera, it can capture photos. Still photos from the GO 3 are recorded in either INSP or DNG file format. With a 16:9 aspect ratio, you'll get 2560×1440 megapixel photos. You can also choose between 1:1, 0:16, or 2.7:1 aspect ratios for photographs.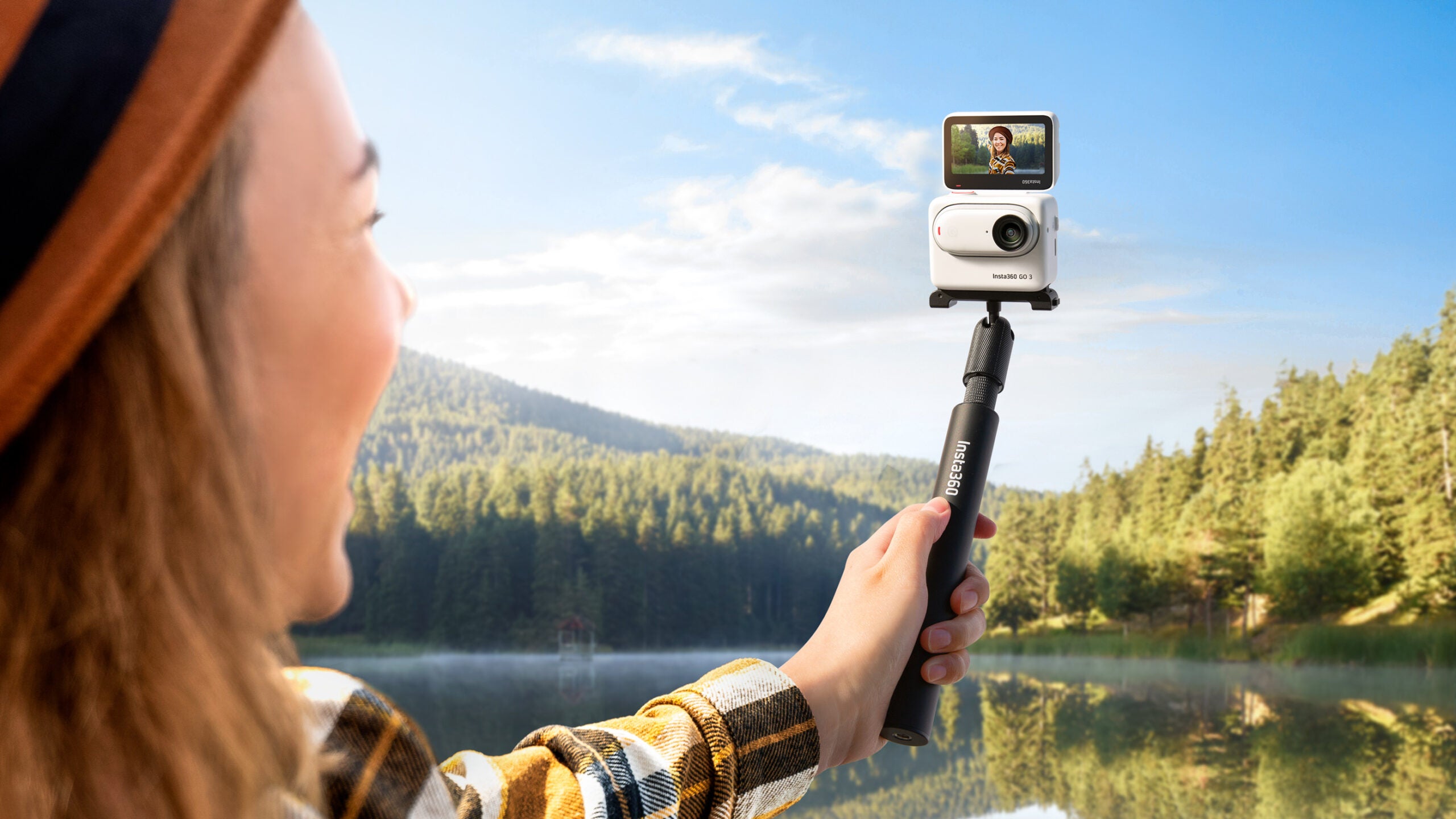 Accessories & mounting options
One benefit of the miniature size is more flexibility with mounting. The GO 3 is designed with a unique magnetic body, making it easier to mount in a range of locations and situations. The compact action camera comes with a magnetic pendant, which can be worn around the neck and sit beneath clothing. That makes for incredibly simple, fuss-free first-person point-of-view videos.
The GO 3 also comes with the Easy Clip, which you can clip onto hats for above-the-head content. The size is about that of a headlamp, so it should be pretty comfortable to wear. The included Pivot Stand is a reusable sticky mount with an adjustable design. This opens up more angle possibilities. Insta360 completely redesigned the Pivot Stand, which now unscrews to reveal a 1/4-inch mounting point so that you can utilize a selfie stick or tripod.
One of the biggest updates associated with the GO 3 is the new Action Pod. Insta360 says this new accessory is an all-in-one "housing, remote control, and charger." It features a 2.2-inch flip touchscreen, which is useful since the actual camera does not offer a screen of any sort. The Action Pod offers IPX4 water resistance, which isn't as robust as the camera but is something at least.
The Action Pod can be used separately, acting as a real-time remote and live preview to help frame shots via Bluetooth connection. Or you can utilize the magnetic mount and place the GO 3 in the Action Pod, which makes it look remarkably like a white GoPro with a flip screen. Mounting the camera in the Action Pod also extends the battery life. It promises a total battery life of 170 minutes, adding 125 minutes of life. You can find even more accessories on Insta360's website as well.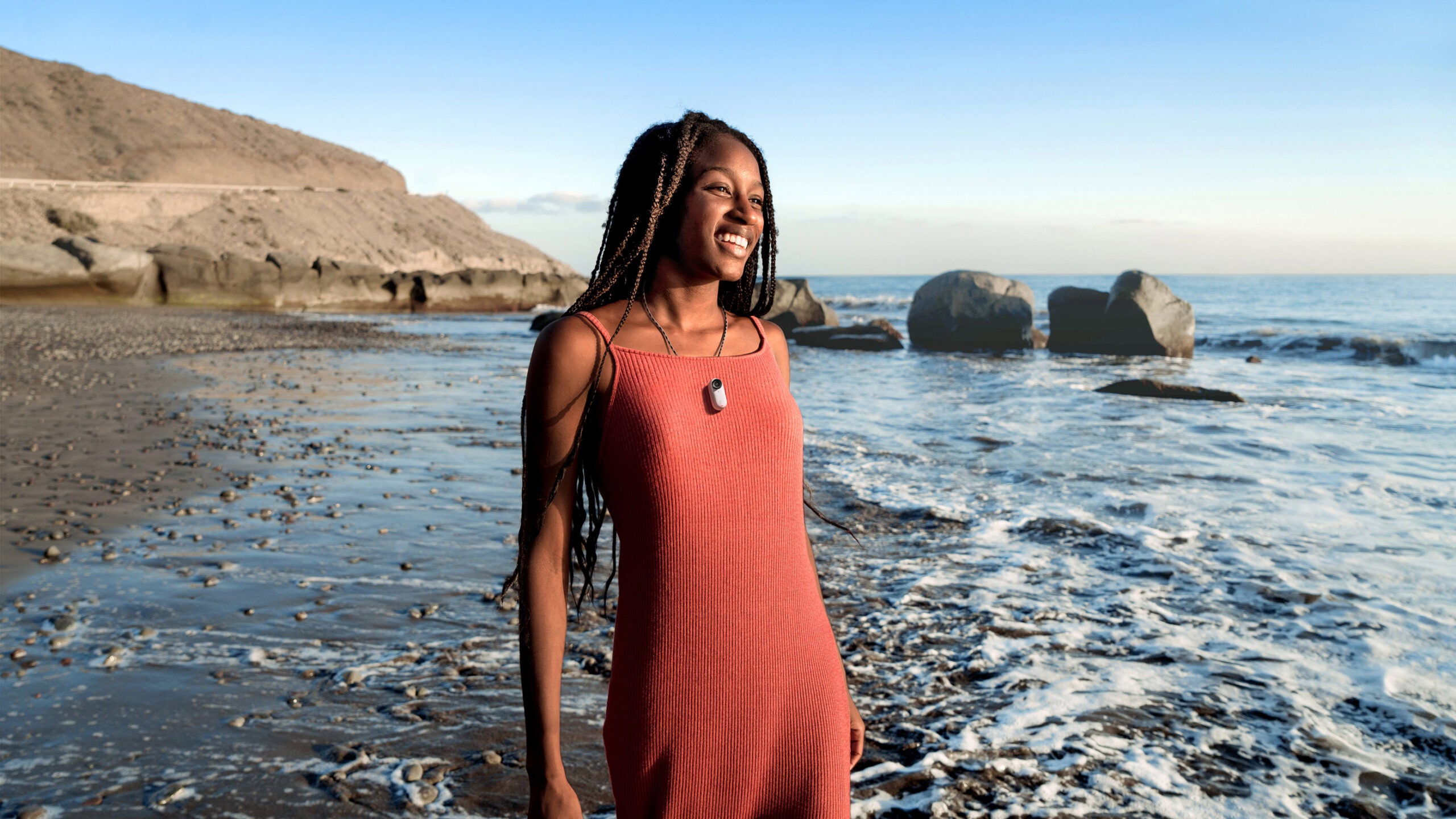 Pricing & availability
The Insta360 GO 3 is available starting today in three configurations: 32GB, 64GB, or 128GB. These are priced at $379.99, $399.99, and $429.99, respectively. Each camera comes with the Action Pod, Magnet Pendant, Easy Clip, Pivot Stand, and Lens Guard.