DJI's RS 3 Mini is a light, compact stabilizer for mirrorless cameras
The new DJI RS 3 Mini packs pro-level features into a tiny and more affordable package.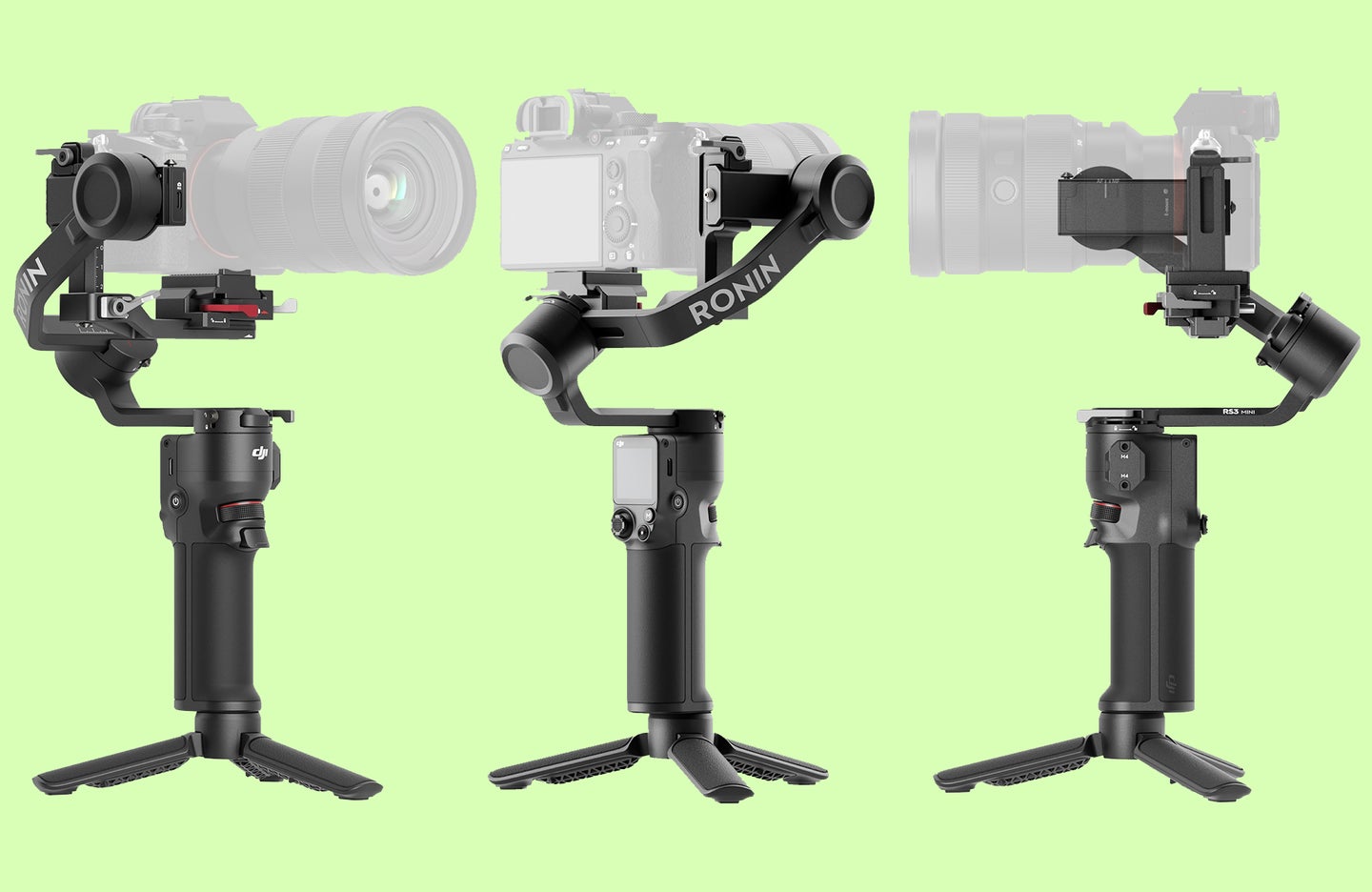 DJI sure has been busy lately, with nearly an announcement a month for the second half of last year. It seems to be continuing that trend into 2023, as it has announced a new gimbal. The new DJI RS 3 Mini is a compact and lightweight gimbal intended for compact mirrorless users who travel or simply want easier single-handed use. It takes many of the same and much-loved features of the RS 3–such as DJI's 3rd generation stabilization algorithm and OLED touchscreen–but packs them into a smaller and more affordable package.
DJI RS 3 Mini size & capacity
The most impressive thing about the RS 3 Mini, as the name suggests, is just how small it is. It weighs just 1.9 pounds and measures only 12.7 x 7.7 x 3.9 inches. For comparison, the RS 3 weighs 2.8 pounds and measures 16.1 x 10.2 x 7.7 inches, making the RS 3 mini 40 percent smaller. It's also a whopping 50 percent smaller than the RS 3 Pro. The compact size and weight will make it much easier to toss in a bag when traveling. And it will just make it easier to hold when recording, so you can focus on the shot and not how tired your arm is getting.
Despite weighing so little, the RS 3 Mini can support up to 4.4 pounds. It's compatible with a wide range of mirrorless camera and lens combinations, including the Sony A7S3 and 24-70mm F2.8 GM lens, Canon EOS R5 and RF24-70mm F2.8 STM lens, or Fuji X-H2S and XF 18-55 mm F2.8-4 lens. And DJI says that the motor is strong enough that it won't need rebalancing, even if the lens extends as it zooms.
DJI RS 3 Mini features
DJI has recently been focused on putting out high-quality gear that is accessible to more than just professionals. The RS 3 Mini is another step in that direction, as it utilizes much of the same impressive tech found in the company's higher-end gimbals. For example, it features DJI's 3rd generation stabilization algorithm, which is also found in the RS 3 Pro. This algorithm provides professional-level image stabilization, resulting in smooth footage even if the user is running or shooting at a low angle. And it supports 360-degree rotation imaging for really dynamic shots.
Wireless connectivity
Also carried over to the RS 3 Mini is the Wireless Bluetooth Shutter function. This allows you to pair the gimbal to your camera wirelessly and then control video recording and camera capture functions on the gimbal itself. And, with compatible Sony power zoom lenses, you can even control zoom via the gimbal. All of this allows for wireless connectivity, resulting in less fuss and less risk of wires getting caught or otherwise ending up in the way.
Like other DJI stabilizers, this new offering connects to the Ronin app. With the app, you can easily access intelligent shooting functions such as timelapse, panorama, and pre-set track recording. It opens up the possibilities of types of shots quite a lot.
Vertical video
One unique feature of the RS 3 Mini is native vertical shooting. The new gimbal takes advantage of a dual-layered quick-release plate. It can be attached to a vertical arm for vertical shooting without any additional accessories. And the gimbal rotation isn't limited at all in vertical mode. You'll get the full range of motion no matter which way you are shooting. It will make it much easier to produce social media-ready content right out of the camera. The stabilizer also comes with a newly designed upper plate with a curved placement guide to keep the camera secure.
Pricing & availability
The DJI RS 3 Mini is available for purchase now through authorized dealers for $369.