Apple releases updates to Mac Pro, MacBook Air, and Mac Studio computers
All three computers will see big boosts to performance.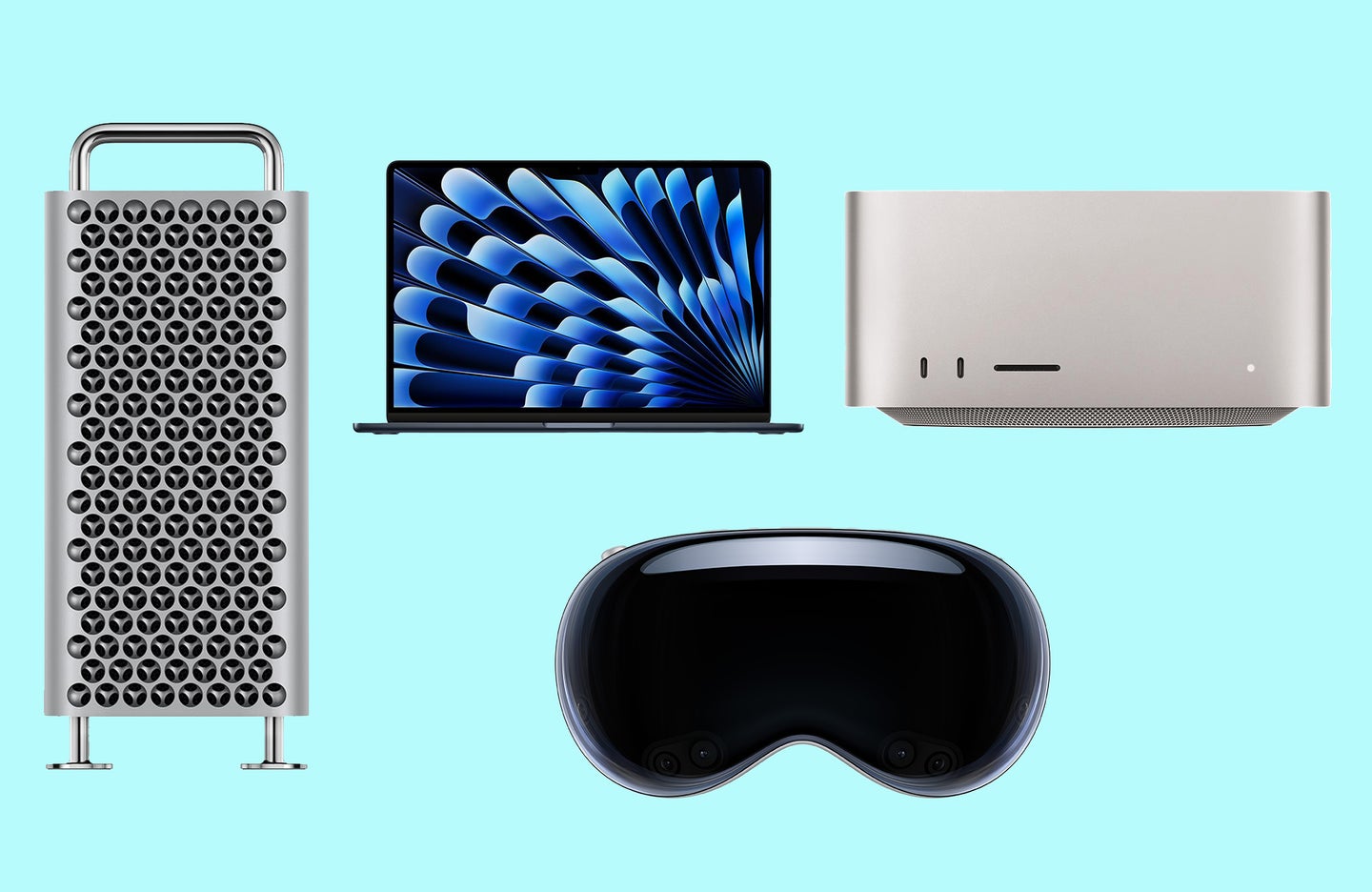 Apple's Worldwide Developers Conference (WWDC) took place a few days ago, and the company announced some upgrades to three of its computers. The Mac Pro, Mac Studio, and MacBook Air all see reasonable updates to improve performance over previous versions. The MacBook Air comes in a new, larger 15-inch size with the same Apple silicone M2 chip found in the previous model. Meanwhile, the two desktop computers get the benefit of the brand-new M2 Ultra chip, which was also announced at WWDC. Apple also announced its take on mixed reality with the Apple Vision Pro headset. The expensive spatial computer isn't available until early next year, however, so the computer news is the most relevant for the time being. Here are the details on each of the newest Apple computers.
Apple 15-inch MacBook Air
For years, the MacBook Air has only been available in its standard 13-inch size. But now, Apple has created a 15-inch version with a 2880 x 1864 resolution. The larger Liquid Retina Display is ideal for all sorts of reasons, but it's especially nice for photographers, videographers, or creatives in general who use the laptop for editing content. And despite the larger display size, it's still shockingly tiny. It's less than half an inch thin and weighs only 3.3 pounds. That is slightly lighter than the smaller 14-inch MacBook Pro.
Beyond the larger size, not much differs from the 13-inch to the 15-inch. It still charges via the MagSafe charger, and provides a 1080p camera, dual Thunderbolt 3 ports, and a headphone jack. It still offers 18 hours of battery life it's available in the same four colors—Space Gray, Silver, Midnight, or Starlight.
Apple did take advantage of the extra real estate on the 15-inch model and added two more speakers for a total of six. That should provide better sound quality overall, which is nice for watching movies, but also editing video. Additionally, the 10-core GPU comes standard in the 15-inch, whereas it is offered as an upgrade in the 13-inch. Apple claims that the new MacBook Air will offer performance that is almost 40 percent faster than the previous generation in workload-intensive programs like Final Cut Pro. Applying filters or effects in Photoshop should be 20 percent faster, according to Apple.
Pricing & availabiliity
The base model of the 15-inch MacBook Air will cost you $1,299 and features the M2 chip, 8GB of memory, and a 256GB SSD. You can also upgrade to 512GB of storage for an additional $200. A MacBook Air with that much storage and the specs seen in this device, priced at $1,499, is quite reasonable, which we normally can't say for Apple devices. The powerful laptop is available for pre-order now and will begin shipping next week.
Apple Mac Pro
The Mac Pro last saw an update in 2019. So, it's about time the desktop received some upgrades. Visually, the Mac Pro is essentially the same as the previous edition. But, inside are some important changes. Most notably, it will finally transition to Apple silicon instead of an Intel processor. The new chip is the M2 Ultra, which was announced at the same time.
The M2 Ultra effectively connects the die of two M2 Max chips, resulting in double the performance. It supports 192GB of unified memory, which is 50 percent more than the M1 Ultra. And it offers with 800GB/s of unified memory bandwidth, which is twice the M2 Max. Apple says it also "features a more powerful CPU that's 20 percent faster than M1 Ultra, a larger GPU that's up to 30 percent faster, and a Neural Engine that's up to 40 percent faster."
The newest Mac Pro comes standard with a 24-core CPU and can be configured with up to a 76-core GPU. Apple says it will be three times faster than the previous Intel-based model. It features the same media engine as Mac Studio with M2 Ultra, which allows you to play an absurd 22 streams of 8K ProRes video. It is also capable of ingesting 24 4K camera feeds and encoding them to ProRes in real time when using six video I/O cards.
Beyond the exciting hardware, the Mac Pro with M2 Ultra will offer eight Thunderbolt 4 ports, which is double the 2019 version. And there are three USB-A ports, two HDMI ports that support 8K resolution and up to 240Hz refresh rates, two 10Gb Ethernet ports, and a headphone jack. The computer also supports Wi-Fi 6E and Bluetooth 5.3 for better wireless connectivity.
Pricing & availability
The base Mac Pro with M2 Ultra model features a 60-Core GPU, 64GB of memory, and a 1TB SSD. Pricing starts at $6,999. Or you can upgrade to a 76-core GPU for an additional $1,000. Both versions are available for pre-order now and will begin shipping next week.
Apple Mac Studio
Apple introduced the Mac Studio last year. It was already an impressive machine, but it is already seeing an upgrade to boost performance for professionals even more. Like the Mac Pro, the new Mac Studio will get the newly developed M2 Ultra chip, though only in some models, which will result in faster processing overall. It will also be available with the M2 Max chip, which Apple claims will perform 50 percent faster than previous Mac Studio models. The updated Mac Studio offers a 12-core CPU, up to a 38-core GPU, and up to 96GB of unified memory with 400GB/s of memory bandwidth.
Additional updates include a higher-bandwidth HDMI on the back, which will enable 8K resolution at up to 240Hz frame rates. It supports up to six Pro Display XDRs, so you can be fully surrounded by screens while you work. Wireless connectivity has also been upgraded to Wi-Fi 6E and Bluetooth 5.3. The back of the device offers four Thunderbolt 4 ports, a 10Gb Ethernet port, and two USB-A ports. And on the front, you'll have access to two USB-C ports and a convenient SD card slot.
Pricing & availability
The base model of the Apple Mac Studio features the M2 Max chip, 12-core CPU, 30-core GPU, 32GB memory, and 512GB SSD for $1,999. Or you can upgrade to the M2 Ultra chip with a 24-core CPU, 60-core GPU, 64GB memory, and 1TB SSD for a total of $3,999.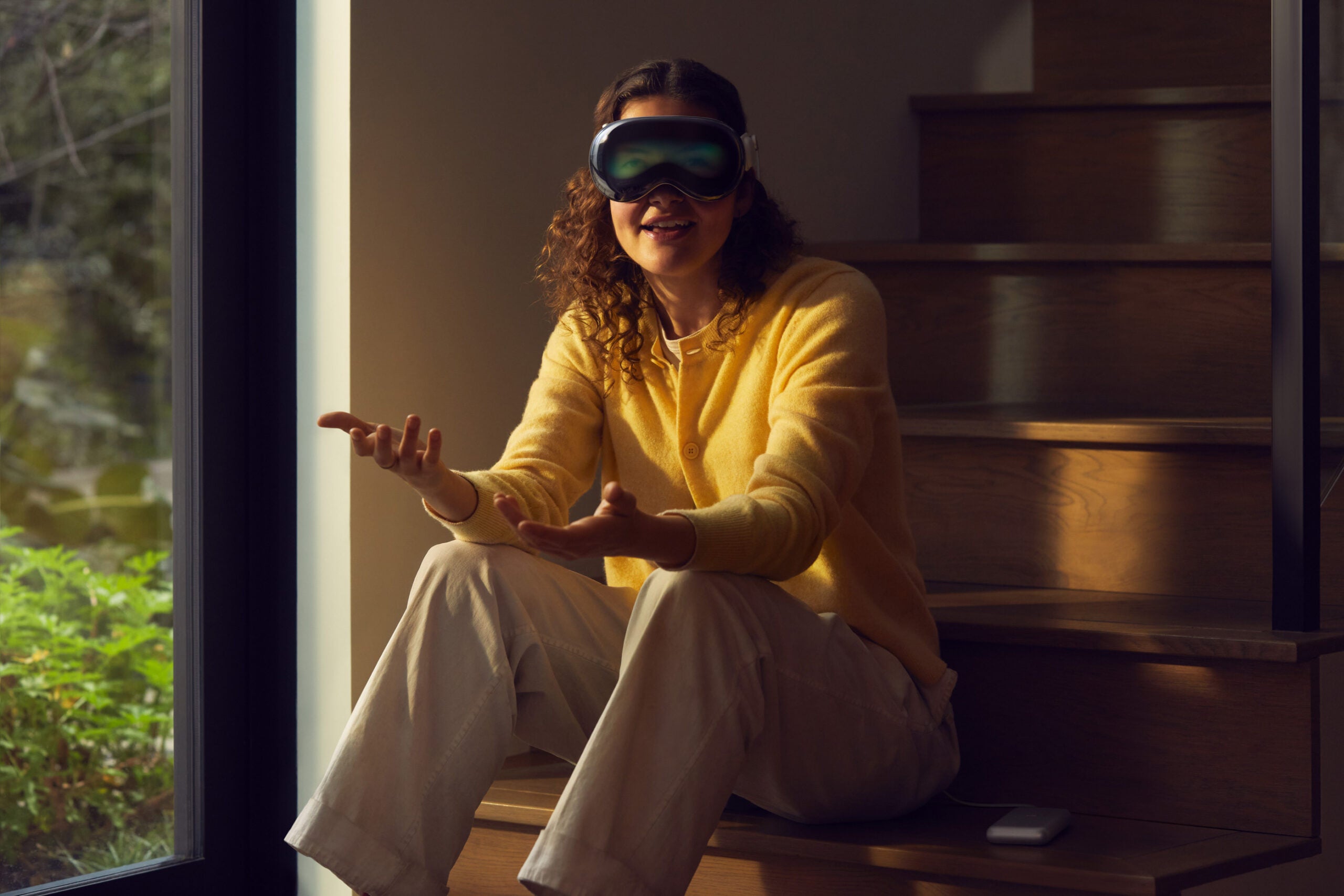 Apple Vision Pro
Although the computers mentioned above saw some pretty substantial upgrades, the biggest announcement of the day was the Apple Vision Pro. This headset is Apple's take on mixed reality, which it calls "spatial computing." It is a goggle-like device with clear lenses, enabling you to still see the world around you. The entirely new device will also get an entirely new operating system: visionOS. Windows and apps will expand in front of you, appearing to be right in the room that you are in.
The device requires a pocket-sized external magnetic charging battery pack and doesn't utilize a controller of any type. Instead, you control it with your eyes, body movements, and speech. It will offer 23 million pixels across two displays for a 4K experience and uses "custom Apple silicon in a unique dual-chip design."
From a photography perspective, the goggles will feature Apple's first 3D camera. It will allow you to capture scenes and then immerse yourself in the memory. Videos taken with the 3D camera will get the benefit of Spatial Audio as well. And, if you take a panoramic image with your iPhone and view it with Apple Vision Pro, it will expand and wrap around you, making it feel as though you are back in that setting.
Apple Vision Pro won't be available until early next year. Even though it is a consumer-based product, it will be priced at $3,499, which is much more in-line with similar products that are geared towards corporate or commercial-based users.