Adobe announces a slew of video-centric updates
Adobe Premiere Pro, After Effects, and Frame.io will all see bit improvements this spring.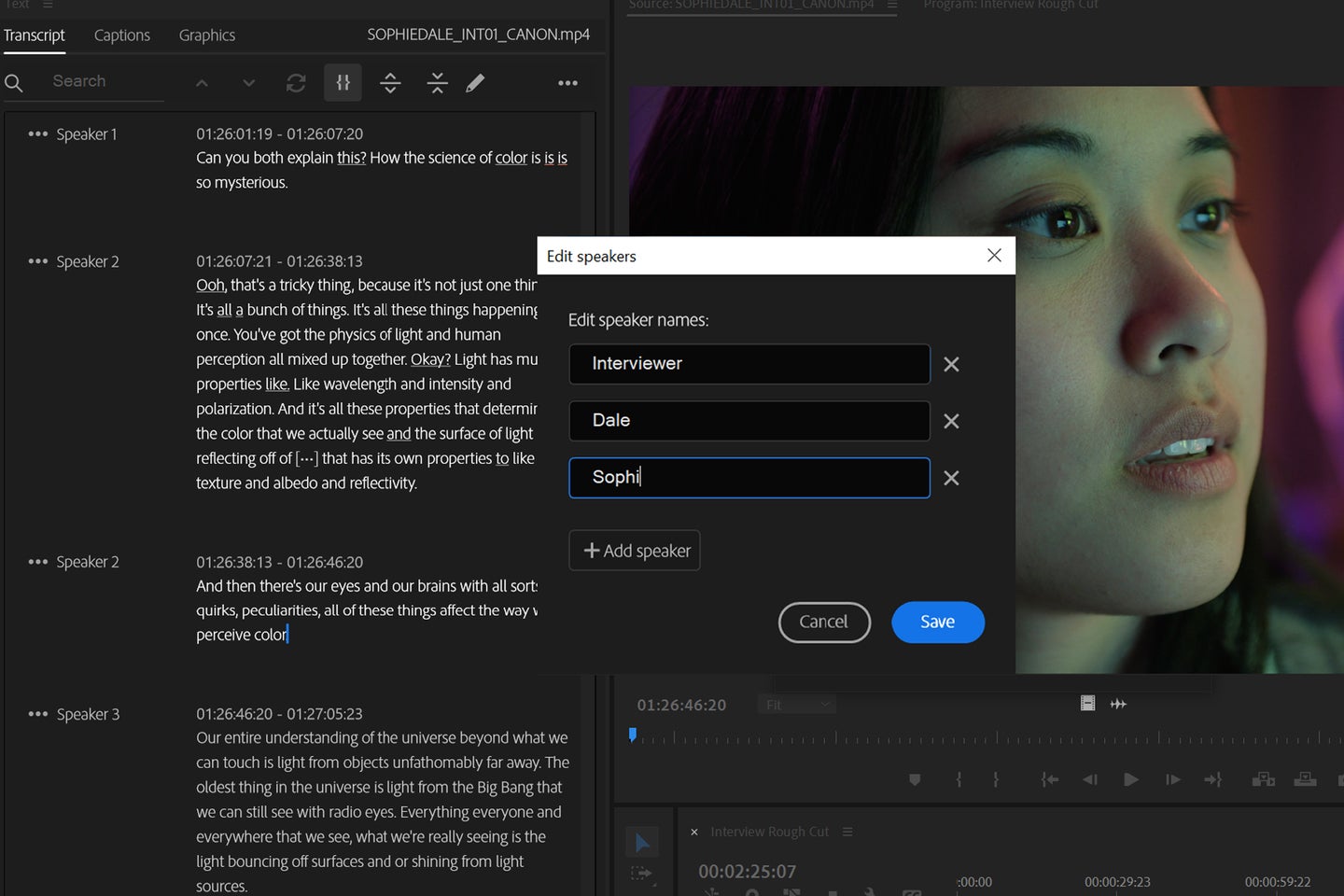 Adobe has long been the primary editing program powerhouse, especially in the realm of video editing. Premiere Pro, it's video editing platform, is typically the software of choice for pros and novices alike. In fact, in a recent press event, Adobe said that 61 percent of the films in last year's Sundance Film Festival were edited in Adobe Premiere Pro. And now, Adobe has announced some pretty significant updates for creatives in three of its programs.
Premiere Pro, After Effects, and Frame.io will all see new features coming this year. Adobe specified that its theme this year is "Create your best work. All together now." This highlights the fact that many of its updates revolve around collaborative work. It also said that after working with the pro-community, they zeroed in on three areas that are most important to users: Quality, stability, and performance. And indeed, the new features coming to those three programs all reflect those key aspects.
Adobe Premiere Pro updates
Adobe is bringing some truly exciting features and upgrades to Premiere Pro. These changes should make the program even easier and faster to use, no matter your skill or experience level. In fact, Adobe says that this is the most stable and fastest version of Premiere Pro yet. It is able to perform background autosaves, so you can access previous versions of your work if you need to, without manually saving and interrupting your workflow. There are new system reset options and new tools for managing plug-ins. And there's more GPU acceleration, making just about all features faster.

Text-Based Editing
Perhaps one of the most significant new features in Premiere Pro is Text-Based Editing. This new AI-based workflow is powered by Adobe Sensei. It is able to transcribe your videos in the background, giving you a full transcript with zero work on your end.
You'll be able to search for words that are relevant to you, finding the desired without scrubbing through the video and trying to find it by listening to random sections. And Premiere Pro will automatically break speaking parts it into relevant segments. That means that by using one simple keyboard shortcut (comma by default), you can add a specific clip into the timeline based solely on the text transcript alone. You won't need to watch the clip over and over just to get the timing of the start and end correct.
Another useful feature is that AI will automatically detect pauses, which is reflected by ellipses in the transcript. You can click on those and delete them, making the process of cleaning up speaking parts much more simple and faster. Test-Based Editing also allows you to rearrange sections as if you are editing written text. It should be much more intuitive to learn as a result. And it all runs right on the device, meaning it will work even if you don't have an internet connection.
The Text-Based Editing feature is currently available in Beta but is expected to be fully available in May.
Automatic tone mapping
In another push to make editing easier, Premiere Pro will soon provide access to automatic tone mapping. This feature makes it much easier to get consistent-looking footage no matter what camera or device you use. You can mix and match LOG and HDR footage or different color spaces, including iPhone Dolby Vision HDR (HLG), Sony S-Log, Panasonic V-Log, and Canon C-Log. Then, Premiere Pro will automatically balance out the footage to make them look similar.
The new process means you don't have to rely on LUTs for creating a seamless throughout your video even if you use multiple cameras. And, even if you don't use LUTs currently, you won't have to fuss with getting adjustments to each clip just right in order to have consistent-looking footage. The automatic tone mapping can be turned off, however, if you prefer to have that hands-on control. And you can still use LUT-based workflows as well.
Automatic tone mapping will be available in Premiere Pro come February.

Additional features
Adobe has made a big push in recent years with collaborative features. That continues with even more collaboration tools coming to Premiere Pro. The sequence locking tool allows you to prevent others from making changes while you are working on a specific sequence. Version history is tracked, and all changes are automatically tracked both locally and in the cloud. Progressive project loading only loads specific parts of the project you need as you need them. And finally, you can work offline and sync your changes to the cloud later.
Beyond those big changes, Adobe will be implementing dozens of requested features. Perhaps one of the most notable is the ability to batch edit titles and graphics. If you need to adjust the font across the entire project, you will no longer need to go slide by slide, making that change. Overall, all the new features coming to Premiere Pro should greatly speed up and simplify the video editing process.
Adobe After Effects updates
Adobe After Effects is celebrating 30 years this year, so it's also getting some important upgrades. The new Properties Panel, which will be familiar to anyone who has used Adobe Photoshop, provides instant access to the settings you need the most without clicking through multiple menu options. It's a dynamic panel, changing depending on what is in the layer you are working on. Selectable track mattes will be easier and faster to use thanks to the ability to reuse mattes on different layers. And New ACES and OpenColorIO assist in getting consistent colors even when sharing content with other post-production apps.
Overall, all of the After Effects changes coming make the program easier and more intuitive to use, which we always like to see. These features will be rolling out in May.

Adobe Frame.io updates
The last Adobe program getting updates is Frame.io. The collaboration platform will soon be able to generate Forensic Watermark Codes. These codes are invisible and yet can survive live streams, screen recordings, and transcodes. Native aspect ratios will be visible in thumbnails, so you won't need to click into a file to see if it's vertical or horizontal. And there's a new button that allows you to see all annotations at once instead of needing to filter through them one by one.
Adobe also worked on a few different important collaborations. The first will expand access to Frame.io's Camera to Cloud feature. This workflow was previously only available for video users, but Adobe partnered with Fujifilm in order to provide native support for photographers who use Fujifilm's X-H2S or X-H2 cameras. Those photographers can now instantly share files to Frame.io while still in the field. It will support raw files, as well as .pds, .ai, .pdf, and .indd files.
Adobe also collaborated with Capture One, creating an industry-first collaboration. This will allow you to upload directly to Capture One through Frame.io and then publish back to Frame.io from Capture One as well.