Gangsters & Grifters: Gritty Crime Photos from the Archives of the Chicago Tribune
New book compiles vintage images of small time crooks and criminal masterminds of old-time Chi-town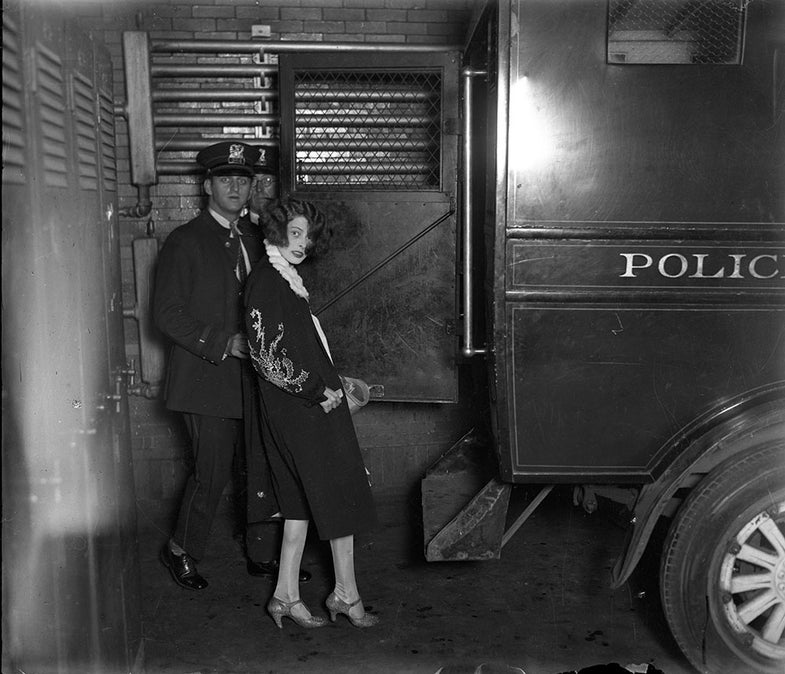 You'll find all the evidence you need of Chicago's crime-ridden past in the belly of the Chicago Tribune.
Five stories below the building in a temperature controlled room there are rows of numbered boxes, stuffed to the gills with decades worth of glass plates and acetate negatives, some of them nearly 100 years old. Two years ago, the Tribune's photo staff began digging through these archives, unearthing images that in many cases hadn't been seen since they were first captured. Now, these historic photos of Chicago's criminal past have been compiled into a new book, Gangsters & Grifters: Classic Crime Photos from the Chicago Tribune.
"I was looking for photos that are so compelling that they would just stop you dead in your tracks," says Erin Mystkowsk, one of the photo editors who worked on the project. "You know it when you seet it and it just gives you chills."
Although many of the negatives came with their share of dust, scratches and finger prints, Chicago Tribune photo editors Erin Mystkowski and Marianne Mather Morgan said the bulk of the archive was in solid condition, and those little flaws actually add to the photos.
"We decided early on that we wanted to do as-is. We simply scanned them even if they had cracks and finger prints or dust and scratches," says Mather Morgan. "We wanted them to be very truthful to their age."
A willingness to work with those imperfections actually led to a number of surprises during the editing process. Photos of John Dillinger on trial for murder and a young Al Capone (when he was still going by his alias Al Brown) didn't seem like much on the negatives, but when scanned in produced some incredible results.
"The John Dillinger negative is kind of low light, when we scanned it in and instantly you could see Dillinger in the center in white, handcuffed to the sheriff deputy next to him," says Mather Morgan. "He looks like he is in control of the room, he almost looks bored."
The images are often presented alongside their original headlines and subheads, with brief descriptions about the nature of the crimes committed. "It was so interesting to see how the newspaper covered these crimes," says Mystkowski.