The New Flickr: Free Accounts Get 1 TB of Storage, Entire Experience Gets a Redesign
An aggressive new strategy in an attempt to make Flickr "awesome again"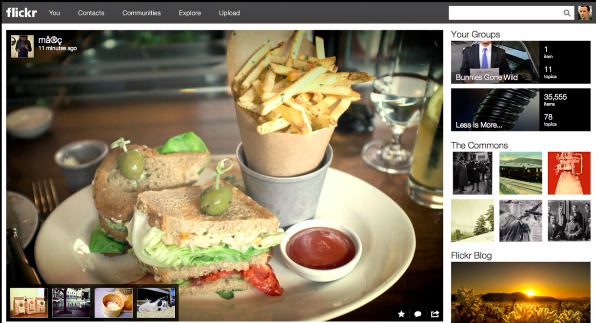 The big news at Yahoo! today was about their $1.1 billion acquisition of Tumblr. But, at a press event tonight in NYC, they showed off the new version of Flickr. It's a lot different and, in some ways, a lot bigger.
The first thing you'll notice when you go to the Flickr page is the new design. The homepage is different, the stream is different, the search is different. The Focus is clearly on larger images and almost every bit of text has been relegated to the background. It feels a lot like the iPhone app they released.
Perhaps the biggest overall change, however, is that every user — even the free ones — get a full terabyte of storage. That's several orders of magnitude over what most photo sharing services offer for free. They want you to upload full-resolution images because the layout of the site uses full-bleed photos as often as possible.
The Flickr Pro account option will be going away now, and many of the Pro features have been shoe-horned into the pro account. There are two upgrade options still: An ad-free version of the site will cost $50 per year, and a "Doublr" account with 2 TB of storage for a very steep $500 per year. That actually sounds like a downgrade from the Pro account, which offered unlimited storage for_ MUCH_ less.
If you're a pro user, you can still maintain your pro account, which might be a good idea if you like using the service. You're grandfathered in.
The slideshow function has been revamped as well, making the images look a lot better and the overall presentation slicker.
The Android app is also finally ready to go. We've had the iPhone app for some time now and really like it, so it's good to see it coming to Android. The experience seems to be very similar, which is what's to be expected.
Overall, it will take some time before the real reactions start coming in. But, the site definitely looks better. Whether or not it works better is yet to be seen. Still, 1 TB of free storage is very nice. Even if you don't use the service as anything except a backup for your JPEG files. It's tough to beat free.