The New Flickr iPhone App Is Ambitious, Pretty Great
Better browsing, a full editing suite, simple sharing, and a revamped camera mode make Yahoo's photo sharing app look like a winner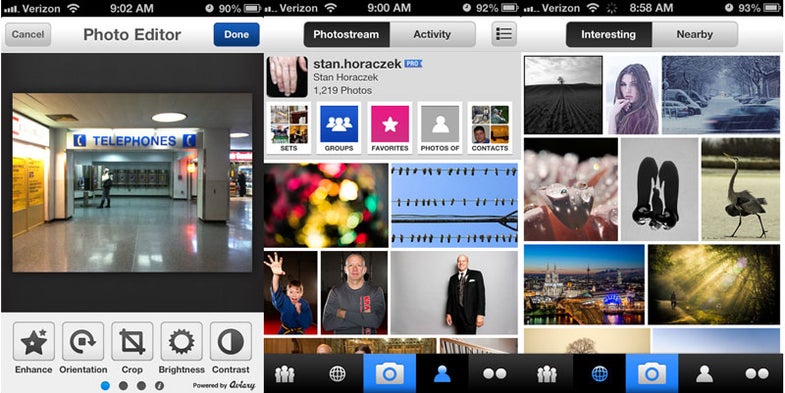 For a long time, Flickr has been a power house in the photo sharing game, but their mobile apps haven't been on par with their desktop experience. Today, they're trying to change that with a brand new iPhone app and it looks promising. Very promising.
The new Flickr iPhone app tries to encompass many of the best elements from other popular photo apps. Like Instagram, it allows you to instantly upload photos and add those oh-so-important retro filters everyone has jumped on board with. Like Camera+ and Camera Awesome, it has a pretty robust suite of actual photo editing tools powered by Aviary. And, like 500PX, it has an incredibly slick interface for browsing images.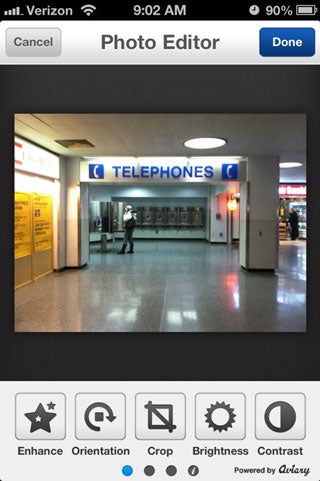 There's a camera utility built directly into the app that lets you separate your AF and AE lock, which comes in handy if you're trying to do something like create a vignette. The editing tools are very good, but they don't load quite as quickly as you might be used to with other editors. They're not slow, just not instantaneous. But, I'll take the ability to make real edits over being shoe-horned into a series of pre-baked filters almost every time.
But beyond all of that, they claim to be keeping the focus on the photos. You can zoom in on photos by simply turning the phone into landscape mode. Instagram doesn't let you zoom at all, so that's a big advantage right there. You can also "flip a photo over" and see its stats like EXIF data and all of its comments and favorites.
The photos are presented in a "justified" format, which means they don't have to be cropped or converted to a certain aspect ratio to show up right on the page. The photos also load very quickly, which is essential in any app, but even more so on one meant for photo browsing.
The app is tied heavily into the other social media networks likes Facebook and Twitter in an effort to make it part of a total social media suite rather than a do-all. That's made even more interesting by the timing. Flickr is releasing their app just as Instagram and Twitter have grown apart, making sharing more difficult.
I got a chance to talk to some Yahoo! execs before the launch of the app and the company sounds genuinely enthusiastic about the new presentation. There's a new look for the Flickr site as well, but the app and the site still remain independent experiences. The iPhone is the number one camera on Flickr, which now has more than 8 billion photos, though, so mobile is clearly a big part of their strategy going forward.
You can get the Flickr app for free in the App Store now. As for the Android users, an update is in the works to bring the Android app up to speed. Sadly, there's no iPad version yet, but that will likely be even better looking than the iPhone app when it drops somewhere down the line.
Are you still an active Flickr user? Would you consider switching to Flickr mobile from Instagram for the promise of better-looking photos?