Canon 50D Gets Raw Video Thanks to Magic Lantern
Not only has Magic Lantern made the 50D shoot video, but it's Raw too!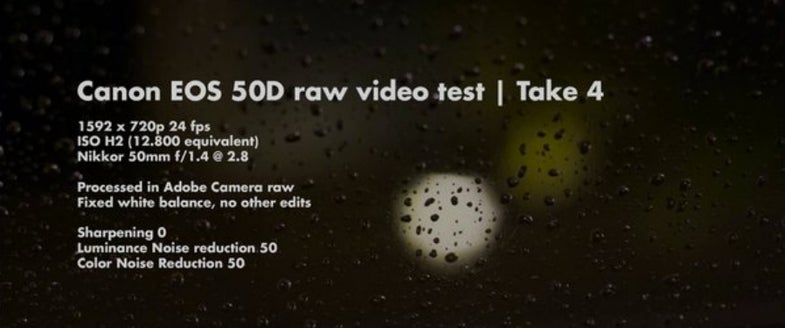 We may earn revenue from the products available on this page and participate in affiliate programs. Learn more ›
Earlier this month, we were all suitably impressed when we discovered that the Magic Lantern firmware hack for Canon DSLRs was capable of getting uncompressed Raw video out of the Canon 5D Mark III. Now its proved its worth again, by bringing video to the previously still-only Canon 50D.
In a sprawling topic on the Magic Lantern forums, users have been pushing this now aged hardware to its limits to squeeze high quality video out of a machine never meant for that purpose. Even though it lacks the capability for video playback, microphones, or HDMI out, the Magic Lantern folks have managed to get 1592×1062 video out of the camera. But you do need a high-speed CF card to make it work, at least UDMA 6.
This could mean a second life for the 2008 DSLR, which doubtless now languishes in many a cupboard around the world. Given that you can grab one for less than $600, and have access to all of Canon's glass, the Canon 50D could become a serious contender for ultra-affordable video cameras. You just have to be prepared to manually sync the audio from another device.
Newer Canon owners shouldn't feel too ignored, it looks like the 60D should be getting some love in the near future, too.
[via NoFilmSchool, Engadget]