PHHHOTO is an iPad Powered, GIF Making, Photobooth
Now you can record your party guests as epilepsy inducing animated GIFs!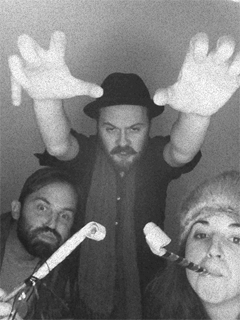 In one form or another, the photo booth has long been a mainstay of parties. The folks at HYPERHYPER have just created an updated take on it with PHHHOTO, which combines an iPad with custom built software and a ring-light in order to create hyper-kinetic animated GIFs of partygoes.
PHHHOTO uses the iPad's front facing camera to detect when people are in front of the the lens, at which point it starts a countdown, and then records a few seconds of footage, which are looped into a GIF, and uploaded online. From there, you can beam them onto a wall with a projector at the party, share them over social media, or just browse them from your phone from a custom URL.
As shown at CoolHunting, the rig for PHHHOTO is surprisingly low key. It's literally just the ring light and iPad mounted on a stand, with the software running the whole thing. Unfortunately, the image quality leaves something to be desired, which isn't especially surprising given the low quality of the iPad's front facing camera, especially in low-light situations. However, if you used the iPad to control something that can record better video, you might be on to something.
HYPERHYPER is willing and able to install the PHHHOTO at parties and corporate events, but hopefully they'll release the software into the App Store, so you can roll your own for an impromptu shindig on a Friday night.
[via PhotoJojo]