The DIY DSLR Photo Booth Has an iPad Interface
An interesting alternative to the old assistant-with-an-instant-printer solution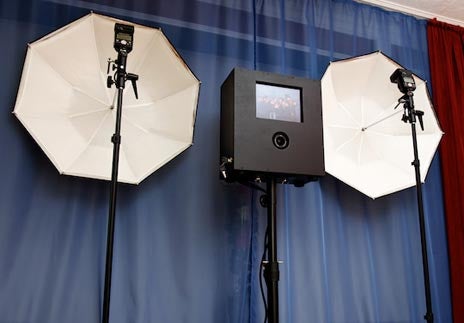 One of the main draws of a photo booth is the instant gratification. You leave a party or wedding with a photographic keepsake in your pocket. But, that system has its drawbacks, almost all of which are remedied by a clever DIY solution dreamed up by a wedding photographer named Rocco.
The box contains a Nikon DSLR equipped with an Eye-Fi card and an iPad running the ShutterSnitch application. Lighting is handled by two Speedlites and the whole thing is remotely triggered by a foot pedal. Once the images are captured, guests can immediately view the results on the ipad. Guests can even send themselves the images via email.
While it's not an overly cheap solution to put together, it would probably save money for a shooter in the long run. There's no paper and ink to buy for the printer and it doesn't require an assistant to run. Plus, the guests end up with cool photos they can share online rather than having them get wrinkled in their pocket on the way home.
Still not sold? You could always spring for the inflatable photo booth.
From: Engadget