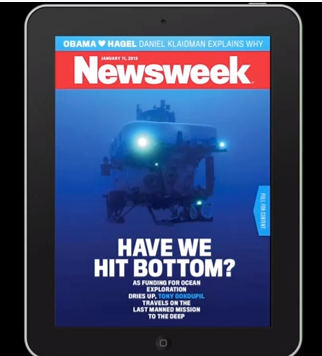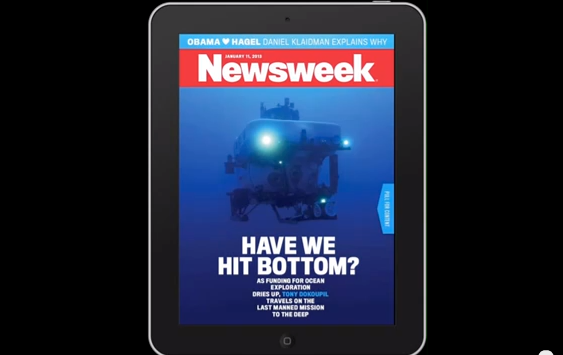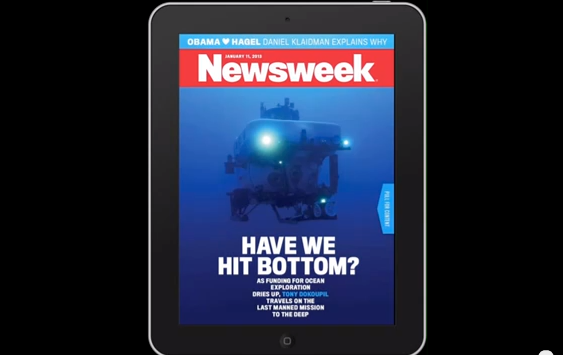 Newsweek animated cover main
_For 80 years, Newsweek was a print publication, but at the end of 2012, they went strictly digital. While the change drew some fire from magazine traditionalists, it opened up the door for the publication to do more multimedia content. They called on veteran underwater photographer and resident Hawaiian Hugh Gentry to shoot their first ever cover that incorporates both a photo and video. Here's how he got the shots. _
How did you first get involved with the project for Newsweek?
I know one of the photo editors from another agency I used to shoot for called World Photo Network. They contacted me saying that they were doing a story on the Hawaii Underwater Research Lab. It's may be one of the last ventures that they're going on. I live in Hawaii and I specialize in underwater work, so I guess I was a natural choice.
Did they ask you to shoot video and stills right off the bat?
Yeah. I started off as a motion picture camera man. I shot TV news for years. I had always done still photography as a hobby. As they started merging together with digital, a lot of times you can only send one person in to get the shot. Clients started asking if I could do both.
So, for this shoot, I did some research and I said "yeah, we can do this, but it is challenging to do." We had one chance to get the shot and then the sub was going to the bottom of the ocean.
What kind of rig were you using?
I shot the photo piece with a 5D Mark II. I was originally going to shoot both stills and video with the same camera. The problem was, once the sub starts descending, it goes pretty rapidly, so I wouldn't be able to switch back and forth between still and video mode. So what I did was mount a GoPro on top of my dive housing to roll the video side.
I had the little screen on the back of the GoPro so I could watch the footage. So, I was shooting the same thing with both cameras.
I used a 20mm prime on the 5D Mark II. I wasn't able to get super close. I couldn't get close enough to use something like a 14mm lens just for safety reasons. You don't want to get too close and get caught up in it. Plus, it had to match the GoPro.
**How did you attach the GoPro? **
GoPro has all kinds of little mounts that you can use to put their cameras pretty much anywhere. So I attached it using some of those. I also had the camera leashed to my dive housing so if it came off, it wouldn't sink to the bottom of the ocean.
Normally I'd prefer to shoot everything with the 5D for the quality, but I only had one chance to get this, so I didn't want to risk not getting the shot.
Are there a lot of logistical challenges for an underwater shoot near a vessel like this?
I couldn't technically dive off of the research boat, so they launched a little Zodiac and ran it alongside. I climbed into it using a rope ladder and then someone handed me my dive housing. It was really rough that day. four-to-six foot seas and a 20 not wind and I had to time. As soon as I got in, the driver goes "Hold on, we got a wave!" And we had to smash through it. Then they took me to the dive boat with all the gear and I do the whole dive from there.
Did you use any artificial light for the shots?
The cover shot was probably shot at about 110 feet. It's all natural light. I did have some strobes, but because I was shooting video I couldn't do much with them. They wanted it to look as natural as possible. But, it was a nice sunny day and the water was super clear out there. We wanted to make it look like we were at the bottom of the sea.
Was it a difficult transition to become someone who shoots both still and motion photography?
With the merging of the markets, it was very easy for me to float between both worlds.
With ultra-HD video on the rise, some people think photography may be swallowed up entirely by motion cameras. Do you see that happening?
Some people try and do it with the RED camera, but it's not an easy task. It seems easier because you only need one camera, but to be able to get the quality and the exact shot you want, a lot of people have tried it and they find it to be a pain. When you're rolling motion picture, the shutter speed isn't as high as when you're shooting stills, so a frame grab might not be that crisp. I don't think it'll be a complete melding. There will be times where you'll only have one camera and that's you're only chance to get the shots, it'll work.
Have you gotten much reaction from people about the animated cover shot? Any naysayers?
I've been so busy shooting the PGA tournament all weekend, so I haven't seen a lot of reaction yet. I shot a full video story for this as well. I shot interviews topside and everything else. We did a full package story, so it's more than just the cover and it makes a lot of sense.
Do you see this kind of multimedia story as the future of magazines?
I'm kind of old school. I like to be able to hold a magazine and flip through it in my hand. But, to be able to have more of a multi-media experience — especially on the video side — it brings you more in-depth. It puts you there. You can hear things from the person while they're talking. It makes me excited to see that magazines are embracing it.
Does the extra work of shooting video bring extra pay?
It all depends. Some companies yes and some companies no. It depends on the client. Often you look at a job and realize that it's going to be a tremendous amount more work, so the pay has to reflect it. It's still cheaper for them than hiring two separate people.
If they hire you for your still rate and they want you to do all these videos, you have to ask them to bump it up.
Any quick tips you can offer shooters who are just starting to get into underwater photography?
The biggest thing is to know your limits. It's really easy to get into trouble fast. I come from a surfing and windsurfing background, so I've been in the ocean for most of my life. But really the best tip is to get as close as you can.
Look for clear water. If the water is murky, your photos are going to be murky. There's just no way around it. If you try and zoom under water, you're putting a lot of water between you and your subject. It'll start to get a little blurry.