Award Winning Photographer Fired For Splicing Together Two Bird Photos
The Sacramento Bee has fired photographer Bryan Patrick was found to have combined multiple images for the paper.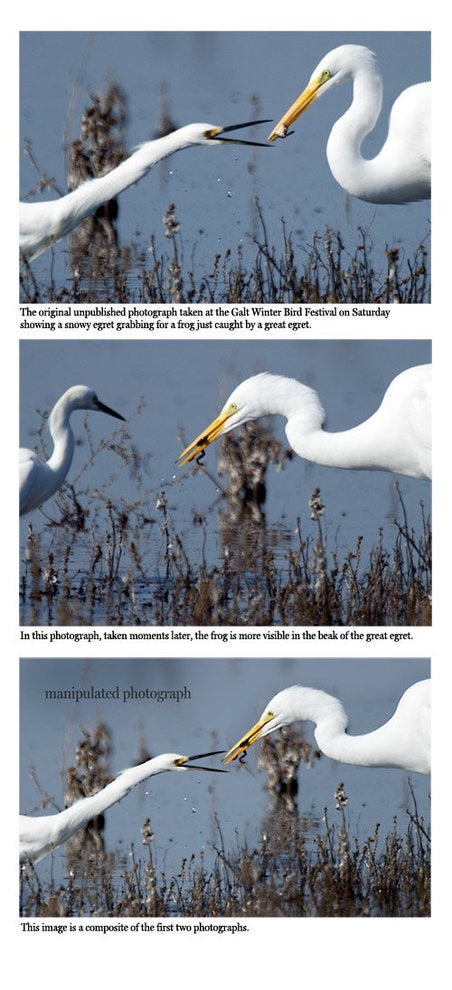 Anyone who has done nature photography knows the frustration of getting two shots that are almost perfect — which could be combined together into one with everything you wanted. Now, most people won't act on that impulse, but it appears that Bryan Patrick at the Sacramento Bee did just that. He combined two shots of a snowy egret trying to steal a frog from a great egret in order to get the best of both images. While not as blatantly obvious as this situation from last year, it's enough of an ethics violation that it's gotten Patrick fired from the Sacramento Bee.
Not only that, but now some of his older work is coming under the microscope. It's alleged that he slightly tweaked the flame levels in an award winning photo of the Auburn wildfires, as well as removed his own shadow from a shot of a person in a field of sunflowers. The San Francisco Bay Area Press Photographers Association is now investigating his work, and will potentially rescind his award. While some are arguing his sins weren't that great, the majority of the response has been overwhelmingly against Patrick and in favor of the Bee's actions.
[via NPPA]