Adobe Updates iPad Apps, Drops Prices
Adobe has just pushed through updates on their trio of apps for the iPad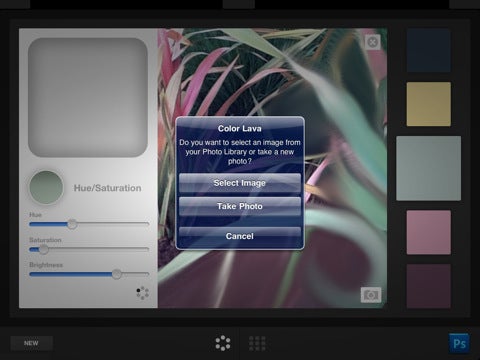 We may earn revenue from the products available on this page and participate in affiliate programs. Learn more ›
Earlier this year, Adobe released a trio of apps for the iPad: Eazel, Color Lava and Nav, all of which have just received feature updates and Eazel gained a rather nice price drop. While the updates aren't exactly mind-blowing, they do cement the fact that Adobe is throwing some weight behind the idea of expanding Photoshop onto the iOS platform. Plus, we'll never complain about better apps for less money.

Painting app Adobe® Eazel for Photoshop® has lowered in price from $4.99 to $2.99, and now lets you save a gallery of your images to open and edit later:
Adobe® Color Lava for Photoshop® has likewise gone down from $4.99 to $2.99 [correction: the price has always been $2.99]. This app allows you to mix together colors and export them to Photoshop CS5, and with the update you can now take photographs with your iPad 2, and sample colors and make themes from it:
Finally, Adobe® Nav for Photoshop®, which was $2.99 is now $1.99 [correction: the price has always been $1.99], will let you send images from your iPad library directly to Photoshop.
Correction: Only Eazel dropped in price, both Color Lava and Nav have remained at the same price since launch. Our apologies for the error.