Adobe's Photoshop for iPad Concept Includes Layers and Adjustable Brushes
Adobe demonstrated a full-featured version of its powerhouse image editing software this week, designed to work with your fingers.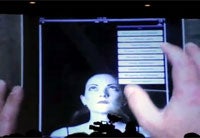 If you're an iOS user, you've probably given Adobe's Photoshop Express app a whirl. It's a fun little application, but it's nothing like the real thing. That could be changing though, at least according to a demo given at Photoshop World.
The video from Photography Bay shows a real-time demo during which the presenter uses layers, adjustable brushes and what looks to be a pretty snappy file manager to manipulate an image of a model. Perhaps the coolest part of the whole video comes at around 1:15 when he uses an animation to demonstrate how the layers are working together.
While the concept makes for an impressive demo, there are still many questions to be answered before this could ever be viable. It seems like you'd almost certainly need a stylus to make the most of the touch interface. And without an accessible file system, establishing any kind of real work flow might be kind of a nightmare. Plus, the brand new iPad 2 hardware only has 512 MB of RAM and lacks a fast way to get images from a CF card. And then there's the not-so-small issue of how much it'll actually cost.
It's interesting to note that Gizmodo is already taking this demo as a sign that the post-PC world is truly upon us. The statement is premature to be sure, but to fully dismiss the phenomenon off-hand is equally as absurd. In fact, it's probably worse. The iMovie app for iPad is $5 and it offers enough video editing firepower for almost all users. Vimeo's new app has an almost-equally robust set of video editing features and that's totally free. A truly serious (not to be confused with professional) photo editing suite can't be far behind.
From: Photography Bay