Adobe Releases Photoshop Express 2 for iPhone
The new version of Adobe's iPhone photo editing app adds extra features, most of which are only available after a $3.99 upgrade.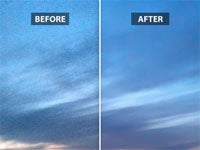 We may earn revenue from the products available on this page and participate in affiliate programs. Learn more ›
The competition amongst photography apps on iOS is fierce. There are a ton of little pieces of software ready to chop and mess with your images in all kinds of ways. But Adobe is still a big fish, and when they make updates to their Photoshop-branded app, it's worth taking notice.
The app itself is still free and lets you do things like use filters, rotate, crop, adjust exposures and add contrast to your images. But, there are several new features that require the download of a $3.99 camera pack add-on. We bought one to see how it pans out.
One of the most substantial upgrades is the addition of noise reduction, which supplements the collection of filters. You add degrees of the effect between 1 and 100, reducing the image resolution as you go higher. You'll notice that it takes a couple seconds to apply once you've finished tweaking.
The effect works quite well, despite the loss in resolution. However once you start getting past 35, it starts to look pretty unnatural, but that's to be expected. See the related gallery for examples.
The other added features are a camera timer, which works a lot like a normal camera timer and a handy review mode that shows you your photo quickly, allowing you to chimp at an adjustable rate.
While the noise reduction feature is nice, especially for people who like to share photos right from the camera (and aren't already using a different filter system like Hipstamatic or Instagram), four dollars will go a long way in the app store. Ultimately, this app is a little pricy for what it offers.
It is also available for the iPad, but with the iPad's cameras being what they are, the filters likely won't do all that much good.