Trunk Show: YONG HEE KIM
The flowering cherries of New jersey's Essex County Branch Brook Park.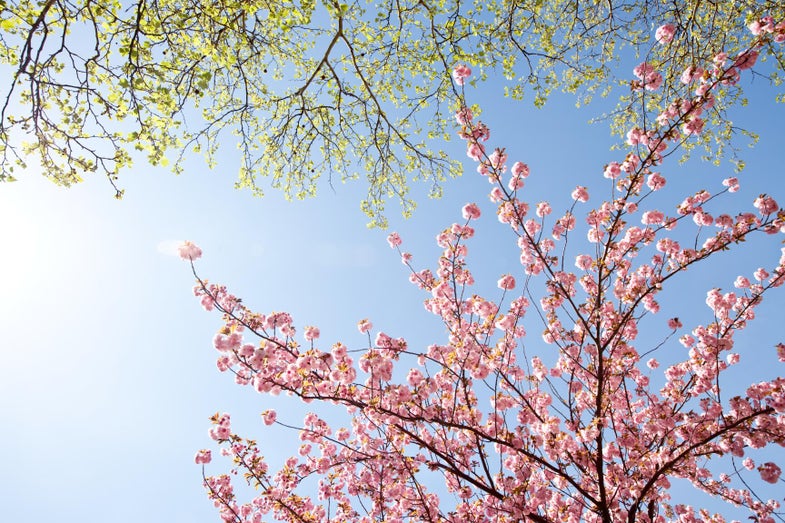 New York–based Kim has exhibited his work in galleries from Poland to Seoul, South Korea, where he was born. He studied photography at Manhattan's Parsons The New School for Design, and now teaches part-time at the International Center of Photography and CUNY's Baruch College.
A blooming cherry tree is so invested with human notions of natural perfection that it is a uniquely challenging subject, especially if a photographer wants to rise above mere representation. Yet photographers have long been seduced by the cherry's ineffably pink blossoms, called sakura in Japan, where its namesakes have included the country's first color film and its first commercial camera.
Yong Hee Kim had already been photographing cherry blossoms before we asked him to capture the extraordinary collection of cherry trees (Prunus) in New Jersey's Essex County Branch Brook Park, the flagship of America's first county park system. Kim, who recently exhibited room-size color prints of his tree images at Manhattan's Michael Mazzeo Gallery, had even photographed the blooms in black-and-white with flash, as if to test their acknowledged beauty. The gallery show was on display for precisely seven days, the length of time cherry trees usually cling to blossoms before depositing them in a pink carpet on the ground. For this assignment, also timed to the trees' brief April blooming, Kim couldn't resist the blossoms' extraordinary pink hue. The color images he made at Branch Brook Park are hardly literal representations, though; many are of abstract networks of branches exploding with flowers.
The cherry trees of Branch Brook Park, which was conceived by Frederick Law Olmsted and designed by the Olmsted Brothers firm, have survived nearly 100 years. Unfortunately, maintenance of these little-known specimens, which are more numerous in variety than the famous cherry trees of Washington, DC, has been historically spotty. Together with the relatively short lifespan of ornamental flowering cherry trees and a lack of appropriate nursery stock, this neglect has prompted county officials to undertake a comprehensive preservation plan. After all, who would want to lose the psychic relief these trees provide from the sprawl of metropolitan New York—an oasis of beauty just a few miles north of bustling Newark airport?
Back To the Main Article
**Back to Main Gallery******