Trunk Show: JAY DICKMAN
Milliken Colorado's abandoned Aborland Tree farm has become an orderly forrest.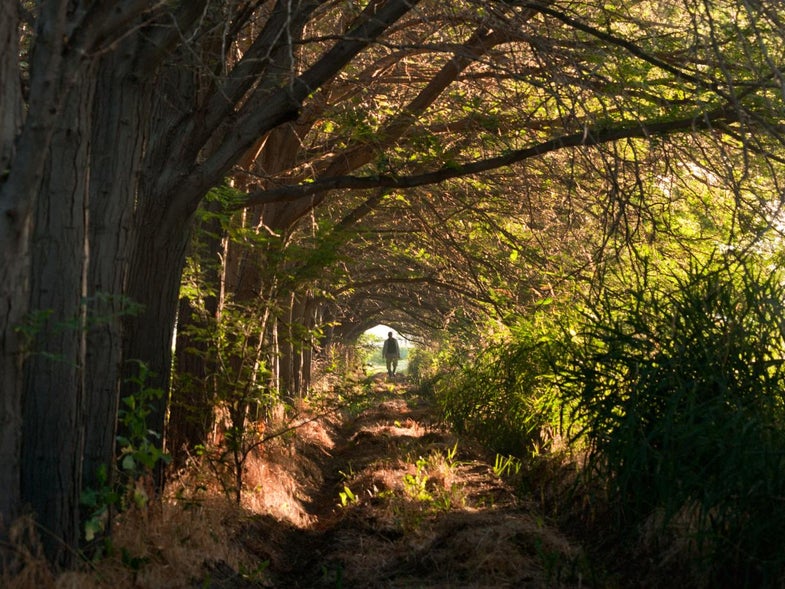 A Pulitzer Prize winner, Dickman has shot more than 25 assignments for National Geographic and its sister publications, and his work has appeared in Time, Life, Fortune, and Sports Illustrated, among other magazines. His advertising clients include Nike and Dell Computer. Dickman founded and now runs the highly successful FirstLight Workshop series.
Photojournalist Jay Dickman is inordinately skilled at bringing visual order to chaotic subject matter. The proof of that talent has ranged from his photographs of the civil war in El Salvador to coverage of national political conventions—the former winning him 1983's Pulitzer Prize for Feature Photography. Yet when Dickman arrived at the abandoned Arborland tree farm in Milliken, Colorado, he found hundreds of old-growth trees standing row upon row, as if they were expecting him. The photographer knew that light was the key to capturing what he calls the "cathedral effect" of this unlikely forest, so he shot at dusk and early in the morning, when sunlight could stream down the grand corridors formed by the trees.
Situated in the middle of grasslands that fan eastward from the foot of the Rockies, the grove in its maturity has greatly benefitted local wildlife, offering refuge to birds, deer, wild turkey and other deserving creatures. But it stands in the way of urban development along the corridor north of metropolitan Denver, where Dickman himself lives. The grove's owner has sought a buyer who will develop the site without harming the forest. That's a tough sell in a business that seems to need a treeless expanse, whether natural or manmade, to create new housing. So the fate of Arborland remains uncertain. Sadly, its doom may be sealed when the U.S. housing market rebounds, unless a tree-loving benefactor comes to its rescue.
Dickman is hoping for such a reprieve. "I talked with a local arborist who described how he would go into the grove just to luxuriate in being in such a beautiful place," he says. "Above all, I wanted to convey the almost spiritual nature of this place—a place designed by humans." Indeed, it's a place only humans can save from themselves. .
Back To the Main Article
Back to Main Gallery ****