New Gear: Zeiss Milvus Prime Lenses For DSLRs
We may earn revenue from the products available on this page and participate in affiliate programs. Learn more › Zeiss...
We may earn revenue from the products available on this page and participate in affiliate programs. Learn more ›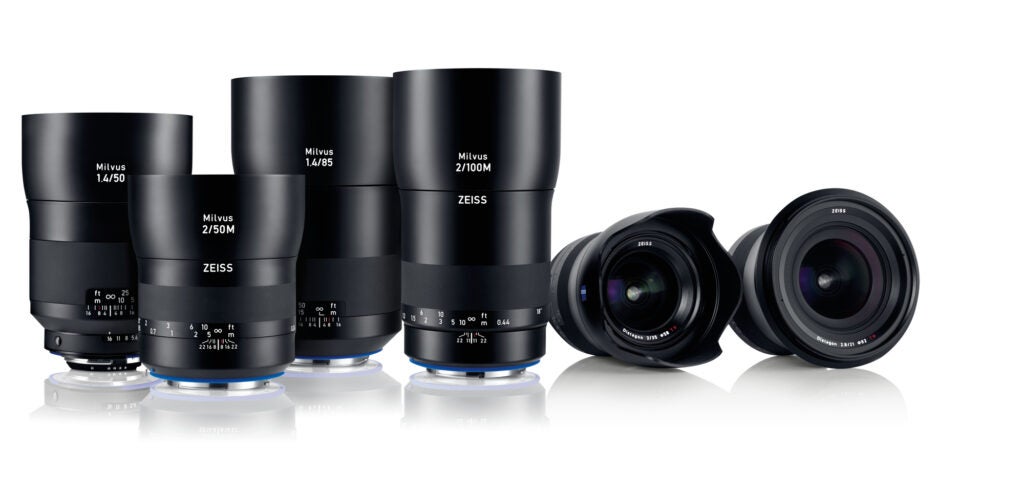 Zeiss DSLR lenses have long been known for their high standard in image quality and buttery smooth manual focus operation (as well as their high price tags), and today they have announced a new series of DSLR lenses called the Milvus line that they hope will live up to that lineage.
In total, there are six new Milvus lenses, all of which are primes with fairly common focal lengths. Here's a rundown
Milvus 2/35 (35mm F/2, $1,117)
Milvus 2/50M (50mm F/2 Macro, $1,283)
Milvus 2/100M (100mm F/2 Macro, $1,843)
Milvus 1.4/50 (50mm F/1.4, $1,199)
Milvus 1.4/85 (85mm F/1.4, $1,799)
Milvus 2.8/21 (21mm F/2.8, $1,843)
According to the Zeiss, all the lenses use a Floating Element design that adjusts according to the focus distance in order to combat aberrations. The pair of macro lenses have a maximum magnification ratio of 1:2, so you don't quite that that full 1:1 close-up ratio some shooters want. Both the 50mm f/1.4 and the 85mm f/1.4 have new optical designs, while the rest follow optical designs that are essentially the same as Zeiss's previous line of ZE and ZF.2 lenses, though with internal improvements for better stray light control.
All of the lenses use a body style that's similar to what we have seen before in the high-end Zeiss Otus lenses, which includes the long-turn focus ring.
All of the lenses will be available in both Canon EF (ZE) and Nikon F (ZF.2) mounts. If you're a Nikon shooter (or you adapt Nikon lenses to a different camera), you have the distinct advantage of being able to turn the aperture clicks on and off depending on whether you're shooting stills or motion pictures.
While the new lenses may look like the Otus line, Zeiss is careful to point out that there is a discernible difference. The Milvus line seems to be designed as a more "budget-friendly" option to the $4,000+ Otus models.
This seems like a pretty big step for Zeiss, especially if filmmakers take to the new lens line. According to the Zeiss site, the lenses are made to perform up to the 6K video standard and beyond.
You can check out some of the sample images that Zeiss has posted by heading over to their Flickr page. Some lenses have more examples than others, but it's something to hold you over until we get the retail versions in to test out.