New Gear: Tokina's 24-70mm F/2.8 Full-Frame Zoom Lens Is Coming in August for $999
Tokina's latest workhorse lens is ready for the US market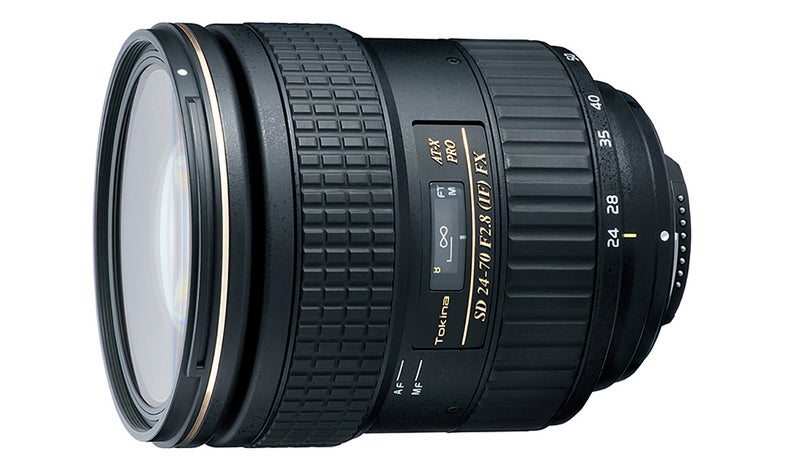 We may earn revenue from the products available on this page and participate in affiliate programs. Learn more ›
For many photographers, the 24-70mm F/2.8 zoom lens is an absolute workhorse. It covers everything from wide angle shots to short telephoto for portraits. So, it stands to reason that lens makers would want to show their best stuff in their "breadwinner" lenses. Now, the 24-70mm F/2.8 FX lens that Tokina announced in Japan a while back is officially coming into the US for $999.
Inside the barrel of Tokina's new zoom are three aspherical glass elements that they claim help keep things both sharp and bright all the way to the corners of the frame throughout the entire focal range. Vignetting can be something of a problem for zooms in this relative range (the Canon 24-105mm F/4L, for instance, tends to get dark corners at its widest angles), so it will be interesting to see how the Tokina performs in comparison.
The $999 price tag should also be pretty appealing to some users who are looking for an alternative to the pricier first-party Canon and Nikon options. Of course, it will face some competition from Tamron's 24-70mm VC, which checks in right around the same price, but adds image stabilization. There has been a lot of debate over just how useful VC really is with this set of focal lengths, but if the Tokina manages tangibly better image quality, it's likely that will be more valuable for some shooters than the stabilization.
We're hoping to get our hands on a copy of this lens, which will be available in both Canon and Nikon mounts, once it arrives in the states. We'll fill you in with some first impressions and sample images as soon as we can.