Tamron 24-70mm Lens Test
A familiar focal length finally gets vibration reduction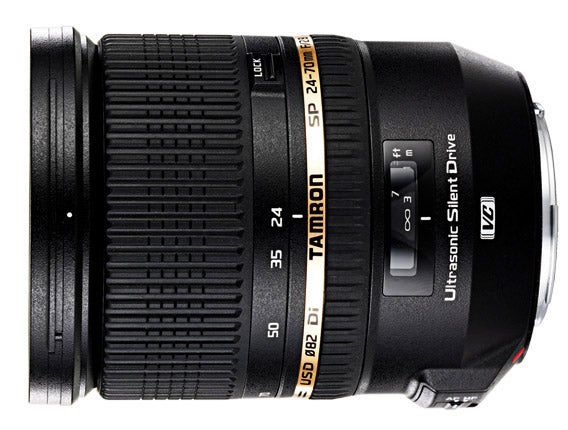 We may earn revenue from the products available on this page and participate in affiliate programs. Learn more ›
On every serious shooter's list of "essential" glass, you will see the classic 24– 70mm f/2.8. Now, Tamron has gilded the lily with a heretofore absent feature: Vibration Compensation. Tamron pulled off this coup by using lighter and smaller glass elements in its design. Besides being the first stabilized lens in this zoom range, the Tamron 24–70mm f/2.8 DI VC lens ($1,300, street) is Tamron's first with a weather-resistant o-ring on the lensmount.
The lens focuses internally for an accessory-friendly, non-rotating barrel, and the AF motor is of the quiet ultrasonic variety. Plus, it offers a generous serving of specialized glass: three LD, four aspheric, and two XR (extra refractive index) glass elements.
While this almost 2-pound, 5.6-inch (extended) zoom might seem large (it takes 82mm filters; many in its class use 77mm), it actually falls mid-class in both size and weight—surprising when you consider that it's the only one with a stabilizer.
A nonstandard control layout puts the larger zoom ring on the outer rim and the manual- focus collar nearer the mount. Both generously sized rings turn smoothly and evenly. But the white, glass-covered distance scales were hard to read in dim light, or when reflecting glare.
Uniformly Excellent SQF scores indicate superior sharpness and contrast. The numbers were very similar to those of the comparable (but non-stabilized) Sigma 24–70mm. At 70mm, however, the Tamron scored below the similar, non-stabilized Canon EF 24-70 F/2.8L II USM and the Nikon AF-S Zoom-Nikkor 24–70mm f/2.8G ED.
We found shortcomings at the widest end of the zoom range. At 24mm, the barrel distortion (0.60%) landed well into the Visible range. More surprising was the edge vignetting that appeared at all apertures at 24mm. (At 50mm and 70mm, edge falloff was corrected by f/3.5, a decent showing.)
For shooters who want to step up to a pro-grade wide-to-tele zoom, this Tamron 24-70 lens offers it with far less sticker shock than most. Yes, the Sigma is less expensive, but it lacks VC. As for the optical issues at 24mm, Tamron created a profiling app for Adobe Photoshop and Lightroom that easily takes care of them.
SPECIFICATIONS:
24–70mm (24.82-69.84mm tested), f/2.8 (f/2.81–2.91 tested), 17 elements in 12 groups. Focus ring turns 110 degrees. Zoom ring turns 90 degrees. Focal length marked at 24-, 35-, 50-, and 70mm.
Diagonal view angle: 84–34 degrees.
Weight: 1.93 lbs. Filter size: 82mm.
Mounts: Canon AF, Nikon AF, Sony AF.
Included: Lenshood.
Street price: $1,300.
Website: tamron-usa.com
TEST RESULTS
Distortion: At 24mm, 0.60% (Visible) barrel. At 50mm, 0.13% (Slight) pincushion. At 70mm, 0.21% (Slight) pincushion.
Light falloff: At 24mm, evident at all apertures. At 50mm, gone by f/3.5. At 70mm, gone by f/3.5.
Close-focusing distance: 13.70 inches.
Maximum magnification ratio: At 24mm, 1:9.03. At 50mm, 1:5.33. At 70mm, 1:4.23.
Image Stabilization: 3 stops.