Nan Goldin makes a cameo on HBO show The Deuce
The famed photographer is seen bashing her own photographs during an art opening at the fictional bar The High Hat.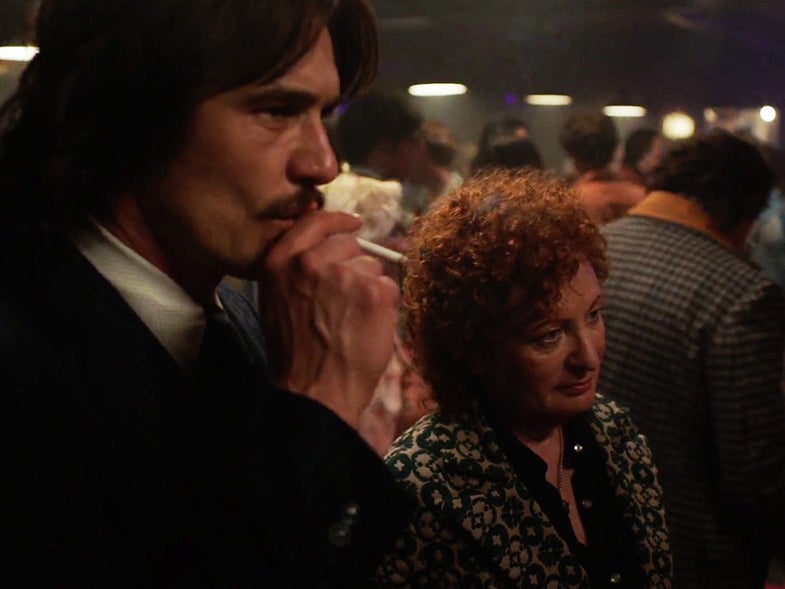 Blink and you might have missed it, but this week, photographer Nan Goldin—and her photographs—make a brief cameo on HBO show, The Deuce, a series set in 1970s era New York City about the rise of the pornography industry.
"They call that art?" Goldin, who plays a dismissive patron asks bar owner Vincent Martino (played by James Franco) as she looks at a photograph of her younger self. "I coulda done that."
If you are already familiar with her work, it's a clever a good one-liner. Goldin lived and photographed New York City during the same era, and the images that appear in her most well-known book, The Ballad of Sexual Dependency, documents the lives of her and her friends, who were living in a post-Stonewall New York. The people depicted in Goldin's images would fit nicely into the seedy bars where the HBO Show takes place. The High Hat is actually a stand-in for an old Times Square dive called Tin Pan Alley, which is featured prominently in Goldin's work.
Moments later a photographer named Viv—a composite character meant to represent a photographer like Goldin—pops into the scene snapping a photo of Vincent.
"Viv's got an eye for the marginalized," says Abby Parker (played by Margarita Levieva). "Bringing out everyone's humanity."
It's a fitting cameo. Throughout her career Goldin's work has explored the intricacies of human sexuality, relationships and intimacy—but never as an outsider.
"There is a popular notion that the photographer is by nature a voyer, the last one invited to the party," Goldin wrote in the forward of The Ballad of Sexual Dependency. "But I'm not crashing; this is my party. This is my family, my history."
Goldin's actually spent some time on set too, documenting the actors of the production. According to co-creator of the show David Simon, her iconic images served as a huge inspiration when creating the show.
What do you have to do to get the great Nan Goldin to do a big fat meta-cameo on your television drama? You have to study her photographs of 1970s Times Square and inject the raw DNA into your film sets, your wardrobe department, your hair and makeup trailer, your story & themes. pic.twitter.com/9NLPtEmUPc

— David Simon (@AoDespair) October 1, 2018
Essentially, Goldin's the perfect photographer to make a cameo in a show like The Deuce.