Manfrotto's Digital Director Turns Your iPad Into a Massive Viewfinder and Remote
This sounds like a game changer for DSLR video shooters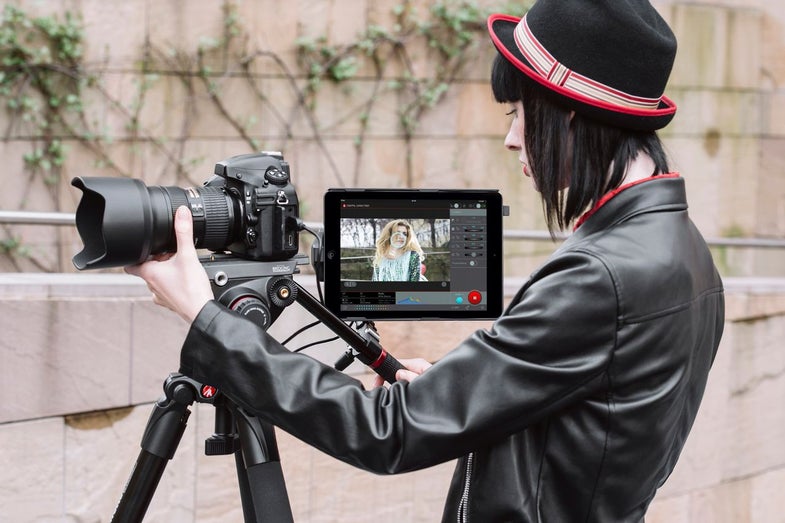 Yesterday as NAB kicked off in Las Vegas, Manfrotto announced the arrival of Digital Director, a new system which will essentially turn an iPad into a massive viewfinder for Nikon or Canon DSLR shooters.
Although Digital Director can be used by still photographers, this system seems like a dream for DSLR video shooters. Made up of hardware, software and firmware, shooters simply need to plug a USB cable from camera to Digital Director which connects to an iPad Air and launch the Digital Director App—the first Apple Certified interface to work with DSLRs.
The Digital Director App offers Live View and audio monitoring through the iPad's large retina screen—an awesome feature that seems like it would make it much easier to nail beautiful shots. The app also gives users the ability to control setting such as exposure, ISO, shutter speed, aperture, manual focus, WB, image quality, focus and drive modes and battery status—all through the large high-quality iPad screen, rather than the small display on the back of the camera.
Users can crop and adjust exposure, contrast and brightness within the app and can also rate their work as they are shooting. There is also the ability to share the work immediately—through social, E-mail or to an FTP site.
Digital Director will be available June 15 and will cost $499.99.