The Intrepid 4×5 enlarger turns any 4×5 camera into an enlarger and doubles as a negative scanner
This enlarger is collapsible, portable, and currently raising funds on Kickstarter.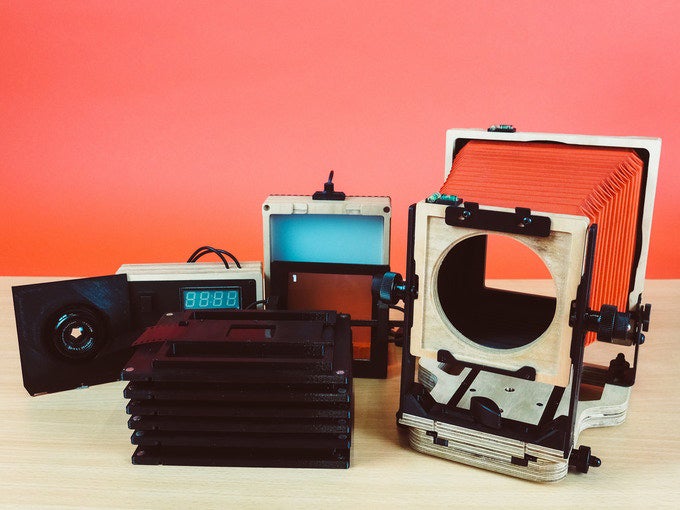 We may earn revenue from the products available on this page and participate in affiliate programs. Learn more ›
Intrepid Camera Company has a new product on Kickstarter that turns any 4×5 camera into an enlarger for the darkroom and doubles as a film scanner. It's the third product the company has launched through a Kickstarter campaign and it quickly surpassed its $19,667 goal. It's safe to say that this idea will be coming to market.
Although it's pretty easy to score a traditional enlarger on the cheap these days, it's a bulky piece of equipment that needs a good deal of space. The 4×5 enlarger from Intrepid is different and an ideal choice for photographers with small spaces. It has a universal fit, so it can can convert any Intrepid cameras or other 4×5 camera into a tool for the darkroom, giving film shooters the ability to print from home.
The enlarger also doubles as a lightbox so that negatives can be digitally scanned as well. Negative carriers make the enlarger compatible with 4×5, 120 and 35mm film formats.
If you already own a 4×5 camera making a pledge of £209 (approximately $274) will get you the full kit, which includes the following:
1 x Enlarger Light Source
1 x Enlarger Timer
1 x 4×5 Negative Carrier
1 x 120 (medium format) Negative Carriers
1 x 35mm Negative Carrier
1 x Enlarger Lens Board
1 x Multigrade Filter Holder
Intrepid is also offering a pricier package that includes one of their 4×5 cameras for £399 (approximately $523).
You'll need to supply the enlarger lens, the grain focuser, a print easel, a cutting mat, a safe light, developing trays, and chemicals to get yourself ready to make darkroom prints.
While it's certainly possible to find a traditional darkroom enlarger for cheaper, the real perk of Intrepid's product is that it's lightweight, collapsible and portable. You also don't have to worry about finding obscure parts for old enlargers, which can get pricey, especially if you need something like a light source.
To make it so small the company had to rely on non-traditional light sources. Rather than using incandescent or halogen bulbs, the Intrepid Enlarger uses a 12V LED panel and a new generation of LED chips. This updated light source also meant designing a new timer for the enlarger—the redesigned timer is built around a PIC microcontroller. While it's possible that a traditional timer would work with the enlarger, Intrepid noted that during product testing they did notice some flickering from the older timers—which creates harmful inconsistency in your prints.
You can also use the LED light source from the enlarger as a film scanner. Simply slide your negatives into the appropriate sized holder, attach the holder to the light source and then, using a tripod, take a digital photo of your film. You can invert and adjust the digital images in Photoshop or Lightroom.
The Intrepid Camera Company is raising funds for the new enlarger through November 3. The company expects the product will ship in May 2019.