Video: Diana Haskell's Portraits of Animals and their People
A day in the field capturing beautiful pictures in chaotic environments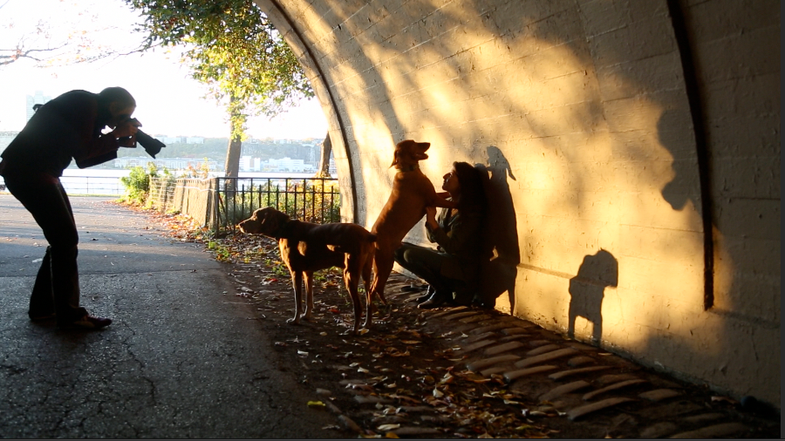 Diana Haskell
Diana Haskell photographs her clients in Riverside Park in Manhattan. _ Photo: Jeanette D. Moses_
When it comes photographing animals and their people Diana Haskell has done it all: dogs, cats, rats, horses, and even designer chickens.
A life-long lover of animals, Haskell says she was four years old the first time she was handed a leash to walk a dog. "And I thought it was the most extraordinary thing I had ever done," she says. Haskell worked at the Bronx Zoo cleaning cages as a teenager and later was a keeper at the London Zoo working with the apes. As an animal photographer, Haskell's primary focus is creating large coffee-table books told from the perspective of the animal that document the relationship between pets and their owners.
(_If video doesn't load refresh page) _
"There is an intimacy that happens between people and animals," she says. "I'm capturing the little nuances of their relationship—by the time we are done they have this beautiful book that shows all these quirks, funny things and loving things and they feel a lot closer to their animal."
_Photo: Diana Haskell _
Although Haskell has photographed a variety of animals, she works with dogs most often and has become skilled at creating beautiful portraits in quick moving situations. Haskell prefers to work with minimal gear when she is in the field: a Nikon 610 with a 24-70mm f/2.8, a fixed 35mm and a fixed 50mm is what she typically travels with. If she is working inside an apartment she may use flashes on tripods, but on outdoor shoots works with the natural light and may have her assistant hold a reflector.

Photo: Diana Haskell
When working on a book project Haskell tries to meet with her clients for at least two-three shoots for a few hours at a time, but the amount of time actually photographing is totally dependent on her furry subjects. "Sometimes dogs are just done. The camera is no longer invited and you have to honor that at all times," she says. Haskell recalls that once while shooting inside the studio the dog darted out of the frame, retrieved his owners shoes and dropped them in front of the owner. "It was so clear to everyone that the dog just didn't want anymore camera action," she says. "Even with treats."
Luckily, on the day I met up with Haskell the two Vizlas she was shooting were a bit more tolerant of the camera. Watch as she works alongside the animals and their owner to capture a perfect family portrait in Riverside Park.

?Photo: Diana Haskell