7 Great DIY Wedding Photo Ideas for Tech-Savvy Couples
Supplement your professional photographer with some fun and interactive ideas you can implement yourself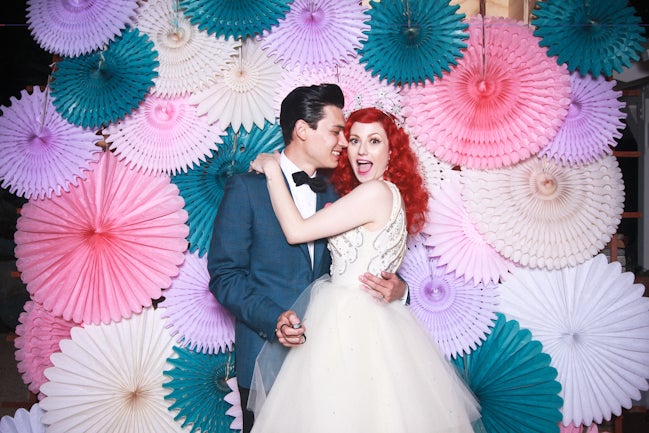 Photo: Love Me Sailor
If you've caught a glimpse of Pinterest lately, you already know that the DIY wedding movement has a lot of inertia. We firmly believe that a real wedding photographer is an essential part of any wedding, but adding some DIY touches can be a fantastic way to create a wedding that best suits you. So, while you should leave the key shots to the pros, these tips and tools can help make the day that much more fun.
Photo Booths

Photo: Stan Horaczek
Posed portraiture has its place at weddings, but after all the formalities are out of the way, it's time to have some fun. Photo booths provide guests with the opportunity to take some wacky photos with old friends or relatives or maybe even make some new friends in the process. Photo booth rentals often cost upwards of $500, but creating your own setup isn't too difficult and can save you a pretty penny.
To start, simply tape a large piece of fabric or paper to a wall or door to serve as the backdrop. Depending on your lens and the width of your background, set up your camera and tripod at a distance that would allow you to capture at least four people side-by-side – the more people that can fit in the shot, the better. Tape everything down to prevent tripping, and use some spare tape to mark the ideal spots on which revelers should stand.
You can make your lighting setup as simple or intricate as you like, as demonstrated in our recent lighting how-to. Be sure to provide a remote shutter release so guests can control the camera without having to fiddle with it. Also be sure to use a small aperture F/11 works well if you can get there, because you don't want to have to worry about people in groups being out of focus.
And don't forget the props. Include items like feather boas, pirate hats, funky glasses, eye patches, mustaches on sticks, large, ornate picture frames for guests to pose within, or even a chalkboard on which guests can write personalized messages.
Another great idea is to create a viewing station by tethering your DSLR to an iPad. One way to do this is by using Eye-Fi X2 SDHC Class 6 Wireless Flash Memory Card in your DSLR, so that you can send the photos right to your iPad, wirelessly. Also be sure to also provide information to guests on how they may view their snapshots online after the reception.
Wedding Photo Apps

Photo: WedPics
DIY becomes DIT (Do It Together) when you solicit the help of friends and family. The concept is simple – encourage your guests to share their photos and you end up with a vast myriad of POVs from your special day.
According to Nielsen's 2013 Mobile Consumer Report, 53 percent of US mobile device consumers use smartphones. You can harness these numbers to your advantage with a whole list of excellent wedding photo apps that allow guests to instantly upload images from their smartphone devices to online albums. Same-day or rush editing from your wedding photographer can cost around $300. Pooling your guest's photos offers the immediacy our instant-gratification culture demands at a significantly lower cost.
After creating a profile, which includes a wedding bio and cover photo, couples invite guests via email and Facebook to join WedPics. The app company also allows couples to order invite cards to be placed in invitations or distributed at the wedding. Once guests enter the Wedding ID and continue to their own account, they can view an interactive photo gallery, upload their own images from their smartphones, and even edit their images with five custom filters. The app works like other social media sites with the capability for others to comment on or "love" photos. And when it's time to print, couples can download a complete, high-res album.
Snapable: iPhone and Android, $79 for the couple, free for guests
Couples create their album and invite guests via Snapable's invitation system. Personalized downloadable instruction cards are also available for home printing. Friends and family can snap photos using the app or upload images from their galleries anytime before or after the wedding and the photos will be automatically added directly to the album. Couples choose which photos to share or keep private after their wedding.
iPhone and Android, packages start at $129 for the couple, free for guests
Couples sign up, create an album code, and then share that code with their guests via email, Facebook, or their own wedding website link. Wedding Snaps also offers 200 free personalized instruction cards. Once guests download Wedding Snap, they can take photos and videos through the app or upload them from their gallery to the wedding album. Guests can also choose between various filters and comment on photos.
For $199, Wedding Snap throws in professional photo retouching, and for $249, they include a six-hour, live, moderated slideshow. All packages include a money-back guarantee of at least 100 photos in the album.
Yapp: iPhone and Android, free, Yapp also offers custom IDs for $5 a year.
Not a wedding photo app per se, Yapp allows couples to create a self-made mobile app for anything, including a wedding. Simply visit Yapp.us from a computer, choose a theme, name the Yapp Event, personalize it with a photo, enter event info, and publish. Publishing creates a link or QR code that couples can send to guests. Guests will be invited to download YappBox, which will house the Yapp. Once they install the app on their smartphones they can share photos and messages in the News Feed. Couples may also connect a Twitter feed to the News Feed, allowing more photos to stream to the app.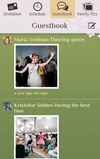 Other Wedding Apps to check out:

Photo: Wedding Party
A wedding app and website that allows couples to share almost every detail of their wedding with guests. The app includes unlimited picture uploads for couples and guests.
Wedding Party: iPhone and Android, free.
A wedding app that collects guests' photos and organizes them into a minute-by-minute Wedding Timeline based on when they were captured. Guests can share notes and toasts, and photos can also be posted to mywedding.com in real time, a great perk for those unable to attend the wedding. The app also offers free, downloadable, customized place cards for guests.
Flock: iPhone and Android, free.
A photo gathering app, Flock automatically identifies photo subjects using Facebook and location information and creates shared albums.
Instagram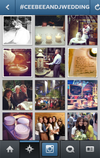 More than 100 million people are already using Instagram every month, according to the company's blog. Odds are, a majority of your wedding guests contribute to that demographic. Why not use this popular tool to your advantage to channel your guests' photos to one location?
Start by creating a unique hashtag pertaining to your wedding, such as #ceebeeandjwedding. Search Instagram for this tag to be sure no one else has used it. Using a unique hashtag will enable you to search for and view any photos from your wedding that guests have tagged. You could also create a new Instagram handle specifically for your wedding that guests could follow and tag in their photos.
Next, get the word out there to your guests about the hashtag or handle. You could include them with instructions on your save the dates, wedding invitations, place cards, programs, or on a sign displayed at the reception, like Ceebee and Jared did for their wedding.
What's special about Instagram is that users can throw their own filters on their images and create a unique memory. You can also project these images in real-time with Evenstagram, a website that creates photo slideshows out of Instagram images.
Digital Camera Rentals

We've all seen them before – those black and yellow, plastic, disposable cameras in the middle of each guest table. It's a great idea if you're planning a 90s themed wedding, but these flimsy cameras don't quite make the cut these days. Dozens of companies have revamped the concept, however, while ironing out a few kinks along the way.
Today's point-and-shoots offer far superior image quality and eliminate the cost of developing images you don't want. A quick Google search will yield a number of websites that offer digital camera rental packages for special events. Packages generally offer enough digital cameras for each table and personal, online photo gallery hosting or memory card readers for the couple to download photos directly from the cameras to their personal computer.
Weddit.com takes this one step further by offering five video recording devices to be distributed among guests and a marketplace of video editors to compile the footage.
Flickr
It's easy to gather guests' photos and videos together using Flickr. All you have to do is create a free account (if you don't have one already) and form a group for your wedding. From the group page, invite your attendees to join your group. Then post instructions for guests to upload their images from the wedding to their own Flickr photostream, go to the Organizr page, click on the "Your Groups" tab, and drag and drop their images from your special day.
Go Pro
Having a GoPro HD Hero strapped to one's head may not fit into the wedding dress code, but it can certainly be a fun way to capture intimate video and stills if you've already got one in your arsenal. From atop a willing guest to the nestled within the bride's bouquet, as show above, a GoPro can give you unlimited angles and point of view.
Printing
Photo: Snapfish
If you subscribe to the laws of probability, you'll likely end up with enough images from all your guests to print your own photo album. Years ago, we put a number of online photo labs like Shutterfly and Snapfish to the test and found that printing photos from these photo-share sites is generally convenient, budget-friendly, and up to image-quality standards.
Custom-printed photo books are another way to really show off some of your favorite shots and would make a special gift. Check out our review of the top ten services out there for printing your photo books.