Online Photo Labs Put to the Test
Online photo labs aren't created equal. We test the best, from Shutterfly to Snapfish, Adorama to Wal-Mart, and find some surprising results.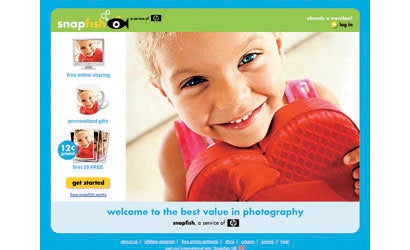 We may earn revenue from the products available on this page and participate in affiliate programs. Learn more ›
When it comes to prints, there's no single way of doing things. Printing at home isn't always an option, particularly for big pictures you'd like to frame for the wall. Add in factors such as convenience, competitive pricing, and image storage, and it's no wonder more and more shooters are turning to online photo labs. But which one is right for you?
To help answer that question, we found 10 of the web's biggest photofinishers and let them rumble. We created accounts simultaneously at each of them. Within a few hours, we uploaded the same 33 image files to each, and ordered 4×6-, 8×10-, and 16×20-inch prints. The files represented a broad assortment of subjects, lighting conditions, skin tones, and image types, including RGB black-and-white, incorrectly white-balanced, mixed lighting, low-resolution, underexposed, and color-test targets. We evaluated the cyberprinters for image quality, price, ease of use, turnaround time, image storage policy, and customer service.
Ordering prints from all 10 sites was simple and surprisingly similar. First, you become a member (minimal personal information is required). Then, you upload your images to a virtual album. (Upload times averaged just 2 minutes, 14 seconds for our 33 images, using a standard cable modem connection.) Finally, you order prints, which are mailed or overnighted back to you.
We learned a lot along the way. Edit before you upload, for example. Most online printers do a good job with simple files, but they can break down when things get tricky, such as when the aspect ratio doesn't match the print size or when the white balance is off. Also, before committing to a site, you should find out about its storage policy. Most sites will keep an unlimited number of images online for free; others require print orders at least once a year; still others charge for storage space. Nearly every vendor we tested printed acceptable 4x6s and 8x10s, but only three did outstanding jobs with the 16×20-inch posters. A few sites stumbled. At up to $18 a whack, we expected better.
Specialty gift items, which have evolved far beyond coffee cups and mouse pads, were uniformly fun and appealing. We liked the dog dishes, jigsaw puzzles, and edible photo-clad chocolates. None were cheap, however, and the only true bargain was a high-quality sweatshirt from dotPhoto for $20.
While you must wait longer for your prints and you have less control over quality than with conventional home or minilab printing, cyberprinting lets you order whenever you like from the comfort of your home — and it's cheaper. There are a lot of other benefits, as well. You can find interesting specialty gifts that your corner minilab probably doesn't offer, and your family and friends can share your online albums.
Also, most online labs offer special deals. Opt to receive their e-mail announcements, and you can save even more.
ADORAMAPIX
ADORAMAPIX is a great choice for serious amateurs and professionals who want to download color profiles and upload TIFF images — two things that are impossible with many of the other vendors. Quality is tops and turnaround time terrific (48 hours). If it's specialty gifts and gadgets you're after, shop elsewhere. But for clean, quick service and great quality, log on.
HOT: Great FAQs and online help; downloadable color profiles; accepts TIFF files; poster shipped flat (not rolled); $1.99 8×10 prints; excellent print quality.
NOT: No specialty gift items; confusing user interface; we had to disable our cookie blocking to place order.
DOTPHOTO
Frequent users should like DotPhoto's monthly print plans — $13 buys 45 4x6s and 10 5x7s, for example — and volume users can save dough when ordering large quantities (500 or more 4x6s cost just 10¢ apiece). More important, everyone will love the fabulous quality. The ordering process could be a bit faster for our taste, but the turnaround time (three days) makes up for it.
HOT: Outstanding quality across the board; monthly print plans; fast service; ability to add audio to images in albums.
NOT: Weak customer service response to
e-mail (though good response when contacted by phone); sluggish ordering process.
KODAK EASYSHARE GALLERY
The EasyShare gallery experience is fun and easy. The user interface is intuitive and upload time was among the fastest (1 minute, 48 seconds). If you are looking for a print service that emphasizes sharing your albums with others, this site is the best choice. Note: Kudos to Kodak for protecting copyright owners by refusing to make prints from copyrighted files.
HOT: Complete EasyShare system; vigilance in protecting photographers' copyrights.
NOT: Disappointing poster.
MPIX
MPIX is a one-stop shop for pros who need top quality, fast delivery (ours took two days) and a full range of ancillary services. Mpix packages your prints the way you'd do it yourself — protected by glassine envelopes, foam sheets and layers of thick cardboard. Price for 4×6 inch prints is the highest (29¢) but 8x10s are a very reasonable $1.99. Don't come here if you are looking to share or store image files — come here for professional service.
HOT: All prints returned flat and well packaged; free paper sample kit; prompt customer service; retouching services available; very fast service.
NOT: Pricey (4x6s cost 29¢); confusing interface; 60-day limit on image storage.
PHOTOWORKS
You'll fall in love with the photobooks. Choose from a wide assortment of styles and configurations, and 74 different page layouts. Prices start at $12.95 for a 20-page book. After creating your first, you'll never be content with a conventional flip album again. Its other specialty items are clever, too, especially the Christmas tree ornaments. Get 25 free 4x6s when you sign up; after that, pay 19¢ for each.
HOT: Great photobooks in nice variety of formats; neat panoramic folding poster cards; very elegant web page designs.
NOT: Visible streaks on poster.
RITZPIX
If you live near a Ritz camera center — and who doesn't? — you can pick up your prints (within an hour of uploading!) and save shipping charges. Even if you don't, you'll find visiting ritzPIX a fun and easy way to order images. It also offers the most unusual specialty print item we've ever encountered: PhotoStamps — your images on real U.S. postage stamps. Storage, while not free, is very inexpensive (as low as $1.99 a year).
HOT: Pick up prints at any Ritz Camera Center; cool (and mailable) U.S. postage stamp prints; excellent 4×6 prints.
NOT: Disappointing poster print; homepage is extremely cluttered.
SHUTTERFLY
For as little as $100 per year you can have an online professional photo gallery: Shutterfly's Pro Gallery creates a virtual storefront for you. Give your web address to your customers and let them order prints. Shutterfly will handle printing, delivery, and customer service. What do you do? Upload your best print-ready images — and wait for the checks to come pouring in. Shutterfly is easy to navigate and even provides free editing software that can be used offline. What more could an entrepreneur photographer ask for?
HOT: Pro Gallery services; free software to work offline; excellent quality; fast service.
NOT: Site is slow (after several trials).
SNAPFISH
It took 10 days for our 4X6-inch prints to arrive — the slowest performance by far — and the poster print had an atrocious defect. On the positive side, though, bargain hunters will appreciate the 12¢ prints and low shipping charges (which are less than $2 for 25 prints). Snapfish also offers a tremendous assortment of printed gift items, including diaper bags, softballs, kitchen cutting boards, and pillow cases.
HOT: Low-priced 4x6s (12¢ each); great selection of gift items; prints can be picked up at some Walgreens locations.
NOT: Poster printed with large pixelated blotch; took 10 days to receive 4×6 prints.
SONY'S IMAGESTATION
This site will spoil you. Prices are among the lowest, quality is good, and service is fast and clean. ImageStation is fun and easy to use, and it frequently offers special promotions that will encourage you to try new things (e.g., a 20×30-inch poster for just $13.99). Could you want more? If you do, upgrade your free membership to Silver, Gold, or Platinum levels, and receive discounts and free prints.
HOT: Great quality and 12¢ 4x6s; fast turnaround; easy-to-use interface; uncommon specialty gifts (picture cookies, Rice Krispies Pops, playing cards, and many others).
NOT: Some specialty gifts are pricey.
WAL-MART PHOTO CENTER
You can pick up your final prints at your local Wal-Mart — that's convenient — and you can upload TIFF image files. Beyond that, sadly, there's not much to recommend Wal-Mart's Photo Center. The quality of the prints we received was substandard. Our biggest gripe: Wal-Mart charges $7.40 per year for every 100MB of album space, when nearly every other site offers unlimited free storage.
HOT: $1.96 8×10 prints; accepts TIFF files.
NOT: Poster print just plain awful; must buy storage space (74¢ per 10MB block per year); 4×6 prints disappointing.