Photographing Fireworks: 24 Tips
We've got your 4th of July covered-- everything you need to know about how to capture fireworks in one place.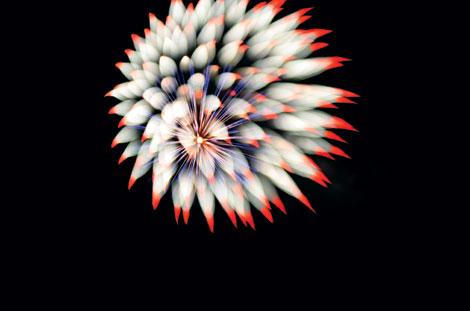 fireworks
With firework displays happening all over the country this week, we've done the leg work for you and gathered all the best tips we've given you in the past about how to capture the pyrotechnics.
1) How to Photograph Fireworks (8 tips)— (stand out tip: Saturate Color: If shooting film, use a super-saturated slide film such as Fujifilm's Velvia or Kodak's E100VS. If digital, use the High Color Saturation setting, usually found in the camera's setup menu.
2) Three ways to Shoot Fireworks (Stand out tip: Choose your site carefully. Look for a location where you can include landmarks or reflections on water. Plant your tripod in a spot that will give you a clear view of the fireworks in front of you, not overhead. Don't isolate yourself entirely—you may want to include a human element)
3) 10 Tips for Fantastic Firework Photos (Stand out tip: Shoot at 1/30, 1/15, 1/8 and 1/4 second shutter speeds at your largest f/stop)
3) Fireworks at 2,000 Frame-Per-Second and Beyond (see video below)
4) Make Unique Fireworks Photos Using Focus Blur (stand out tip: Standard and tele lenses produce more pleasing focus blur than wide-angles. Lenses with loose-turning focusing rings are preferable to those with stiff, overdamped focusing actions.)
Bonus: for inspiration check out these 100 Amazing Firework Photos